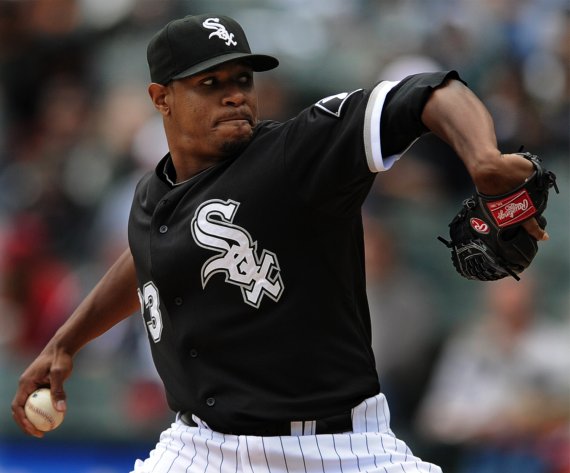 As we weather the final three months before Opening Day, we'll spend most of our time talking about pitching. Everywhere else the Yankees are decently set, and where they're not set they have options. With the pitching staff the options aren't immediately clear. What is clear is that no one is satisfied with Sergio Mitre. I imagine, then, that until the Yankees clear up the back end of the rotation that it will dominate our conversation.
In early December MLB Trade Rumors ran a poll asking where Rafael Soriano would land. Of the teams listed, the Angels got the most votes, but that doesn't appear to be a strong possibility at all. They already signed Scott Downs and generally have a decent bullpen. Their needs lie elsewhere. The next top vote-getter: The Chicago White Sox. They just lost their closer, Bobby Jenks, and while Matt Thornton had a great 2010, he's probably best used as an elite setup man. We saw that idea gain some merit on Saturday when Jon Heyman reported that "there seems to be some interest" on the part of the Sox.
The problem, as Heyman noted, was that the White Sox have little money left in the 2011 budget. After signing Adam Dunn and re-signing Paul Konerko the team has $110.575 million in committed salaries. Baseball Reference pegs their total after arbitration and reserve clause obligations to just under $120 million. The Sox have hit that total only once in team history, in 2007 when they finished 72-90. If they do intend to sign Soriano, it appears as though they'd have to shed at least one contract. Since they do have a number of quality pitchers, the Yankees will likely take a look if they make one available.
Last month Mike took a look at Mark Buehrle, who is owed $14 million this season before he becomes a free agent. There also was a clause in his contract that gave him a $1 million raise, plus a guaranteed $15 million in 2012. From the way it looks on the White Sox Cot's page, that clause expired when Buehrle gained 10 and 5 rights on July 16, 2010. That means he can reject any trade for whatever reason. The White Sox, then, might look to another pricey starter who hits free agency next season if they want to free up some payroll.
Yankees fans should be familiar with Edwin Jackson. In 2008 he faced the Yankees six times and allowed one or fewer runs in half of those starts. Thankfully, in the other three he allowed five or more. The next year he moved to Detroit, where he'd face the Yankees less, but in his two starts he pitched 13 innings and allowed just two runs. That was by far his best year, and it was even better until he flopped in September (and helped the downfall of the then-playoff-bound Tigers). When the Tigers traded him last off-season the Yankees were involved. Could his next trade involve the Yankees again?
Jackson has certainly experienced his ups and downs throughout his big league career. He made his major league debut in 2003 at age 19, and after the season was named Baseball America's No. 4 overall prospect. Yet he never found consistent success with the Dodgers. They eventually gave up on him, sending him to Tampa Bay in exchange for Danys Baez in the winter before the 2006 season. It took Jackson a couple of years, but by 2008 he appeared to be a decent pitcher. In 2009 and 2010 he gained notoriety, first for his spectacular first half in 2009, and then for pitching a no-hitter in 2010. He ended the 2010 season in Chicago, where he pitched exceptionally well, striking out more than a batter per inning in his 11 starts.
The problem with Jackson is that even though he has pitched in the majors for parts of eight seasons, we still don't have a decent grasp of what to expect from him. For instance, in 2008 and 2009 he posted identical 39.1 percent ground ball rates. But in 2010 that jumped all the way to 49.4 percent. His strikeout rate has jumped around, too. In 2008 he struck out just 5.30 per nine, but in 2009 that went up by more than a batter per nine to 6.77. In 2010 he appeared to be at a similar pace, 6.97 per nine with the Diamondbacks, before he exploded at the end of the season and ended up with a K/ of 7.78.
There are two aspects of Jackson's game that I'm comfortable in forecasting. He's probably going to walk three per nine, which is completely acceptable for any pitcher, and actually a very good mark for a back-end guy. Also, his HR/FB ratio has hovered right around 10 percent for the past few years, which is about league average. This is excellent news if he's the 50 percent ground ball from 2010, but less good news if he's closer to 40 percent. Again, it's hard to get a solid reason on the exact type of pitcher he can be for the Yankees.
The biggest obstacle in any potential Jackson trade is Chicago's demands for a return. This will not be another Nick Swisher trade. Jackson is coming off a solid year that got substantially better at the end, when he moved back to the AL. Chicago is clearly all-in this season, so they're not going to let one of their starters go for cheap — especially because of the uncertainty surrounding Jake Peavy. The White Sox need a third baseman, and the Yankees don't have one to spare. Or, at least, they don't have one who represents a substantial upgrade over what the Sox already have in-house. That means finding another match, or involving another team. That complicates the issues, and complications often kill potential trades.
If the White Sox do intent to acquire Rafael Soriano and shore up their bullpen, I would like to see the Yankees engage them regarding Jackson. He's not a perfect fit, as his numbers have been all over the plate in the last three seasons. But he does represent an upgrade over Sergio Mitre and Ivan Nova, which is something the Yankees should be seeking right now. The Sox and the Yanks might not match up on a trade, so I don't expect anything to come from this. But if he's available, I'd like to see the Yankees make a decent run for his services.