It's amazing how much can change in two years. Grady Sizemore was a legitimate MVP candidate as recently as 2008, just as he was in 2007 and 2006, but now the Indians would "love to trade" him according to Nick Cafardo. That's what injuries can do to a player's value.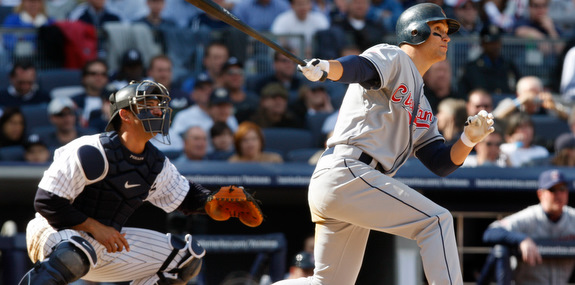 Sizemore, still just 28 these days, was hampered by synovitis in his left (throwing) elbow all season long back in 2009, and was eventually shut down so he could have surgery to repair the condition in early September. The elbow gave him no trouble in 2010, but his left knee did. Sizemore originally injured the joint sliding into a base in April, and he then re-injured it on another slide against the Orioles on May 16th. He wouldn't play again the rest of the season. Sizemore had microfracture surgery in early June, and the six-to-nine month recovery period has him in line to start Spring Training on time.
Over those last two injury plagued seasons, Sizemore hit just .239/.328/.410 (.324 wOBA) with a -6.0 UZR/150 (SSS), a far cry from his 2006 through 2008 peak. During those three years he hit .279/.380/.499 (.382 wOBA) with a total of 85 homers and 93 steals, adding on a studly +7.5 UZR/150 in center. Sizemore's 20.1 fWAR during those years was the fourth most in baseball, behind only Albert Pujols, Chase Utley, and David Wright. He was a bonafide superstar, one of the game's absolute best, and he was still in his mid-20's.
For the sake of completeness, we have to acknowledge Sizemore's warts as well. He's just a career .311 wOBA hitter against lefties (.386 vs. RHP), and even during that absurd three-year peak he only had a .333 wOBA vs. southpaws. The need for a right-handed hitting reserve outfielder would only increase. Sizemore can also strikeout with the best of them, going down on strike three in 22.4% of his career at-bats. Again, looking at just the three year peak, he still had a 22.8% strikeout rate. And then there's all those recent injuries, of course.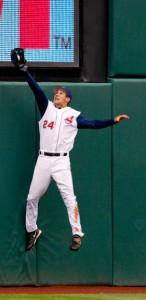 So, if Sizemore was that good when he was healthy, why would the Tribe want to move him? First thing that jumped to my mind was cost, but Sizemore isn't that expensive. He's their second highest paid player (behind Travis Hafner, yikes), but is still owed just $7.5M in 2011 before a $9M club option ($500,000 buyout) for 2012 comes into play. For a rebuilding team, that might be too much. Another possibility is that they aren't confident in his health going forward, and want to move him before his value drops even more. A third possibility could simply be that he's one of their most tradeable commodities, and they feel an infusion of young players would be better going forward than even a healthy Sizemore.
The Yankees come into play for no other reason than pure speculation, nothing has connected them to Sizemore this offseason at all. In fact, they passed on pursuing Carl Crawford and Jayson Werth because they're comfortable with their outfield alignment. Hard to blame them, really. A trade for Sizemore would be similar to the Nick Swisher trade in that the Yanks would be buying low, but the major difference is why they'd be buying low. Swish was healthy with the White Sox, he was just unlucky when it came to balls in play. Sizemore's stock is down because he's hurt, it's not like we're just waiting for a BABIP rebound here. That's quite a problem, because it's a lot tougher to predict performance going forward when a guy has 140 plate appearances in the last 15 months.
The Indians are apparently searching for pitching, pitching, and more pitching these days, something the Yankees can spare at the minor league level. Cleveland's outfield is pretty full (nine outfielders on their 40-man roster, including Grady), so I'm not sure if they'd even want Gardner in a potential trade. They do need a third baseman, I know that much, so maybe Brandon Laird has some value to them. They're not going to give Sizemore away just because, he's far too young and talent to write-off. New-ish GM Chris Antonetti will market Grady as the guy he was from '06-'08, not the injured mess he's been since. Whether or not a deal can be struck is not for me to worry about, that's up to the guys making the big bucks.
Without being privy to his medical information, I'm inclined to say "pass" on Sizemore, which is tough to say because I love the guy as a player. He's the very definition of a five-tool talent when healthy, a lefty power bat that would fit right in with Yankee Stadium and be an upgrade over all three regular outfielders. The Yanks have been preaching patience all offseason, and this is where they should exercise it. Let Sizemore prove he's healthy and productive on Cleveland's dime, then act accordingly if there's a fit. The potential for zero or minimal return is just too high for me right now, especially when you consider how much it'll probably take to acquire him. I suspect we'll see the Indians hold on to their once franchise player through the offseason, hope he stays healthy and performs like he's capable of in the first few months of 2011, then look to trade him at the deadline when his stock is higher. That's when the Yankee should kick the tires, no sense in assuming the risk now.