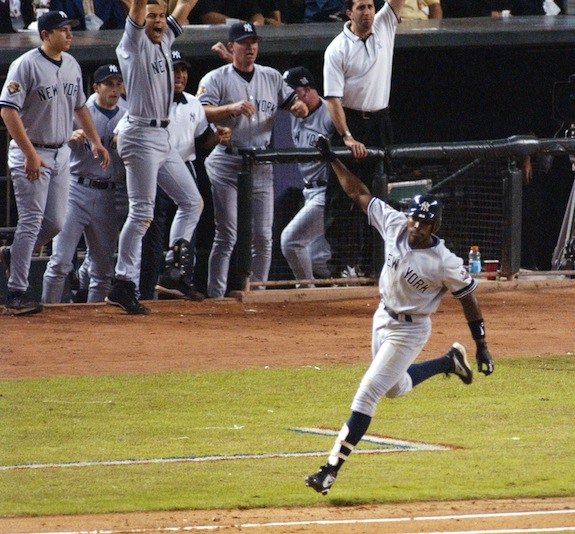 For Yankee fans in the early part of the 21st Century, few players in pinstripes elicited as much excitement as Alfonso Soriano. He was tall and thin — sinewy almost — and with a bat speed that simply wowed the crowd. His home runs were majestic; his speed on the base paths blazing. He made it look so easy, but after a rapid rise, he quickly fell out of favor. It would change the Yanks forever.
Signed as an international free agent out of Japan, Soriano made his Yankee debut in September of 1999, and he quickly made a mark. His first Yankee hit was a walk-off home run against Norm Charlton and the Devil Rays on a Friday night in the Bronx, and as Chuck Knoblauch began to suffer from baseball-induced psychosis in 2000, Soriano's hot hitting drew raves.
In 2001, Soriano emerged as the Yanks' starting second baseman, and he had a respectable rookie campaign. He hit .268 but with only a .304 on-base percentage and slugged .432. He did steal 43 bases and finished third in the AL Rookie of the Year voting. For a few minutes at the end of Game 7 of the World Series, it seemed as though Soriano would emerge as the hero. His 8th inning home run off of Curt Schilling gave the Yanks a 2-1 lead with Mariano looming. But alas.
Still, Soriano seemed to use that home run as a spring board to greatness, and the next season was truly his break-out campaign. He struck out too often and walked just 23 times, but he still hit .300/.332/.547 with 39 home runs and 41 stolen bases. It was good enough for a third place MVP finish. In 2003, the power dipped, but the patience improved. He hit .290/.338/.525 with 38 home runs but stole just 35 bases.
Yet, rumblings of displeasure were emerging out of the Yankee camp with Soriano. In the playoffs against Boston and the Marlins, Soriano went just 9 for 55 and struck out 20 times. He was benched in the World Series, and the Yankees seemed to think that he spent too much admiring his home runs and not enough time closing the holes in his swing. When destiny intervened in February, the Yanks did not hesitate to send Soriano off to the Rangers.
As Alex Rodriguez came to New York, Soriano went to Texas, bound for a last-place team. The Yanks had no real clear successor to Soriano at second base as Robinson Cano was still just a prospect, and those close to the Yanks were sad to see Soriano go. "We gave up a great player" Yogi Berra said to the Daily News. "Once he learns the strike zone, he'll be even better."
Others shared Yogi's sentiments. "He's got a long way to go. He hasn't even come near reaching his potential. "I was excited to see him grow and develop into the player he is," Jorge Posada said during the early days of Spring Training. "A-Rod is an exciting player, but Alfonso is pretty similar. He's going to develop into an A-Rod. He has that potential, and when everything is said and done, when he's 32, we'll talk about Soriano as the best player in the big leagues."
Of course, things didn't quite turn out A-Rodian for Soriano. He gained two years of age when he was traded, and suddenly, the Yanks had sent not an up-and-comer to the Rangers but someone just a year younger than A-Rod west. Both teams knew of the age discrepancy at the time of the trade.
Since leaving the Bronx, Soriano has had an uneven career. He never did find the strike zone as Yogi thought he would, but he has belted 216 home runs in the intervening seven seasons. As he's aged, his stolen bases have trailed off to just five last season, and he's battled hamstring problems while playing the outfield for the Cubs. He's under contract in Chicago for another four years, and the Cubs still owe him $72 million. They'd move him if they could.
When Soriano hit 46 home runs for the Nationals in 2006 and the Yanks grappled with mid-decade failures, it seemed as though he would become the one who got away from the Yanks, but time has a way of changing things. These days Alfonso Soriano is working to regain that stroke and consistency he once flashed in the Bronx. He's fifth in strike outs since his 2001 season and eighth in home runs. Alex Rodriguez, of course, leads baseball in the former category over the last ten years, and despite those fears and a very respectable career, Soriano never did become an A-Rod-like player. Almost, but not quite.