*Mike summed up some of his own frustrations about the response to the Yankees' offseason last week. I thought I'd be more specific.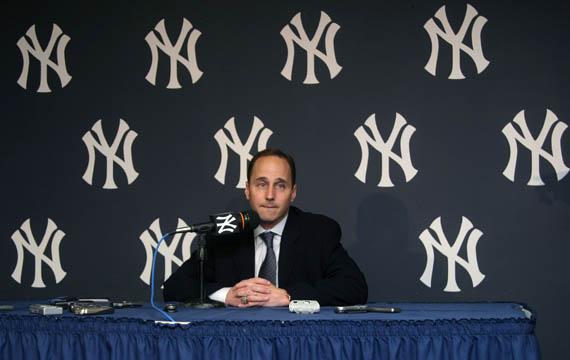 It's been a pretty lame offseason for the Yankees so far. We've missed the guys we want. We ended up signing some players that may or may be good choices for the team. Our minor league signings are taking heat. Our pitching rotation is questionable. Our sluggers are aging. Our GM is raising money for prostate cancer.
Wait, what?
I can't remember the last time I heard Brian Cashman take this much heat (2008?). Every single thing that Cashman has done this winter has been criticized by someone somewhere. I would not be surprised if John Q. Obnoxious Fan woke up yesterday and said, "God, what nerve does Cashman have, making coffee for himself?" At times, it seems the man can do nothing right. If I was Brian Cashman, I'd be more than frustrated with that part of the Yankees fanbase. I think it was perfectly legitimate for him to air some of those grievances to Ken Rosenthal: "Why are people bitching so much? That's my question. That's my frustration." Rest assured, Cash, I would have had much stronger words with a fanbase like this one if I was you.
It's not that Cashman hasn't made bad moves in the past. He has. He is not perfect. What gets my goat, though, is how much stuff  he gets blamed for that is absolutely out of his control, or the things that are totally irrelevant.
For example, this whole Cliff Lee business. During the negotiations, and even slightly after, it was hard to pin the tail on exactly who's fault it was, which obviously meant it was Cashman's fault. Never mind that same group hating on him would have most likely also lambasted the man for offering a 32-year-old starter (with an injury history!) a seven- or eight-year contract. Never mind that Lee made it obvious afterwards that he wanted to sign with the Phillies. Never mind the Yankees offered him more money. It is obviously Cashman's responsibility to whip out his mind control device and convince players who aren't interested to sign with the team. Duh. We all know the Yankees have a mind control device Cashman just wasn't interested in using because Gene Michael used it to convince Greg Maddux to sign in 1992. Wait, no he didn't.
Another thing-  do people expect Cashman to open his closet and have a fifth starter who passes the Better Than Mitre test just fall out? He knows the rotation is a problem. I'm sure he has looked at all the different options for that problematic spot. But at this point, there's nothing he can do. Sure, he could sign Millwood or Garcia or Duchscherer to an unreasonable contract, but he'd certainly get criticized for that. Sure, he could trade our well-grown farm system, but he'd certainly get criticized at for that too. And the fact is, those moves aren't smart ones. Why would he do them? Why would a fan of the team, a person who wants the team to improve, suggest that we make a stupid move just for the sake of making a move? The Yankees are not the Angels. We do not need a Vernon Wells-type thing going on here.
What grinds my gears the most is how I've seen and heard people get down on Cashman for doing charity events. Charity Events! People are yelling at him because he is raising money to fight prostate cancer. Baseball is a game. It's a game we really love, but it's a game. Cancer will kill you. Between winning baseball games and fighting cancer, fighting cancer is the way to go. Plus, it seems unreasonable that being a GM would take up every waking moment of his life; finding a single night to help fight cancer doesn't seem unreasonable. I don't think Cashman is the kind of guy who needs to be sitting at home staring at the phone waiting for Andy Pettitte or Kevin Millwood to call him. He has people to do that for him. Instead, he takes his "celebrity status" and uses it to raise money to fight cancer. That sounds like a class act to me. That certainly sounds like something I'd want my GM doing in his spare time. How in anyone's right mind could you blast a guy for raising money to fight cancer? It boggles me.
I'm not even going to start with the "checkbook GM" thing.
This is what I do. Whenever I'm angry about Brian Cashman (rarely), I try to think about all the GMs he is not. He is not Tony Reagins, who is now the laughing-stock of the baseball community. He is not Dayton Moore, who signed Jeff Francoeur and Melky Cabrera. He is not Sandy Alderson, tasked with fixing the mess that is the Mets.
I am expecting someone to blame Cashman for the Astros extending Wandy Rodriguez. I am also expecting someone to blame Cashman for waking up in the morning and putting on his slippers. I mean, he's only won what, four World Series rings as GM? Taken us to the postseason every year except 2008? What a crappy performance the guy has put on. Fire Cashman. Punish him by making him manage the Pirates. Wait, that might be what he wants, according to some fans and media-types. I guess we'll just have to force him to stick around here for a few more years. Damn. What a drag.