It might not seem that far away. Pitchers and catchers report in 39 days — 38 if you're reading this after waking up this morning. That's less than six weeks until baseball returns! Sam Miller of the Orange County Register put it best, while mixing in a Yankees rumor: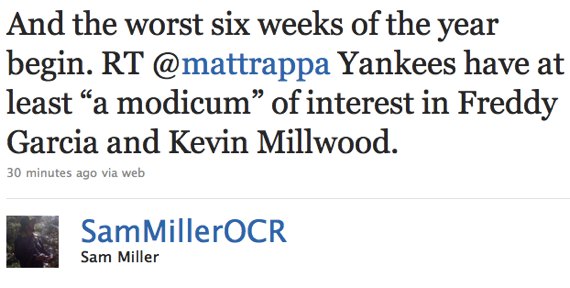 No, I don't care much about Freddy Garcia or Kevin Millwood, though there's a chance you'll see a post on one or both of them in the coming weeks. Why? Because we are indeed in for the worst six weeks of the year. But really, it's longer than that. Having a date for pitchers and catchers is nice and all, but it's the most anticipated date of the year on which nothing happens. We really have at least eight more weeks of winter.
Baseball is mostly done right now. Even the winter leagues have stopped play. College baseball will return soon enough, and there are various leagues that do run year-round, but we're not going to see anything resembling big league baseball until early March — and then we're watching the starters play a couple of innings before giving way to guys who won't be gracing our TVs in April. So, if you think about it, we're 10 weeks from seeing starters pitch four or five innings.
Yes, this is the worst time of year for a baseball junkie. In a way I admire the people who can put baseball out of their minds during this time of year. But people such as Mike, Ben, and me, who write sites like this, and you, who read sites like this, don't have the luxury of an off switch. It's baseball all the time. That means we're going to follow every bit of news, and we're going to write about possibilities that seem, well, impossible. It's how we fill the lull between the height of the Hot Stove Season and the start of real baseball.
Many of our readers won't like reading posts examining possible mid-season acquisitions or musings on lefty relievers. I understand that. We're putting it out there, because we love doing this so much. We think about baseball all the time, and the only way to contain the itch is to write about whatever we're thinking. Sometimes that will bore. Sometimes that will inspire outright rage. Sometimes we'll hit on something that people want to talk about. It's the nature of this time of year.
Through this lull, we're going to continue pumping out content. It's what we do. Thanks for sticking with us through this difficult time. Dealing with this together makes it just a bit easier.