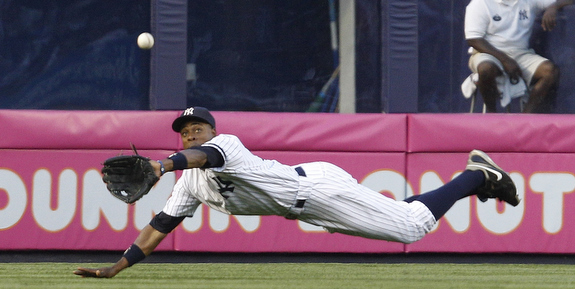 Brian Cashman has been running the Yankees since 1998, but it wasn't until the after the 2005 season that he gained autonomy and full control of the baseball operations. Ownership was constantly dipping its toe in the baseball ops pool before then, and the Tampa faction of executives and team officials were meddling as well. The three-year contract Cashman signed after 2005 changed all that, but he was still stuck with the same team. Jason Giambi was just four years into a seven year contract and bitter old Gary Sheffield was still around. Carl Pavano was still under contract, ditto Bernie Williams and Jaret Wright. As much as he probably wanted to, Cashman couldn't just flip a switch to make these guys go away.
It took a few years for Cash to get rid of those guys and replace them with players he wanted, but by the end of the 2008 season the process was pretty much complete. Sheff, Bernie, and Wright were long gone, and the contracts of Pavano and Giambi had mercifully expired at long last. That allowed Cashman to seek younger players at several positions, and he did just that by acquiring Nick Swisher and signing Mark Teixeira. Robbie Cano had established himself as no worse than a legit everyday second baseman with the potential for more, and one of the outfield spots was going to Melky Cabrera or Brett Gardner, whoever happened to be playing better at the time. And that was just that one offseason.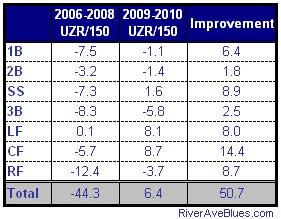 As a result of all the new blood, the team's defense improved. It was hard not to, frankly. The Yankees were probably the worst defensive team of the decade up to that point, and bringing in just average defensive players would have been a big time help. The table on the right compares the team's defense from 2006 through 2008 (a period starting when Cashman got his autonomy and ending with a host of albatross contracts expiring) to the defense they've played since. I used UZR/150 instead of straight UZR because we're dealing with a three-year sample vs. a two-year sample, so the rate stat makes more sense. In fact, they always do, but I digress.
The scary part is that this data does not include the 2005 Yankees, which may have been the worst defensive team in the history of baseball. If we include them, we're looking at an improvement of 70.4 runs saved per 150 defensive games, a simply staggering amount. As it stands, the Yankees made what amounts to a five win improvement defensively thanks to the moves made in recent years, all because a few more of  batted balls are converted into outs on a nightly basis.
Just three of the team's eight fielders on Opening Day 2006 were playing the same position on Opening Day 2009, though we really should consider it four because of Alex Rodriguez. He was on the shelf in early '09 recovering from his hip procedure, but he obviously would have been at the hot corner in Game One if healthy. The other holdovers were Jorge Posada, Derek Jeter, and Cano. The entire outfield alignment changed during that three year period as did the first baseman.
The change continues as well. The presumed 2011 Opening Day defensive lineup figures to have just four players playing the same position that they did on Opening Day 2009, and that includes A-Rod. The entire outfield alignment changed again, going from Johnny Damon-Brett Gardner-Xavier Nady (LF-CF-RF) to Gardner-Curtis Granderson-Nick Swisher. Jorge Posada has been replaced behind the plate by Russell Martin. Just the infield remains intact, as they will for at least the next three seasons.
The cool part is that the Yankees made all this defensive improvement without sacrificing offense. In fact, they actually got better with the bats. They led baseball with a .353 wOBA from 2006 through 2008, an offense that was 15% better than league average according to wRC+. That improved to a .356 wOBA in 2009 and 2010, 19% better than average. Younger, more athletic players led to better defense and even improved what was already the game's best offense, who'd a thunk it?