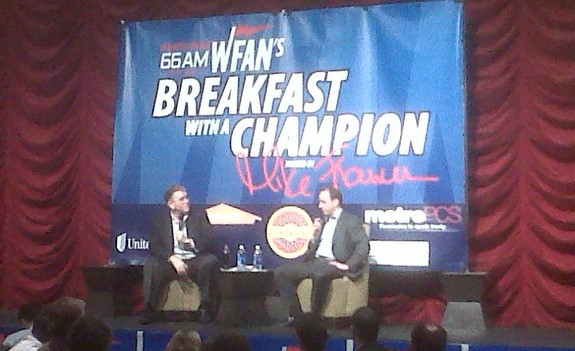 Brian Cashman held court at WFAN's annual "Breakfast with a Champion" this morning, sitting down with Mike Francesa to discuss the state of the Yankees and field questions from the audience. Friend of RAB and espnW's Amanda Rykoff tweeted the hell out of the breakfast, so I've rounded it all up for you. Cashman was tremendously candid and honest with his answers, sometimes brutally. I think we can all appreciate that. Let's start with the major stuff…
Cashman said he'll be surprised if Derek Jeter sticks at shortstop during all four years of his contract. He sees the Captain winding up in the outfield. If Jeter makes a successful transition to the outfield at his age, I'll eat my hat.
"We're one starter away from being a World Series contender," said the GM. It's hard to argue with that, they were two wins away from the Fall Classic last year and have improved every aspect of the team other than the rotation so far.
Ready for a bombshell? Cashman acknowledged that Joba Chamberlain has not been the same since his injury in Texas. It's the first time anyone involved with the team has publicly discussed the issue even though it was quite obvious. Once again, he said there's no chance Joba will start.
Still nothing new on Andy Pettitte, but Cashman did confirm that the lefty is working out to remain in baseball shape. Cash said his best case rotation scenario at this point has Andy coming back and Ivan Nova sliding down into the fifth starter's spot.
Jorge Posada is the full-time designated hitter, and the starting catcher's job will be an open competition in Spring Training. I think he means just like the fifth starter job was a competition last year.
Cashman said the Red Sox are the better team as of today, but the Yankees have a better bullpen. Part of me thinks that's a little passive aggressive dig at ownership for Rafael Soriano. Cash called Mariano Rivera "the best Yankee he's ever seen."
I'm not so sure about that Jeter stuff, maybe he can fake left field for a year, but I think he'll wind up at designated hitter if anything. The Joba stuff is pretty groundbreaking, but at least it gives us some closure to the whole "why isn't he starting" thing. It also tells us that there is some level of concern about Joba's health going forward.
Here's the rest, but it's just a bunch of smaller, miscellaneous items…
The Yankees use statistical analysis in combination with scouting reports, but you knew that already.
The in-game lineup is Joe Girardi's call, but Cashman does discuss it with him. Same deal with Joe Torre back in the day.
Cashman called Andruw Jones "Marcus Thames with slightly better defense." Slightly? I think the GM is either underselling Jones or giving Thames too much credit.
A.J. Burnett is well aware that his performance was a problem last year and is working hard to correct things.
Cash stated the obvious, saying the Yankees have a big advantage over other clubs because they can enjoy a strong farm system while having money to spend on free agents.
He also acknowledged that the media coverage in New York can wear you out.
"The higher up the tree the monkey climbs, the more you see of his ass." I'm not quite sure what the means, but it made me laugh.