As we count down the days and weeks leading up to the season, we're going to preview the 2011 Yankees by looking at each of their core players and many, many more. A new preview will go up every day, Monday through Friday, from now until Opening Day.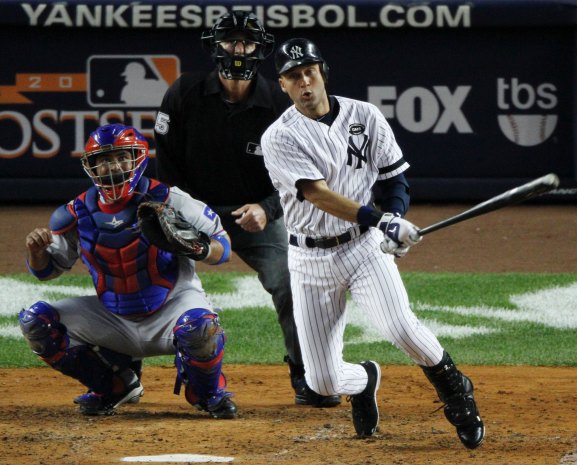 When, at age 36, a player produces career lows in basically every offensive statistic, one word comes to mind. There is a real possibility that Derek Jeter has entered an irreversible decline. Yankees fans don't want to admit this. The 2010 season was just a down year, and everyone experiences down years. Considering Jeter's previous low came during his sophomore season, he was due. Right?
If we've learned one thing about Jeter during his 15 years with the club, it's that he won't simply accept declining numbers. This off-season he signed a contract that rewards him handsomely for his contribution to a championship team, and he's going to take that seriously. He already has, as we've read frequently this off-season. A new, shorter stride is supposed to help him stay in front of the ball, so that he's not hitting dinky grounders to second every other at-bat. But will this one change lead to a more productive 2011?
Best Case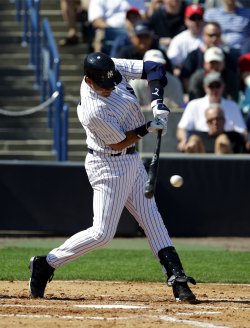 In seasons past, pegging Jeter's ceiling was pretty easy. Lately the answer has been simple: 2006. That year, riding a near-.400 BABIP, Jeter hit .343/.416/.483 (.399 wOBA) and nearly won the AL MVP Award. In 2009 he came close to those numbers, .334/.406/.465, so in 2010 that appeared to be his ceiling. Instead we got what was in essence his floor. At a younger age we could probably reset his ceiling to that 2006/2009 level. But at age 37 I'm not sure we can do that.
Maybe Jeter's shortened stride will indeed allow him to get his bat around faster. Maybe, as we've heard reported this spring, that he'll also pull the ball with a bit more authority this year. And maybe that turns into a BABIP around .360, which would put him well above the .300 batting average mark. Since we're talking best case, that could be in the cards. It's also possible that, with a bit more reaction time, he can again eclipse a 10 percent walk rate, which would put his OBP around .400. He could also pop a few cheapie homers over the right field porch.
In that way, there is a chance that Jeter could hit somewhere around .330/.400/.450. I wouldn't call it a good chance. If he did that, he'd essentially be Honus Wagner exactly a century later. In 1911, his age-37 season, Wagner hit a league-leading .334, with a .423 OBP and .507 SLG. The only other shortstop, aged 37 or older, who qualified for the batting title with a .300 or greater average is Luke Appling. Jeter, in other words, is either in decline or in elite company. His best case is pretty clear, given his and baseball's history.
Worst Case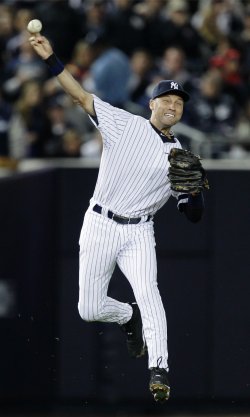 This is the part that no one wants to discuss. What if Jeter's bat slows even more? What if the stride doesn't help him get out in front of the ball and he ends up hitting a deluge of grounders to second? What if — gulp — he performs even more poorly than last year?
When we discuss worst case scenarios for players, we're usually talking about an injury or a string of horrible luck. For Jeter, neither of these is the worst case. The worst case is that he hits poorly and looks old doing it. The worst case is that he plays an even more noticeably poor shortstop. The worst case is that he keeps saying he can get himself out of it and delays his drop from the top of the lineup. These might all be worse than an injury. At least with an injury he has something to blame.
It's tough to imagine just how bad matters could get for Jeter, and I don't think there's a reasonably accurate floor for him right now. Could he hit worst than .250? Could he lose even more power? Could his fielding decline further? The answer to these questions has to be certain degrees of yes. In terms of overall worst case, I imagine it involves him hitting ninth by season's end. Imagine how bad things would have to go for him to hit that mark.
What's Likely To Happen
If we're going siding with baseball history, it's most likely that Jeter hits somewhere around his 2010 level, with perhaps a slightly lower average. If we're going with Derek Jeter as a generational talent hellbent on improving on his previous season, it's likely he hits .300 again. This makes pegging the actual likely scenario as tough as, if not tougher than, pegging his worst case.
A week ago Joe Posnanski wrote about two aging superstars: Jeter and Tiger Woods. In it he described both players' efforts to stave off the effects by aging by making mechanical adjustments. This he dubs Carlton's Law, after Steve Carlton:
We call it Steve Carlton's law because no athlete of the last 50 years fought harder to fight off the effects of age. Carlton had all sorts of new-age and mystical training techniques. He would run a lot (at a time when pitchers often said their main form of exercise were 12-ounce curls), and he did all sorts of Martial Arts exercises, and he was probably most famous for moving his arm around in a barrel of rice. He felt certain that all this work, and the mental drive he had for fighting off age, would allow him to pitch effectively until he was at least 48 years old. And he DID win his last Cy Young when he was 37 and pitch effectively at 39 … both pretty extraordinary achievements when it comes to age-postponing.

But then he turned 40. And he was done. Few in baseball history have ever raged as hard against the dying of the light. Carlton played for five different teams after he turned 40 — and though he went 16-36 with an 84 ERA+ over those years, he STILL did not believe he was done when baseball mercifully retired him. His last career start was for the Minnesota Twins, and it was against the Cleveland Indians, and he gave up nine runs. He felt sure he still had something left. All he needed to do was make a couple of adjustments.
Maybe Jeter can turn it around for one more season. Maybe the mechanical adjustment will combine with a bit better luck and create something of a last hurrah for Jeter. But given the number of players who have played shortstop and hit at an elite level at Jeter's age, it's tough to bank on it.
In order to keep emotions out of this, I'll turn to a post I did last week on projected stats for Jeter, Teixeira, and A-Rod. The various projection systems view Jeter differently, but their aggregated conclusion — .286/.353/.399 — sounds good. If we're able to peg Jeter's most likely scenario, this is probably it.
No one wants to witness Derek Jeter's decline. He was a beloved Yankee from his first year with the team, and he has proven during his 15-year career that he is one of the greatest shortstops to play the game. Yet even the best decline. We know what Jeter can do, and we know that he's working to reverse last year's results. We just don't know whether that's physically possible.