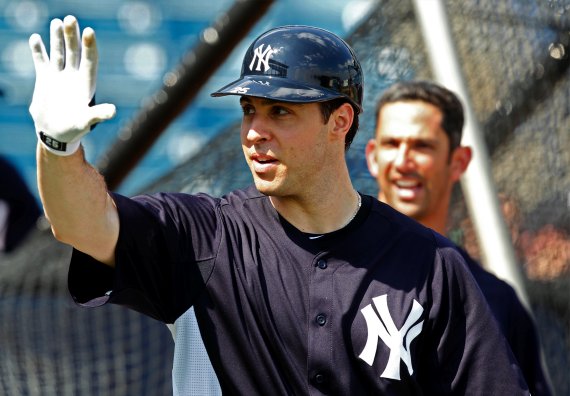 As we count down the days and weeks leading up to the season, we're going to preview the 2011 Yankees by looking at each of their core players and many, many more. A new preview will be going up every day, Monday through Friday, from now until Opening Day.
It started in 1985. Don Mattingly, coming off his first full season in the bigs, during which he led the league in hits and won the batting title, got his first start at first base on Opening Day. In the two years before that, Ken Griffey opened the season at first. Dave Revering, Bob Watson, and Chris Chambliss held the honors in the years before that. But from 1985 through 1995, it was Mattingly who manned first on Opening Day. It was the start of a tradition.
When Mattingly retired after the 95 season he passed the torch to Tino Martinez, who started at first on Opening Day from 1996 through 2001. The honors then went to Jason Giambi, who was supposed to start at first on Opening Day from 2002 through at least 2008. Only Josh Phelps starting at first on Opening Day 2007 broke that streak. Now Mark Teixeira is the man at first, and in 2011 he will open his third pinstriped season there. Save for that one anomalous Opening Day, the Yankees have had four men man first base on Opening Day since 1985. It is a tradition, once maligned, that we all hope continues through 2016, when Teixeira perhaps passes the torch to the next great Yankees first baseman.
For now we can enjoy the current first baseman in his prime. While Teixeira had his second worst, and certainly most disappointing, season in 2010, he's still a world class athlete in the prime of his career. Despite the down year the expectations range high.
Best Case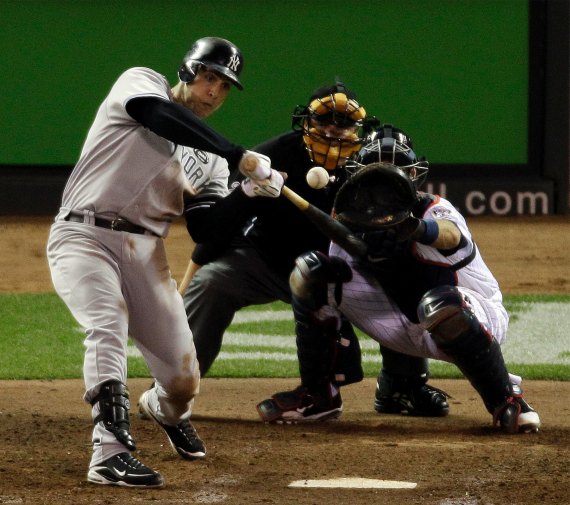 By the time a player reaches age 30, we usually have a good idea of his true talent. This appears to be the case with Teixeira, who produced a wOBA between .402 and .410 from 2007 through 2009, peaking at .410 in 2008. Since he's 31 and unlikely to dramatically improve, we can safely peg his peak value at 2008, when, on the strength of his best offensive season and a particularly impressive defensive one, he produced 7.3 WAR.
That would make his best case section pretty boring. That's not going to fly. As I examined earlier this week, a hot start could make a big difference for Teixeira. In that quick and dirty analysis I substituted Teixeira's second-worst month for his worst one. It made something of a difference in his season numbers, particularly in batting average and slugging. But what if Teixeira were to have an otherworldly April, and then go on to have a season similar to 2009?
The last season in which Teixeira produced good numbers in April was 2006, when he hit .293/.391/.495 in 115 April PA. If we simply substitute those numbers for Teixeira's April 2009 numbers — .200/.367/.371 in 90 PA — this is what we'd come up with:
.303/.387/.575
And yet, in 2007 Teixeira hit .306/.400/.563, so this isn't really out of line at all out of line with what Teixeira can do. Yet it's a bit better than his 2009. The best case for Teixiera, then, is an MVP.
Worst Case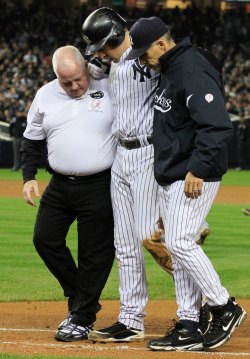 Most of us don't want to acknowledge the worst case scenario for any player. Not at this point in the year. It involves injury, of course, and with Teixeira that possibility is a bit more real than it was at this time last year. While he didn't spend any time on the DL, the year was marked by a series of injuries that hampered his production, and which culminated in a hamstring strain during the ALCS.
Baseball Injury Tool notes four different instances in 2010 when Teixeira was listed as day-to-day. There was the foul ball he took off his foot at the end of May, but the real litany came towards the end of the season. He missed a game at the end of August with a thumb contusion, an injury that probably lingered the rest of the season; he had a cortizone shot sometime at the end of September. Then, towards the middle of September, it was revealed that he had a toe fracture — which he suffered at the end of August. Then came the hamstring strain.
Most of these injuries, it appears, stemmed from fluke things such as getting hit by pitches. That's good news going forward, since it doesn't portend a repeat in 2011. Still, we know that small injuries, especially the thumb one, can seriously hamper Teixeira's production. Repeating any part of his 2011 injury wise would probably bring on the worst case scenario.
The other part of the worst case is that Teixeira's production truly has declined. Again, it's easy to look at the injuries as an explanation. He did produce two stellar months in July and August, and those were two months where he was a month removed from any day-to-day injuries. Still, we have no idea the degree to which that link is causal. There have been first baseman who have produced similarly to Teixeira early in their careers, only to decline around age 30. The worst case, then, would be a facsimile of his 2010 season, but perhaps without the torrid July and August production.
What's Likely To Happen
Given the injuries that slowed his 2010 season and his focus on getting off to a decent start in 2011, I think that Teixeira's most likely case involves a compromise between his 2008 and 2009 seasons. That is, an OBP close to, but not quite at, .400, and a SLG that ranges around .550 rather than .565. That would still provide tremendous production for the Yankees, and would put him among the best first basemen in the American League.
Despite Teixeira's best efforts, it's tough to envision anything but a slow start. This is now a four-year trend, and to predict a reversal is to bet blindly on optimism. As long as his start doesn't resemble 2010, which was his worst April ever, the Yanks can weather the extra outs from the No. 3 spot.
Thankfully, along with the trend of slow starts comes the trend of torrid production later in the season. Even in his down year last season he crushed the ball during the summer months. If it is blind optimism to predict a hot start, it is equally blind pessimism to predict a drop-off in summer numbers. When healthy Teixeira is a proven second half hitter, and that will help the Yankees tremendously heading into a September pennant race.
As Mark Teixeira goes, so will the Yankees. He occupies a key spot in the lineup, and the Yankees rely on his production to help lead their league-best offense. While 2010 represented a down year, it was also one marked by injuries. If he remains healthy in 2011, it's hard to expect anything but another elite season.