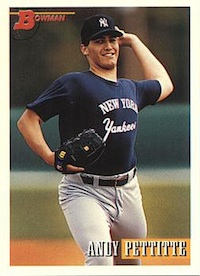 Andy Pettitte went out on top. He still had the itch when he called it a career last week, and he knew he could still pitch well, still get Major Leaguers out, still win games. It wasn't time to say good bye, but we had no other choice.
Something about Pettitte's retirement struck a heartstring for many Yankee fans. It's not just the fact that the team badly needed his arm in the rotation or his calming demeanor on the mound. That's almost too altruistic. Rather, his retirement, at least for me, resonated on a more personal level. If Andy Pettitte is facing down baseball mortality, aren't the rest of getting older?
I don't remember the first time I witnessed an Andy Pettitte appearance in person. By the time baseball resumed in 1995 after a crushingly disappointing end to the 1994 season, Pettitte's name had become a fixture around the Yanks. He was featured in the team's "Down on the Farm" section in the annual yearbook, and while not widely regarded as a youngster, the Yanks thought they had something.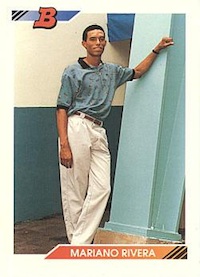 I was 12 when Pettitte made his Yankee debut just like I was 12 when Derek Jeter burst onto the scene, 12 when Mariano Rivera arrived and 12 when Jorge Posada showed up. That was the year Bernie Williams cemented himself as a big-time New York star both during the regular season and epic ALDS against the Mariners. I was eight the year Bernie made his big league debut.
Throughout high school, these guys were the stars I watched mature into a cohesive team. Once or twice, I would head from school to the stadium for a student special on Tuesday or Wednesday nights. A valid ID would net a $10 Tier Reserve seat, and in those days, we could move up at will. On a good night, the old stadium will host 30,000 fans as the Yanks went about their winning ways year after year after year.
As the years wore on, those five players would be the stand-outs. They had a pretty damn good supporting cast too. Tino Martinez and Scott Brosius played their roles while Chuck Knoblauch had his moments, for better or worse. Paul O'Neill too, the Yankees' own warrior, deserves a big tip of the cap too. I watched David Wells throw a perfect game while working on a science project at home, and I heard the end of David Cone's perfect day on a blisteringly hot afternoon in Western Massachusetts. I remember the anticipation of El Duque's debut, and the overhyped and perhaps slightly underappreciated nature of Hideki Irabu's tenure in the Bronx.
Through it all, though, Andy, Derek, Jorge, Bernie and Mariano served as icons of a farm system. This was the true core of a championship team developed from within and allowed to grow. Bernie didn't fit into the Mel Hall-dominated clubhouse as a shy young kid, and George Steinbrenner always wanted to trade Andy Pettitte for something worse. But they stuck around — and won — for years.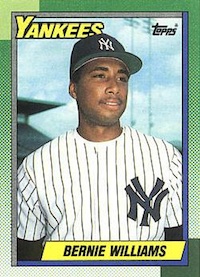 Bernie, the oldest, was the first to go. Felled by a knee injury, he didn't retire after 2006, but the Yanks weren't interested in guaranteeing him dollars. It was a bitter divorce smoothed over by time, and after arriving late at Andy Pettitte's press conference, Williams announced that he too is about to officially retire. Of course, he's the last one to know that he's retired, but that's how it is for many of these guys. "I think one of these days I'm going to make it official," Williams said. "It's redundant, but after five years, I think I'm pretty much done."
Bernie's last appearance was a strike out against Kenny Rogers in the 2006 ALDS. Andy Pettitte's last appearance ended with a Bengie Molina groundout. He left it all on the field during Game 3 of the ALCS, but much like in Game 6 of the 2003 World Series, the other team's pitcher was just better.
Next up in the march toward the new era will likely to be Jorge Posada. The one-time catcher will serve as the DH this year, and even if he has a decent season, it's tough to see the Yanks re-upping with him once he hits free agency. He's been with the club since they drafted him in 1990. Would Posada call it quits or sign with another franchise?
Once he goes, Derek and Mariano will be the aging duo that survived my trip through high school, through college, through law school. Time might be nipping at Jeter's heels, and it will one day come a-knockin' on Mariano's door too. For now, though, I'll sit back and appreciate what these Yankees have done and what they still have left to do. For five guys who were Yankees since they were kids, the past two decades have been as close to baseball perfection as it comes these days.