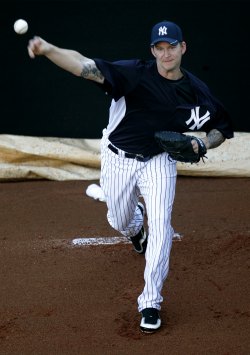 The storyline has shifted to a new pitcher. Yesterday it was CC Sabathia and the opt-out in his contract. Today reported moved to A.J. Burnett. The subject matter, as it has all winter, centered on his ability to put 2010 behind him. His ability to do so could determine the Yankees' fate in 2011.
Simply improving on 2010 will not be enough. Burnett finished the season with a 5.26 ERA in 186.2 innings, so a marginal improvement won't do much good. What the Yankees need is a repeat of 2009, when Burnett struck out nearly a batter per inning and finished with a 4.04 ERA. That might not seem like $16.5 million's worth, but it should be enough to solidify the top end of the pitching staff.
What are the chances that Burnett improves significantly upon his 2010? At this point we can do one of three things: 1) we can guess, 2) we can look at projection systems, or 3) we can forget about it, say he sucks, and pack it in for the season. Since No. 3 is an option only for people who don't read RAB, and since No. 2 is more productive than No. 1, let's take a look at Baseball Prospectus's PECOTA projections.
Even though Burnett turns 34 this season, PECOTA does see a distinct improvement in 2011. A big factor in that is his strikeout rate, which tumbled in 2010. PECOTA forecasts Burnett to strike out 8.1 batters per nine innings, which is over a batter more than his 2010 rate. It also lines up almost perfectly with his career rate of 8.23 per nine. That, combined with steady walk and home run rates, figures to produce a 4.56 ERA, or .7 runs per nine innings better than last season. In terms of BP's WARP, that's 2.6 wins, which easily trumps the zero wins he produced by the same standard in 2010.
While this type of improvement seems reasonable, the Yankees will probably need a bit more. BP recently published its AL East forecasted standings (unfortunately, subscriber-only). The takeaway is that the Yankees are projected to finish one game back of the Red Sox. While each player on the team contributes in some way to that discrepancy, perhaps no Yankees player can improve on his projection in the manner Burnett can. If he drops that extra half-run and get his ERA around four, that should amount to one extra win.* There's the difference right there.
*This is based on other pitchers of around 3.6 wins. The easiest comparison is Josh Beckett, who is forecasted for a 3.95 ERA in 187 innings, or a 3.6 WARP.
When the Yankees signed Burnett to that five-year, $82.5 million contract in the winter of 2008, they saw him as their No. 2 starter. While he served that function in 2009, he was far from it in 2010. In 2011 he'll have to return to form if the Yankees are going to keep pace. They might have a thin staff now, but if Burnett turns back into the guys the Yankees signed, they can hold on with a strong top of the rotation and a powerful offense. And Burnett knows exactly what is expected of him: "I came here to win. I came here to pitch…And I'm here to be a factor."