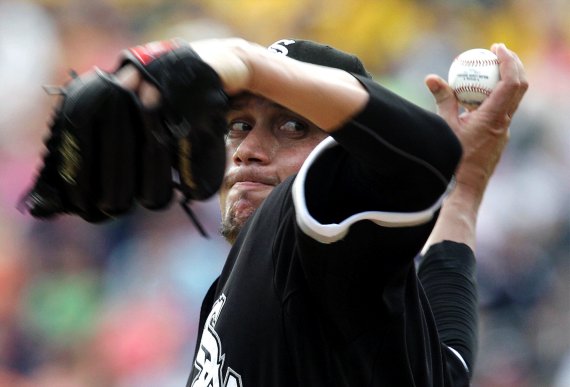 As Mike and Ben noted last night, nothing particularly stands out about Freddy Garcia's 2010 campaign. Everything basically screams slightly below average. But he still managed a 94 ERA+ in 157 innings, which is almost identical to the best season of Sergio Mitre's career. It's not hard to envision Garcia breaking camp in the Yanks rotation, so let's take a closer look at the one weapon that has allowed him to remain average-ish, even after shoulder surgery cost him parts of three seasons.
As is the case with many right-handed starting pitchers, Garcia faced more lefties than he did righties in 2010. That can be trouble for a soft-tosser. Yet Garcia realized better results against lefties than he did against righties. These results included a slightly higher strikeout rate, a lower home run rate, and a lower FIP and xFIP. He got lefties to hit more ground balls and fewer line drives. Judging from the data we have available, it appears that he accomplished this with a pretty nasty changeup.
Against lefties Garcia threw his changeup 559 times, or 42.9 percent of all his pitches. His fastball wasn't used nearly as often, just 344 times, or 26.4 percent. There appears to be good reason for this. Garcia generated very few swings and misses with the fastball, just 7.8 percent, which makes it by far his most hittable pitch for lefties. He also allows lefties to hit it in the air more often than his other pitches. His changeup, on the other hand, generates far more swings and misses, 22.1 percent, and he keeps the ball on the ground almost half the time. Swings and misses plus ground balls is an excellent combination.
Here's where Garcia placed his changeup in 2010 against lefties: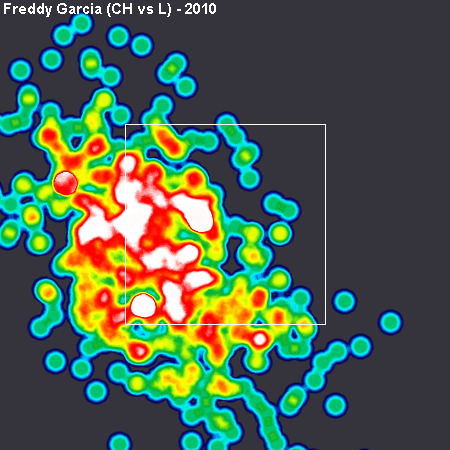 This breakdown makes complete sense once we look at the results, which we can find at Joe Lefkowitz's website. The lefties do not like the changeup on the outer third. Middle down appears to be an effective location, too.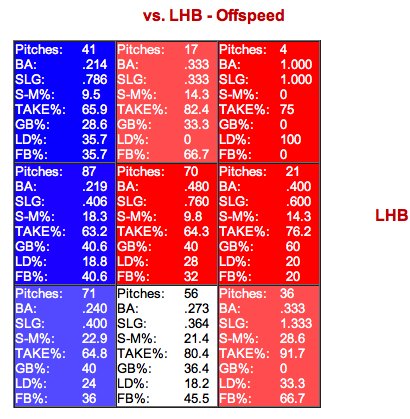 The only issue with the changeup is command, as both charts make clear. You can see a concentration of white near the middle of the zone. Unsurprisingly, lefties eat this pitch for breakfast, hitting .480 with a .760 SLG against it. He's going to put a pitch there from time to time, and we're going to eat our collective hats when the ball travels 400 feet. But we can take solace in Garcia's general effectiveness against lefties.
A glance at Garcia's splits reveals that while he strikes out a few more lefties and allows fewer homers, he does walk them more than he does righties. This has a lot to do with fastball location. The only zone in which he experienced significant success with the fastball against lefties in 2010 was middle down. That might be why he throws the fastball outside the zone.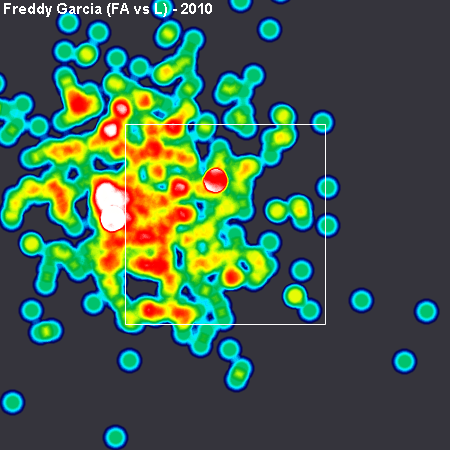 Against righties Garcia mixes his pitches a bit more. Last year when facing same-handed batters he threw his fastball 32 percent of the time, his slider 30.2 percent, and his changeup 27.5 percent. Again, he didn't generate many swings and misses on the fastball, which is to be expected when it averages around 88 mph. It appears that command might have been an issue with this, too. An 88 mph fastball in one of those white zones must look awfully tempting for a righty at bat.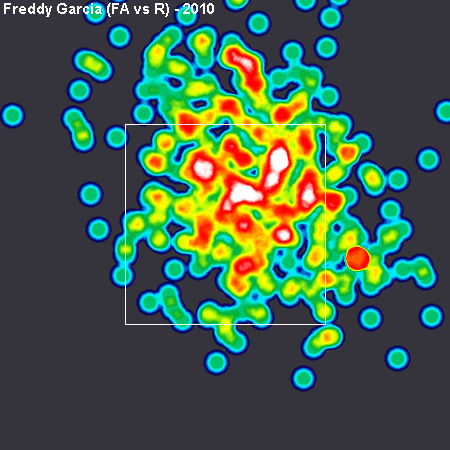 It's pretty clear that there will be ups and downs for Garcia. He wasn't terrible against either lefties or righties last season, and with his changeup he's proven particularly capable against lefties. I do wonder if he could work in his splitter a bit more often, at least against righties. He delivers it at around the same speed as his changeup, but righties seemingly beat it into the ground. But since he threw it only 114 times all of last season, I'm not counting on anything in that regard.
The Yankees don't expect the world from Freddy Garcia. He represents a decent choice for a back-end starter who can eat some innings early in the year. He does have some strong points, foremost of which is his ability to handle lefties using his changeup. If he can continue what he was doing last year he should help shore up the Yanks rotation. If he can't, they're on the hook for nothing.