The following post was written by weekend writer Brock Cohen.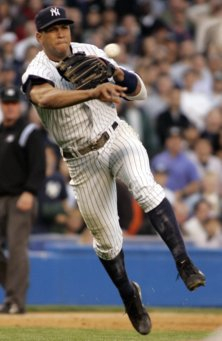 Like anything that can be reduced to shrill sound bytes, the Albert Pujols ordeal is especially fertile territory for the junior high dialectics of talk radio, where calling somebody an idiot qualifies as a rhetorical flourish. In a span of five minutes this past Tuesday morning, ESPN Radio's Colin Cowherd – ring leader du jour for the cult of "Now This Is Just Off The Top Of My Head, But…" – weirdly dubbed himself as something akin to the thinking man's sports call-in host, dismissed statistical analysis (or, what he more pejoratively referred to as memorizing the backs of baseball cards) as an infatuation in which only people with no lives engage, and then, for his coup de grace, fired off this nifty little beauty while weighing in on the Pujols saga:
I'm not a sabermetrics guy, but it has some value. Let me tell you what Albert Pujols is: he's a boat or a hot tub. Looks great in your driveway, looks great on your deck, adds nothing to your net worth…Edgar Rentereia, a situational hitter – a clutch hitter – is more valuable in the postseason than Albert Pujols. Think I'm wrong? In three World Series, he's hitting .333, five doubles, two homers, ten RBIs, World Series MVP. He's a great situational hitter. And when you face elite pitching, that's more important than power hitters.*
My apologies for the I.Q. mugging, but I was forced to endure the same thing on Tuesday. (Not surprisingly, L.A. only has one 24-hour sports radio station.) As for worth, Mike succinctly explained in yesterday's mailbag that a player who posts an exceptional WAR has more value than multiple players who would achieve the equivalent. That means, career-wise, Pujols has been more valuable than two Jim Edmondses or three Adam Dunns or, you've guessed it: four Edgar Renterias.
Still, if we can somehow summon the will to dig through the layers of Cowherd's bombast, maybe we'll discover a kernel of rational thought in his drive time rant. Assuming there's veracity to the 10-year, $300 million asking price that Pujols' camp has reportedly floated, the slugger's next deal would ostensibly become the most onerous sports contract ever signed. So in a sense, Cowherd's likely right: Inking Pujols to a contract of such epic expense and length at this stage of his career is fiscally brazen, if not downright irresponsible. But it's not because he lacks the clutch-ocity of Edgar Renteria (who, I'm telling you, has a World Series MVP for God's sakes!) but because we may have already glimpsed shades of Albert's physical decline. In 2009, he finally had surgery to repair a torn ulnar collateral ligament; possibly even more alarming, early last season, at age 30, he was nagged by lower back pain – the canary in the coal mine for power hitters on the wane. Go ahead and break out your Don Mattingly Yankeeography for a stark reminder of this. Bring lots of Kleenex.
Pujols' injuries over the past two seasons probably don't presage a career downturn – at least not yet. What can be counted on is the volatility in production that afflicts players entering their thirties. Juan Gonzales, Carlos Lee, Vernon Wells Eric Chavez, and Alfonso Soriano were all special players who, immediately following stellar seasons, drove Vanishing-point-style off the ravine of thirty-something. (In case you're wondering, the average age for their respective cliff-dives was 32.)
Organizations see this, and it makes them justifiably reticent to allocate precious resources to a surefire hall-of-famer who could, in less time than it takes to say "nagging groin," somehow morph into a lead-footed Juan Pierre. It's something from which few players in the history of baseball are exempt, advances in nutrition, fitness, and medicine notwithstanding.
Not long ago, Yankees fans could stake a claim to having their very own version of the best all-around player in the game, proving that things can change in a hurry once a player hits his mid-thirties. Unlike Pujols, A-Rod was a picture of health leading up to his 10-year $27.5 million AAV deal with the Yanks in 2007. Since then, he's been dogged by a series of lower-body injuries, most notably a torn labrum for which he's needed two surgeries. Beyond impacting Alex's power numbers, which have revealed an ISO dip of .271 to .236 over the past three seasons, these injuries have forced him to miss 87 games since '08, leading to more instances in which replacement-level icons like Cody Ransom and Ramiro Pena become the Yankees' de facto $27 million man for a day. While still an elite offensive force at 35, it's unlikely that Rodriguez's health will improve with age. (For what it's worth, the uber-conservative Marcel projects an underwhelming but strikingly similar 2011 output for Alex.)
It's unlikely that the 2007 A-Rod signing would serve as an effective cautionary tale for prospective Pujols suitors, however. For one thing, as great as Alex is, when it comes to career offensive production, Albert stands alone. In fact, out of the all-galaxy quartet of A-Rod, Frank Thomas, Miguel Cabrera, and Manny Ramirez, none possesses a single significant advanced career metric that surpasses Pujols'.
There's another A-Rod factor that might actually bolster the case for a long-term Pujols signing: A rebound. At this moment, it's impossible to say for certain whether or not the Yankees' third-baseman has entered his permanent decline phase. A 2011 return to form from Alex, to something approaching his career mean ISO of .269 makes a Pujols signing appear less daunting, as it would further the notion that some people are simply age defying freaks of nature. Thomas, Manny, and the perpetually wronged Garry Sheffield all fit neatly into this category: None of them displayed a hint of slowing down until their late-thirties and, at 37, Manny posted a 153 OPS+ in 431 PA for a playoff-bound Dodgers squad.
The obvious problem here is that there's no conclusive way to predict Pujols' longevity beyond his astronomical talent and superhero lats. The Orioles probably thought they had a steal when they signed then-surefire first-ballot hall-of-fame curmudgeon Albert Belle – who, physically, resembled Ray Lewis in stirrups – to a five-year, $65 million deal in 1998, only to witness their 31-year-old 145 career OPS+ investment fall to osteoarthritis two seasons later.
Even more disturbingly, the once great Mo Vaughn is now remembered more as a portly $80 million mistake, shoehorned into the late-90s eye-piercing pajama tops of the California Angels, than the offensive monster who put up six consecutive 139 OPS+ seasons in Boston – something that neither A-Rod, Belle, David Ortiz, nor Miguel Cabrera has ever done.
Still, when factoring in all-around performance (including defense), physiology, and longevity, A-Rod remains Pujols' closest career comp among modern-day superstars of a similar age. The table below reveals this.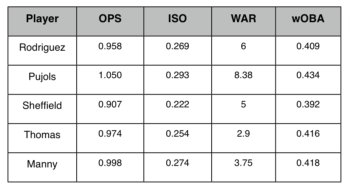 Clearly, you can't go wrong with any of these guys. But although both Thomas and Manny are closer offensive comps to Pujols, WAR reveals that A-Rod and Albert are closer in type, since they can each also hold their own beyond the batter's box.
Despite their four-year age difference, Pujols and Alex are also uncannily similar in stature (6'3" 230 per B-Ref's "yeah right" specifications), athleticism, and physical fitness. Both have a history of relative durability, though A-Rod's endured significantly more wear and tear due to his having to play shortstop for the first decade of his career. Alex also has more mileage relative to their respective ages: By the time Albert had taken his first major league hack, Rodriguez had already played in 211 games.
In entering only the fourth year of his ten-year deal, it's still unclear as to whether or not the A-Rod signing will ultimately prove to be prudent investment or a half-insane albatross. But even assuming he spends the final two years of his contract as a hulking platoon DH and pinch-hitting power option off the bench, if A-Rod can once again resemble the player that annihilated American League pitching for a decade-and-a-half, it will be money well spent. Which, in turn, could mean more money spent on Albert.
*B-Ref spoiler alert: Renteria also has a .666 OPS in 242 postseason at-bats, proving that it isn't the mark of the beast after all.