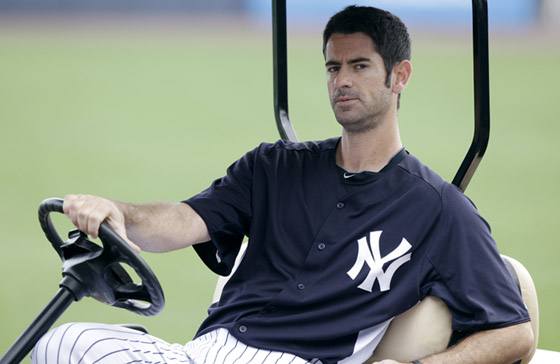 In a few hours, we will be all be watching real, live baseball. We will be watching New York Yankees (some more questionable than others) play major league baseball. Some of them – 24, 42, 30, 2, 13 – will be wearing numbers that we recognize. Most of them will be wearing weird numbers we don't know. We will judge them by a tiny selection of at-bats off pitchers, many of which are struggling for major league jobs. We will wonder what this means for the rest of the season.
Now, I'm as guilty as anyone at this. I'm going to try my Mo-damned best not to yell at my computer during Spring Training. I will try my best not to moan in anguish when Gardner lays down a sacrifice bunt or get too excited watching Austin Romine hit home runs. Because, let's be honest, it's Spring Training. The stats don't matter. Okay, maybe they matter a little. No, wait, they really, really don't. Try your absolute hardest to pay no attention to anything that happens. Just soak it in. It's been a long offseason.
The 2009 season was a particularly good example of how Spring Training stats mean absolutely nothing. Angel Berroa hit .377 with seven doubles and two home runs in 61 plate appearances, but couldn't even manage to stay on the team the whole season and the Yankees released him in July to have the Mets sign him. Through the entire regular season, he only managed to hit .143/.208/.184 in six less PA. Another stunning example of this is the notorious Kei Igawa, who posted an impressive 0.73 ERA in 12.1 IP. Luckily, he had absolutely no major league innings that year. Chien-Ming Wang (4.15 ERA in  21 IP) had a better ERA than CC Sabathia (4.26). Brett Gardner hit three home runs in 64 PA in Spring Training and 3 home runs in 248 PA during the regular season.
Things didn't change in 2010, as far as random statistics went. Colin Curtis, who hit that hit that memorable pinch-hit home run, had two home runs in '10 Spring Training and went 6-for-12. Mark Teixeira, king of glacial Aprils, went .362 in 47 PAs with three home runs. Francisco Cervelli hit .344 with two doubles. Sabathia, again, didn't do so hot: he picked up an impressive 7.23 ERA with 15 ER. I don't know about you, but I don't want that guy pitching on my Opening Day.
The Yankees as a team went 9-20 in Spring Training 2001 and, if my memory serves, they did pretty decent when it mattered.
So, here's the end to a short post: don't worry about Spring Training. Stay away from the bridges. Try not to accuse Cano (who, by the way, posted a .377 with two home runs and four doubles in Spring Training '10) of being lazy, and don't get on Sabathia for his bad Marches. Try to enjoy watching Bartolo Colon either a) pitch decently or b) make a fool out of himself. Either way, it'll be entertaining. The games don't count. Baseball's been gone for a really, really long time. Let's try to enjoy at least one game before we start filling up the game threads with doom proclamations and death threats. Just one. That's not too much to ask, right?
(Just a warning: if you do start with the doom proclamations, I (and many other people) am going to make fun of you.)