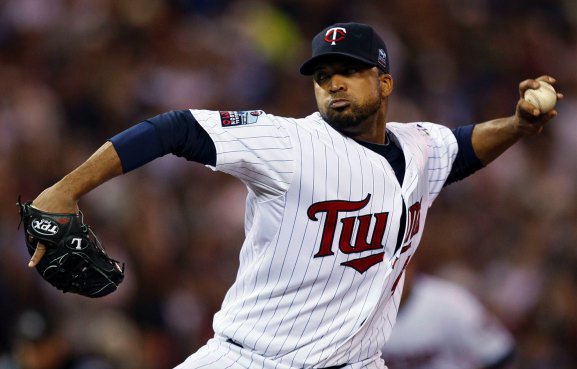 The story, though only a few hours old, has made its rounds. On Wednesday evening The Minnesota Star Tribune's Joe Christensen wrote that the Twin would consider trading Francisco Liriano, perhaps as early as this spring. Liriano doesn't factor into the team's long-term plans, writes Christensen, and with six possible starters on board they could use Liriano to help shore up an area of need, perhaps in their infield.
Even weak rumors of Liriano's possible availability will certainly pique the interest of Yankees fans. He established himself throughout baseball in 2006 when he appeared in 28 games and made 16 starts, finishing with a 2.16 ERA. He possessed the beneficial combination of strikeouts and ground balls, and all indications were that he fit the bill of a true ace. Then came Tommy John surgery, which cost him a full season and perhaps affected two more. But in 2009 Liriano returned to his high-strikeout, low-walk, high-groundball ways. While his ERA was 3.62, his peripherals suggest that he might have better results in store.
Why, then, would the Twins want to trade him? His health record probably headlines the list. He had injury problems in the minor leagues, which played a part in the Giants' decision to trade him in a package for A.J. Pierzynski. Then, at the end of his spectacular debut season, he missed the final month and a half with elbow and forearm problems that required Tommy John surgery to correct. That cost him 2007. When he came back in 2008 he wasn't the same, and things didn't get better in 2009. What's even more concerning is that he spent time on the DL that year with what was termed elbow fatigue.
In 2010 Liriano demonstrated a full recovery, striking out more than a batter per inning and allowing just nine home runs all season. Still, he had his issues. He still pitched only 191.2 innings in 31 starts, which isn't quite ace material. According to Christensen, he also developed a reputation for faltering in tight spots. All of this might motivate the Twins to explore trade situations. I'm not sure they'd consider a move in the spring; having six able starters is a blessing. But maybe if they fall out of the race they'd consider trading him mid-season.
We learned earlier in the winter that the Yankees already inquired on Liriano. There certainly has to be some level of interest. But as in all trade situations, the key lies in the return. Jesus Montero's name will likely come up, but I wouldn't trade him for Liriano. As was the case with Zack Greinke, Liriano has just two years until free agency. That's not enough cheap control to justify trading Montero. Surely any trade would involve Manny Banuelos, and since the Twins' infield is in something of a disarray, I assume Eduardo Nunez would also be part of a package.
I'm not sure if that's enough for the Twins. That will depend on what other teams offer, and whether the Twins are really motivated to move Liriano. Even if they are, I'd be hesitant to deal with them. These aren't the same Twins that traded Johan Santana for four spare parts. Their 2011 payroll is already over $100 million, and they're expected to contend in the AL Central. How will it help them to trade the only pitcher who approximates an ace? Even if he doesn't factor into their long-term plans, he can still fit into their 2011 and 2012 plans.
A name such as Liriano might sound appealing, but if a team is willing to trade a pitcher like that there's always something else going on. We'll see the Yankees connected to him for sure, but I would be surprised to see a situation really develop. There's just too much that doesn't make sense about the Twins' reported willingness to trade him.