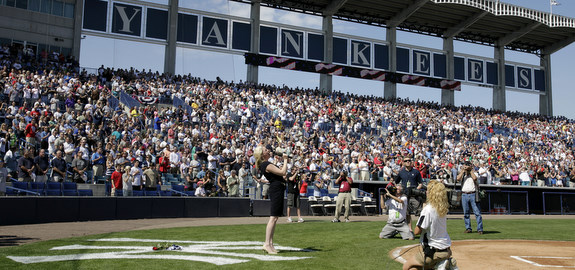 The Yankees played their first two Grapefruit League games this weekend, splitting a home-and-home series with the Phillies. It was great to see baseball, stress-free baseball at that. If it was the middle of the season, I'd be pretty upset over the two-run bloop single that essentially lost them the game on Saturday.
Anyway, we know that Spring Training games, especially the first few (when it's still February) really don't mean too much, but that's not going to stop me from making some small sample size observations. I'll go alphabetically for no apparent reason…
Dellin Betances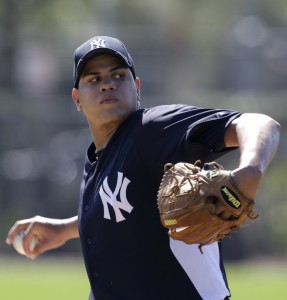 The highlight of the weekend was easily Betances' inning of work on Sunday. He faced four batters, striking out three and walking one. The television gun had him up 97 with the fastball, which a) is absurd for this time of year, and b) garnered a few helpless swings-and-misses. Chances are he was a little geeked up for the appearance and hitters just aren't used to see that kind of velocity this time of year, but yeah, Dellin was electric. He was also wild and in obvious need of some more minor league seasoning. But still, damn was that fun to watch.
Joba Chamberlain
For all the talk about his weight gain, I mean sheesh, it was barely noticeable on television. Some other fans I spoke too said he looked bigger up top, around his chest and shoulders, but it's not like he had a gut hanging over his belt. Joba changed his delivery somewhat, starting with his hands at his waist as opposed to his chest, something he said he started doing on his own and Larry Rothschild later okay'd. The television gun had him anywhere from 91-95, and he threw a lot more sliders than I expected this early in camp.
Bartolo Colon
Bartolo wasn't kidding when he said he needed to lose 25 lbs., the guy's pretty chunky. He still brings the heat though, hitting a few 94's on the YES gun, and he was throwing some kind of offspeed pitch in the low-80's. Not sure if it was a changeup or splitter, but it moves down and away from lefties. It was just one outing, but it kinda reinforced the notion that it's tough to be optimistic about his chances of being a viable starter in the big leagues this year.
Brett Gardner
The gritty one didn't take the bat off his shoulder until the fifth pitch of his fourth plate appearance of the spring. He drew a five pitch walk in his only trip to the plate on Saturday, then walked on four and five pitches in his first two at-bats on Sunday, respectively. After working a 3-1 count in his third plate appearance yesterday, he finally swung at a pitch, a fastball on the outer half, slapping it down the left field line for a legit double (meaning it would have been a double for anyone, not just a fast guy). That swing also featured a two-hand follow through, not the one-handed helicopter thing he had going on last year. I'm glad Gardner is still showing that mega-patient approach against rusty pitchers, though I will continue to hate seeing him let hittable pitches go by in hitter's counts.
Curtis Granderson
The Grandy-man went 1-for-4 with two strikeouts on the weekend, but the one was a two-run opposite field homerun. Opposite field homers are far from routine for the Yankees center fielder; he's hit zero in that direction over the last two seasons, and just three total since the start of the 2008 season. Granderson went from an extreme pull hitter to using left field a little more after working with Kevin Long last year, so it was good to see that oppo homer. One ball in play (in February) means nothing, but I remain cautiously optimistic, just as I have been all winter.
Jesus Montero
The Yankees' top prospect started behind the plate on Sunday and wasn't tested defensively in any way. No tough balls in the dirt to block, no stolen base attempts, nothing like that. His first at-bat was his best of the day, when he fouled off four 2-2 pitches from Joe Blanton before ripping a line drive right at Placido Polanco at third. Montero's other two trips to the plate resulting in first pitch ground balls, one for an out, the other for a broken bat RBI single that bounced through the left side of the infield. He's definitely a big boy though, very tall and strong (looking).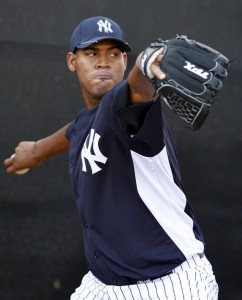 Ivan Nova
Nova looked about as good as a pitcher can look in February, facing six batters and getting four ground balls with a pair of strikeouts. He definitely hung a few fastballs if that's possible, meaning they were belt high and right out over the plate. The problem we're going to have with Nova this spring is that we really don't care too much about how he looks early in the game, the majority of his struggles last year came the third time through the order. I doubt we'll get to see him turn a lineup over more than once in spring, so it'll still be an unknown if he improved in that department when the season starts.
Alex Rodriguez
Reports have Alex losing ten pounds and three percentage points of body fat over the winter and damn was it noticeable. He seriously looked like the A-Rod of 2006 and 2007, at least physically. That's not to say he was big before, but he looks more … streamlined this year. I guess that's the best way to describe it. Alex hit two balls right on the screws on Saturday, one right at the center fielder and one into the right-center field gap for a double. He looked to be running well on the two-bagger, much lighter on his feet.
And a few miscellaneous notes…
Melky Mesa totally looks like Alfonso Soriano in the box. Very closed stance, knees very bent, exaggerated bat waggle. Melky 2.0 definitely bore a resemblance to Fonsy.
Jorge Vazquez went way deep on Saturday (over the batter's eye in center) and then went deep again on Sunday. The first one came off Yankee-for-a-winter Brian Schlitter, the other off Brad Lidge. JoVa's rapidly becoming the 2011 version of Jon Weber.
Maybe it's my shoddy memory, but I think David Robertson's leg kick was a little less exaggerated on Saturday; he didn't pick his knee up past his waist.
Boone Logan was only throwing 87-89 on Sunday after sitting around 93 most of last year. It's only February and it was the TV gun of course, but when everyone else was in the 90's, Boone's missing heat was noticeable.
So that's all I've got the first weekend of baseball in 2011, which for all intents and purposes means nothing. I'm curious to see Joba's and Nova's next few outings, as well as Gardner some more. That two-handed follow through is interesting. Oh, and A-Rod. Because he's good at baseball.