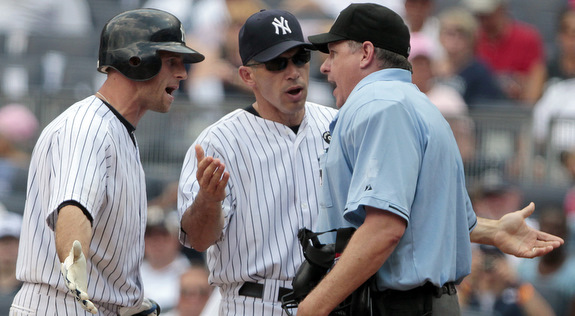 Just like they did in 2009, the Yankees led baseball in team on-base percentage last year and it's not particularly close. Only one team was within ten points of their .350 mark, and that was the Twins at .341. Quite the gap there. Unsurprisingly, the Yankees also led baseball in runs scored last year, again by a considerable margin. They put 859 runs on the board, and the Red Sox were the distant second at 818. The Rays (808) were the only other club over 800. Leading the league in OBP and runs scored is not a coincidence, folks.
As a group, Yankees batters saw 25,026 pitches last season, second only to the Red Sox (25,540). That works out to 3.92 pitches per plate appearance, fourth most behind the Sox (4.02), the Diamondbacks (4.01), and the Rays (3.94). Yankees batters reached base by something other than a hit (meaning an unintentional walk or a hit-by-pitch) a whopping 699 times, tied with Tampa for the most in the game. The only other team over 600 was the Braves at 635. If you want to add in intentional walks, since those are real baserunners that contribute to real runs being scored, the Yankees are in sole possession of first at 735 non-hit times on base (Tampa's at 729).
If you're reading this site, then you're no doubt aware that the Yankees have long built their offense around high-OBP batters that take pitches and make pitchers work for every out. Last year was no different, and 2011 will certainly be no different. Sixty-two players spent 2010 with one team and saw at least four pitches per plate appearance (min. 400 PA), and five of them were Yankees. Boston and Arizona each had four such players, and a handful of clubs each had three, but no one besides New York had five. That doesn't include Austin Kearns (4.03 P/PA) or Lance Berkman (4.00), who spent some time in pinstripes. If we drop our criteria to 3.90 P/PA, the Yankees still lead the way with seven players not counting Kearns and Puma.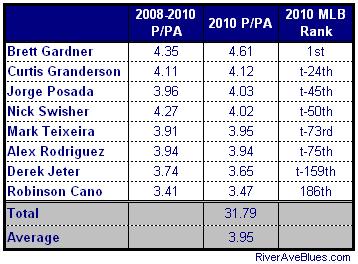 The table on the right lists each 2010 Yankee who came to the plate at least 400 times, and the number of pitches they saw per plate appearance. I added in their 2008-2010 P/PA and 2010 MLB rank just for comparison purposes. Brett Gardner led the league in P/PA last season and by a wide margin. Daric Barton was second with 4.40 P/PA, so we're talking about a difference of one extra pitch every 4.76 PA. That doesn't sound like much, but over the course of 600 PA, it's an extra 126 pitches. That a full start by a pitcher.
Curtis Granderson also ranks high up there, and his 2010 performance in this department was right in line with what he's done the past few years. Jorge Posada has always worked the count well, so it's not a surprise that he's over four. Nick Swisher's another guy that has always walked a lot, but he saw 0.25 fewer pitches per plate appearance last season than he had in the past, basically one fewer pitch per game. Swish's walk rate fell from about ~13% for his career to 9.1%, though he did trade some of those walks for hits. His OBP just about matched his career mark (.359 vs. .358) but fell from his 2010 mark (.373). Despite that, his wOBA went up two points (the league average wOBA dropped eight points from 2009 to 2010, so those two extra points are bigger than they appear) because of the extra power. If Swish can get back to his previous walk rates while maintaining his 2010 contact and hit rate, awesome, but if not, I'll take the hits every day of the week as long as OBP stays around .360. The next walk that goes for an extra bases or over the fence will be the first.
Swisher's drop was the most significant, though that's relative to the rest of his career. Seeing more than four pitches per plate appearance is damn good. Derek Jeter's drop was considerable at 0.09 P/PA, though his 8.5% walk rate is better than the 7.8% he posted in both 2007 and 2008, when he had .388 and .363 OBP's, respectively. It's all about the base hits with the Cap'n, his eye and ability to get on base in other ways is still fine. Robbie Cano's always going to be well down there on the P/PA leaderboard (186th out of 205 qualified players in 2010), in part because he makes contact so easily. His 11.0% strikeout rate and contact rate are the 15th lowest and 13th highest in baseball since 2008, respectively. Robbie's not going to change, he is who he is and that's perfectly fine when you hit like he does.
All of those guys in the chart are coming back next year, and the one new face will be Russell Martin. He didn't reach my arbitrary 400 PA minimum (387 PA before the hip injury), though he saw a healthy 3.84 P/PA in 2010, down a touch from his 3.90 mark over the last few years. He's essentially taking the place of Frankie Cervelli, who saw 1,160 pitches in 317 PA last summer (3.66 P/PA). Martin was brought in for his defense, but if he even comes close to repeating that 3.84 P/PA mark this coming season, it'll make the lineup that much tougher to go through.
Remember, seeing a ton of pitches isn't just about drawing walks, though that's certainly a benefit, but it also helps get guys into hitter's counts and find a pitch to drive. Feasting on middle relief, often the weak underbelly of a club, is another Yankees trademark that stems from working the count. It can be a boring strategy at times, especially for fans who watch pitch after pitch go by, but it's a devastating approach that has led to fantastic results for New York. I wouldn't expect that to change anytime soon.