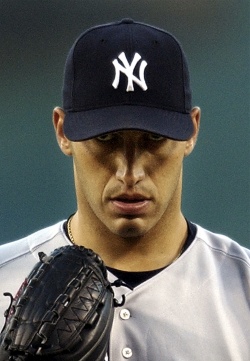 Update (2:17 p.m.): After months of playing the waiting game, Andy Pettitte is going to retire tomorrow, according to multiple reports. As first reported by Michael Kay and later confirmed by Jack Curry, the 38-year-old lefty is going to meet with team officials today to tell them that he will not be pitching in 2011. Joel Sherman reports that Pettitte's heart is "just not into it," and Curry says the club will hold a press conference tomorrow. The Yankees have since confirmed the news.
Realistically, for the Yankees, even as this news caps off a rough off-season, this development can't be viewed as a huge surprise. Pettitte has hinted since the team's season ended in October that he would likely not return for the 2011 campaign, and the Yanks have approached this winter under the assumption that Pettitte would not be a part of their plans. Had he chosen to pitch, he would have thrown only for the Yankees, and the club would have welcomed him back with an offer of at least $12 million. That point, however, is moot now as Andy will ride off into the sunset.
Nick Swisher, talking a few nights ago at the Thurman Munson Awards dinner, summed it up best. "I can't say enough great things about that guy," he said. "To play that long and continue to put those numbers up year in and year out. We'd love to have him back. But if he decided to ride off into the sunset, he's definitely earned that."
Pettitte, who made his Yankee debut on April 29, 1995, pitched for 16 years in the majors and 13 of those were with the Yanks. Overall, he went 240-138 with a 3.88 ERA. For the Yanks, he won 203 regular season games, 18 playoff games and five World Series rings. With a trademark stare that intimidated opposing batters, Pettitte emerged as one of the top lefties of the past decade and a half and had a reputation as a big-game pitcher. In fact, he won every clinching game for the Yanks during their 2009 World Series run.
At the outset of his Yankee career, Pettitte and the Yanks' Front Office had a tenuous relationship. Throughout the late 1990s, his name came up in numerous trade conversations, but Brian Cashman and Joe Torre always argued to keep him. After the 2003 season, the Yanks saw Pettitte slip away and land in Houston. He suffered through an injury-plagued 2004 before rebounding to form in 2005 and 2006. He returned to New York in 2007 as the city celebrated his homecoming, and it was clear that he would never pitch anywhere else again.
I grew up with Andy Pettitte. I was 12 and he was 23 when he came up to pitch in the Majors. I saw him morph from a prospect to a team leader and a stalwart in the rotation. I'll certainly miss his stare, his familiar leg kick, his pick-off move and the fact that he would pitch every five days and give it his all. We're all growing up and getting older, and it just won't be the same in the Bronx without him.
And so the Yankees will move ahead with a rag-tag bunch of rotation candidates. Kevin Millwood remains available, and the club will hope that Freddy Garcia or Bartolo Colon or Sergio Mitre or Ivan Nova can hold down the fort until a trade market develops.
As the Yanks stumble to Spring Training, though, this has been a tough, tough off-season indeed. I can't begrudge Andy this decision at all, and I mourn it not for the Yanks but because we won't watch Pettitte pitch again. Godspeed, Andy Pettitte. You've deserved it.