As soon as the ink was dried on Freddy Garcia's minor league contract, it effectively signaled the end of the Yankees' offseason. Oh sure, there might be a Justin Maxwell mixed in between now and the start of Spring Training, but for the most part all the major business is finished. Garcia steps in as the front-runner for the fifth starter's job, the bench has been solidified, and the bullpen has been upgraded considerably. Yet despite all of that, it's hard to consider this offseason a success for the Yankees.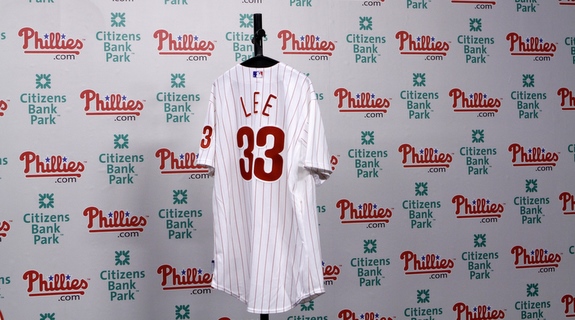 It was clear coming into the winter that starting pitching was priority number one, two, and three, and it was certainly no secret that the Yankees wanted Cliff Lee to solve their rotation woes. They made a valiant effort to sign him, but it was a major, major blow when Lee shocked the world by returning to Philadelphia. The alternatives on the free agent market were not appealing, and they were made even worse when Hiroki Kuroda and Jake Westbrook quickly re-signed with the Dodgers and Cardinals, respectively. Unless Brian Cashman & Co. were willing to part with top prospects for a band-aid or roll the dice with Zack Greinke, there was little help on the trade market. Their hands were tied but let's be frank, it's their own fault for being in a position where they were so desperate for Lee in the first place.
Once Lee was off the board, the Yankees finally sprung into action. They signed Russell Martin less than a week later, shoring up the defense behind the plate and giving Jesus Montero that much more time in Triple-A should he need it. There are very few complaints about spending $4M on a starting catcher on the right side of 30 and just two years removed from his last All-Star Game berth, but there are some complaints to be made about spending that much on a lefty specialist. That's the annual salary the Yankees awarded Pedro Feliciano over the next two seasons in the middle of December.
Don't get me wrong, Feliciano's a fine reliever, a workhorse guy that could legitimately appear in 90 games if needed, but he's still nothing more than a lefty specialist. With Damaso Marte – another lefty reliever slated to earn $4M in 2011 – expected to be on the shelf basically all season because of shoulder surgery, the Yankees felt the need to get a guy like Feliciano. The market for relievers went bonkers this year, so unfortunately two years and $8M guaranteed is the going rate for guys like Feliciano these days. If any team can afford it, it's the Yankees.
That wasn't the end of the bullpen spending though. Ownership jumped in after the calendar turned to 2011 and signed Rafael Soriano to serve as Mariano Rivera's primary setup man against Cashman's recommendation. The damage: three years, $35M, and the team's first round pick in a loaded draft class. Although Soriano is an obvious upgrade, the team assumed all the risk by giving the player the option of opting out of the deal after the first or second year, a contract so absurdly stupid that's it's still kind of hard to believe. For a total of $16M or so, Feliciano and Soriano represent maybe a two-win upgrade for the 2011 Yankees, and that's if everything breaks right. More than likely it'll be one win, maybe a win-and-a-half. Every little bit counts, but there are other the ways the team could have improved that much while using fewer resources.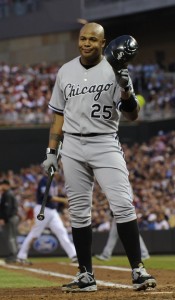 The rest of the moves were marginal upgrades at best. Andruw Jones is a damn fine fourth outfielder, and the various waiver claims (Maxwell and Brian Schlitter), Rule 5 Draft picks (Robert Fish and Daniel Turpen), and minor league signings (Luis Vizcaino, Warner Madrigal, Mark Prior, Andy Sisco, etc.) are fine for building depth. The Yankees still did nothing to upgrade their rotation however, still trying to rebound from Lee's rejection.
Resigned to shopping off the clearance rack, the Yanks signed Bartolo Colon to a minor league deal in the middle of January even though it's been five full years since he threw even 100 innings in a season or posted an xFIP below four-and-a-half. It's a minor league deal though, no risk. A few weeks later they added Freddy Garcia, who at least made it to the mound for 150 innings last year and was above replacement level. That he is now the front-runner for the fifth starter's job is an indictment of the offseason and current rotation.
Of course, the wild card in all of this is Andy Pettitte. He told the Yankees not to wait around for him at the outset of the offseason and he's stuck to his word, having yet to formally announced his retirement or return as far as we know. Cashman says the team has been operating as if Andy won't be coming back but I think we all know they're holding out hope that he will. Either way, he's still a 38-year old that battled elbow, groin, back, and hamstring issues last season. If you're counting on him to save the rotation, something is very wrong.
If I had to grade the offseason right now, I'd probably give it a D. Maybe a C-, but just maybe. The Martin and Jones signings were sound, but the Soriano contract is absurd and I can't get too exciting about Feliciano. He's just a LOOGY. The Yankees haven't addressed their rotation, basically at all, though I'm glad they didn't do anything stupid and reactionary like trade Jesus Montero for Edwin Jackson or Carlos Zambrano, that would have been a disaster. Cashman gets credit for a patience, ownership not so much, but the bottom line is that the team as it stands is weaker than last year's because of the starting staff.