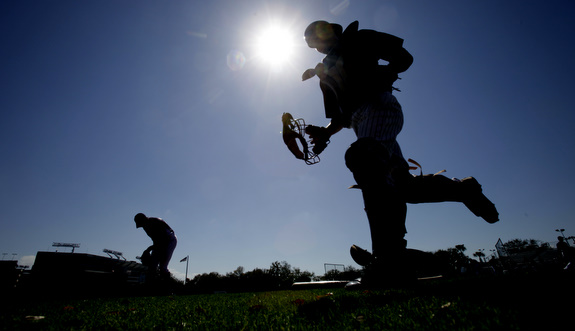 The grass was a little greener (or less dead, anyway), the sun was a little brighter, and the New York air a little less nauseating when I woke up this morning. Why? Because baseball will be played today. I don't care that it's just a Spring Training game, it's baseball, and we've been without it for far too long. I enjoy these games because of the prospects and stuff, but mostly because there's no stress. Who cares who wins and who loses? There's plenty of time to worry about that later. This brand of baseball is for pure entertainment in my book.
Bartolo Colon gets his first crack at winning a rotation spot this afternoon, though we really shouldn't put too much stock in his performance since it's just his first outing. That works both ways, regardless if he pitches well or poorly. It is worth noting that Colon did pitch in winter ball, so he's theoretically ahead of the hitters as far as readiness, if you get my drift. He'll throw two innings or 35 pitches, whichever comes first. I'm guessing the latter.
Brian Schlitter, who the Yankees lost on waivers to the Phillies after claiming him off waivers from the Cubs, is scheduled to pitch today for Philadelphia. Here's the lineup, or at least the one that will start the game. Joe Girardi said yesterday that the regulars will get two at-bats then hit the showers…
Derek Jeter, SS
Nick Swisher, RF
Mark Teixeira, 1B
Alex Rodriguez, 3B
Robbie Cano, 2B
Jorge Posada, DH
Curtis Granderson, CF
Frankie Cervelli, C
Brett Gardner, LF
Scheduled to Pitch: Bartolo Colon, Joba Chamberlain, David Robertson, David Phelps, Hector Noesi, and Eric Wordekemper.
Also Scheduled to Play: Austin Romine (C), Jorge Vazquez (1B), Kevin Russo (2B), Eduardo Nunez (SS), Brandon Laird (3B), Colin Curtis (LF), Greg Golson (CF), Justin Maxwell (RF), and Andruw Jones (DH).
The game can be seen on either YES or the MLB Network, and begins at 1:05pm ET. George Steinbrenner will be honored during a pregame ceremony; here's that press release. Enjoy the game.