Spring Training is a bit of tease for baseball fans. Yeah, it's great to watch and follow real live baseball, but the games don't mean anything and the result certainly don't matter at all. It can be hard to get a grasp on who's really ahead in position battles and who's simply working to improve an aspect of their game, but that doesn't stop us from trying. Aside from the well-documented competitions for the fifth starter's spot, the last bullpen, the last bench spot, etc., here's a few things to keep your eye on throughout camp…
A.J. Burnett's Curveball
We're all well aware that A.J.'s curveball deserted him last season, which is why his strikeout (6.99 K/9) and swing-and-miss (7.29%) rates plummeted to their lowest points in a decade. Burnett has waited until later in Spring Training to start throwing his curveball over the last few seasons, so I'm curious to see if he'll break the routine and start toying with the pitch a little earlier than usual to avoid a repeat of 2010's debacle.
Brett Gardner's Approach
Gardner was baseball's best count-worker last season, though after taking that Clayton Kershaw pitch off his right wrist in June, he was noticeably passive down the stretch, almost hoping for a walk rather than looking for something to drive. He had offseason surgery to clean out some inflammation and get the wrist back to 100%, so let's see if he start being a little more aggressive and swings at stuff in the zone rather than letting hittable pitches go by just for the sake of seeing pitches.
Curtis Granderson's Hacks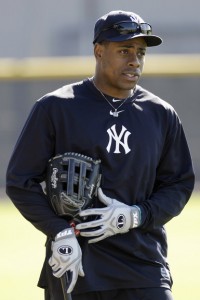 Much has been made of Grandy's mid-August turn around, but the fact remains that his torrid hitting lasted all of 192 plate appearances (230 if we count the postseason, which we should). Results don't matter, but just pay attention to the kind of contact he's making in March. Is he producing line drives and fly balls, or rolling over on pitches and hitting weak pop-ups?
Russell Martin's Mobility
The new starting catcher saw his 2010 season end in August after an awkward step on home plate resulted in a hairline fracture in his hip. His labrum was not damaged and he didn't need surgery, but it's still a very serious injury. Furthermore, Martin had surgery to repair a partially torn meniscus in one of his knees back in December, and as recently as last week we heard that he still wasn't 100%. Chances are he'll take it easy during the first week or two (or three) of camp at the team's behest, but once we get into the middle of March, we should see him moving around like a normal catcher.
Derek Jeter's Grounders
The Cap'n has always been a ground ball hitter, but last season he took it to the extreme. His 65.7% grounder rate was not just the highest in baseball in 2010, it was the highest by a non-Luis Castillo batter since the data started being recorded in 2002. Jeter had been at 57.7% grounders from 2006 through 2009, which is ideally where he'd be going forward. If he's still (weakly) beating the ball into the ground close to seven times out of every ten balls in play late in camp, well that's not a good sign.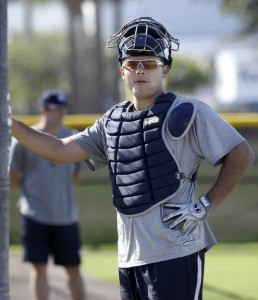 Jesus Montero's Awesomeness
It's not often that we get a chance to see our favorite prospects in the action, so Spring Training is a gold mine for minor league watchers. Sure, Montero will almost certainly be up at some point this season, but we have to wait until the club deems him ready. He'll receive mostly regular playing time in March though, the best chance we have to see him before he heads to Scranton in a few weeks. A .444/.500/1.125 career hitter in Spring Training (4-for-9 with two doubles and a homer, that being a grand slam), Montero will make the last four innings of every game worth tuning into.
* * *
Again, Spring Training isn't the best time to evaluate players, especially based on results, but there are definitely some things worth paying attention. Everything listed above is just the tip of the iceberg, we also need to pay attention to CC Sabathia's weight loss, Joba Chamberlain's weight gain, Phil Hughes' almighty changeup, Jorge Posada's adjustment to being a full-time designated hitter, Mark Teixeira's rebound from numerous nagging late-season injuries (broken toe, bruised thumb, popped hammy), and a ton more.