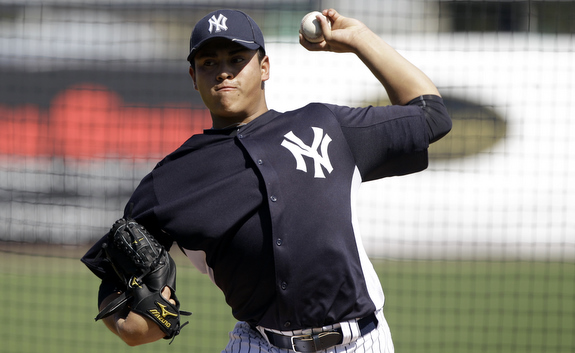 If you're a new reader, let me explain what all this about. Every season we select one prospect to follow as the season progresses, tracking their stats in the sidebar for all to see and celebrate. Last year we watched Jesus Montero, but it's time to get back to our starting pitcher roots.
Pint-sized (5-foot-10) lefty Manny Banuelos is the best pitching prospect in the Yankees system, owner of a 2.59 ERA in 215.2 career innings. He's struck out 228 (9.5 K/9) in that time and walked just 66 (2.8 BB/9), surrendering just ten homers (0.4 HR/9). Banuelos reached Double-A at age 19 last season, just months after having an emergency appendectomy. He'll return there this year, but there's a good chance he won't stay there for long.
Past watches have highlighted guys like Phil Hughes and Joba Chamberlain, so Banuelos has a tough act to follow. Once the actual watch goes up on the sidebar (later tonight or tomorrow, it'll be below the Opening Day Countdown), you'll see two rows of stats. The top one will be Banuelos' most recent start, and the bottom will be his season performance. It's pretty simple, but it's always worth explaining.
The minor league season doesn't begin until the first full week of April, but I plan on keeping track of everything this year, including the appearances Banuelos makes in the Grapefruit League. Anyway, I hope you all enjoy following along this year.