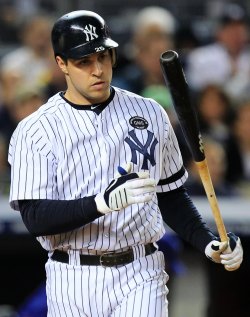 Even though we heard it when the Yankees signed him, and even though we've witnessed it for the past two seasons, it's still hard to simply accept Mark Teixeira's slow starts. The team counts on him as one of its best hitters, and while he can apparently be that player from May through October, for the past four seasons he has turned in terrible Aprils. This year, though, the Yankees need offense in April more than ever, and a present Teixeira would go a long way towards racking up that run total.
The thing is, the Yankees don't even need Teixeira to be great in April. He has been so bad the last two Aprils that even his second-worst month's numbers would suffice. If he can do even that, it would go a long way to the Yankees opening up the season hot on offense. Again, that might be more important than in the past, since the pitching staff carries more questions this season. Furthermore, it will mean a more productive season overall. Here's what Teixeira's numbers would look like if we substituted his September 2010 for April 2010, and his July 2009 for April 2009:


Note: I used the same number of PA Tex had in April and reverse engineered the counting stats.
The 2010 change is particularly notable, because Teixeira's second worst month last year was pretty putrid: .220/.346/.349 in 133 September PA. Of course, that was a monster month compared to his .136/.300/.259 April. You can imagine how those numbers would look had we substituted even his .250/.353/.460 June instead. These slow starts are absolutely killing Teixeira's seasons, and they're hurting the team's ability to jump out to an early lead in April.
Maybe this is the year he breaks his four-year curse. After all, in 2006 he hit .293/.391/.495 in April. He's a different hitter now, of course, so maybe that's no longer possible. Still, even something along the lines of his April 2005 — .262/.321/.485 — would be a welcome sight this year. With some questions on the pitching staff and another tight AL East race on the horizon, the Yanks could sure use it.