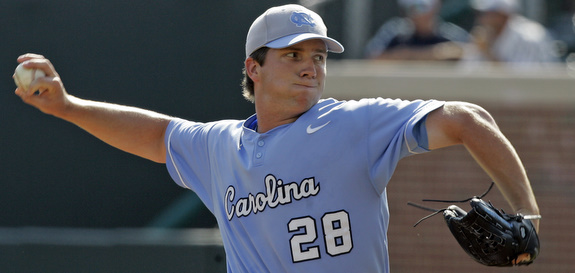 One of the many fun little sideshows of Spring Training is the non-roster invitees, or NRI's. Usually these guys are just trying to hang on for another year, or are prospects getting to strut their stuff, or sometimes they're guys with a legitimate chance at making the big league team in some capacity. The Yankees have 27 NRI's in camp this year, and I thought it would be fun to see how those players would do as team in 2011.
I used mostly PECOTA projections to sort everything out, though I had to fill in the gaps with Marcel and CAIRO. No need to be exact, this is just for fun. Once I had the data, I calculated each player's WAR using Sky Kalkman's calculator just to get a nice, uniform number for everyone. Unsurprisingly, this team is very bad. How bad? Let's find out…
Lineup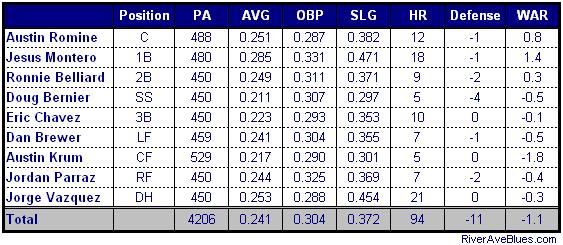 Clearly, the anchor of the lineup is the same guy will anchor Triple-A Scranton's lineup to start the year. Montero is projected to lead the team in AVG (.285), OBP (.331), SLG (.471), hits (125), doubles (25), and RBI (66) while ranking second in homers (18), and moving him to first should theoretically keep him healthier and in the lineup. The second best offensive "threat" on the club is Vazquez, who obvious does it with power an not on-base skills. He'll swat the most homers on the club but also strikeout the most (128 K) while drawing the fewest number of walks by far (just 18). His defensive ratings were so bad that he almost has to be the DH by default.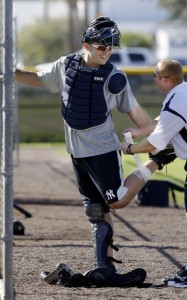 Offensive production drops off considerably after those two. The average catcher hit .249 with a .381 SLG last year, so Romine's right on track there. Problem is that he lags significantly in the OBP department (.287 to .319 avg). Belliard isn't far off from a league average second baseman (.264/.330/.388), but the production at short, third, and all three outfield spots is basically non-existent. The best of that lot is Parraz, whose .325 OBP and .369 SLG closely matches Chase Headley's from last year (.327 OBP, .375 SLG). That's pretty awful for an outfield corner.
If we run that lineup through Dave Pinto's Lineup Analyzer, we see that this team would score an average of 3.644 runs per game. The best possible lineup (Parraz, Montero, Brewer, Vazquez, Belliard, Romine, Chavez, Krum, Bernier, in that order) would score a little bit more than that, 3.923 runs per game. Just five teams scored fewer than four runs per game last year – Indians (3.99), Orioles (3.78), Nationals (3.77), Astros (3.62), and Mariners (3.17) – so yeah, it's a terrible offense. Maybe not the worst (thanks Seattle), but it might as well be.
Surprisingly, this regular cast of characters is not terrible defensively, just 11 runs below average over the course of the season. Oh sure, that's bad, but it's not that bad. Bernier is the only legit shortstop option on the team, so we're stuck with him. Krum is the only guy on the club that would steal double-digit bases, but his ten swipes are essentially negated by six caught stealings. For shame.
Rotation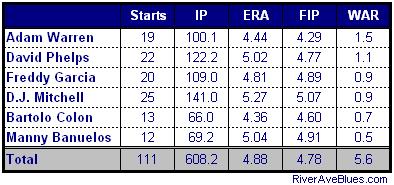 Every team needs a sixth starter at some point, so I included him in here. Unfortunately, we're still 51 starts short of a full season, so we're going to have to assume some exactly replacement level guys fill in.
Surprisingly, the rotation isn't dreadful, merely really bad. Warren projects to be the most valuable of the bunch despite throwing just a hundred innings, and that's because PECOTA expects tolerable strikeout (6.6 K/9) and walk (3.4 BB/9) rates combined with a stellar 49.5% ground ball rate. Phelps' strikeout rate is a full whiff behind Warren's, but his walk and grounder rates are almost identical. Mitchell is the staff workhorse, leading the club in starts, innings, and ground ball rate (52.5%).
The two veterans are unsurprisingly unspectacular. Garcia does it with few whiffs (5.6 K/9), fewer walks (2.7 BB/9), and a meh ground ball rate (43.8%). Colon rises from the dead for a baker's dozen starts and strikes out 6.27 men per nine innings while walking 3.14 per nine. Banuelos is essentially the swing man, projected to make a 12 starts and five relief appearances. His strikeout rate is highest of the bunch (7.2 K/9) but so is his walk rate (4.9 BB/9).
The end result is a rotation worth just 5.6 wins above a replacement level gang, which would have bested only the Pirates (4.9 WAR) in 2010. I figured this group would be below replacement level, so color me surprised.
Bullpen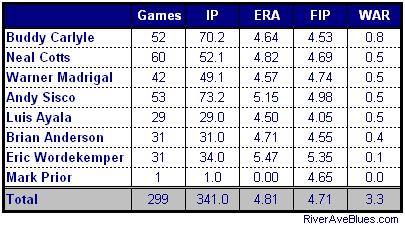 The relief corps is the team's strong suit, and they'll need it with that rotation. Their combined 3.3 WAR is just a touch worse than the bullpeners the Yankees featured last year (3.6 WAR), and overall they would have ranked 11th in baseball. Carlyle looks to be the relief ace, if you could call him that, rattling off multi-inning appearance after multi-inning appearance with a 7.2 K/9, 3.3 BB/9, and 44.6% grounder rate.
The middle innings will have three regular faces all season. Sisco's another multi-inning guy, and his 8.1 K/9 is the best on the team, dead sexy for a lefty. Unfortunately, his 5.14 BB/9 is also the highest on the team. Cott's is another high strikeout (8.1 K/9), high walk (4.6 BB/9) guy, and based on his appearances-to-innings ratio, it seems like he's more of a lefty specialist. Madrigal allows to team to meet its fat guy quota, joining Carlyle as a serviceable arm from the right side (7.1 K/9, 3.1 BB/9, 43.2% grounders).
The rest of the bunch is basically up-and-down guys. Prior has the best peripherals on the planet (9.00 K/9, 0.00 BB/9), but unfortunately not even the projection systems like his chances of staying on the mound. Luis Ayala (7.14 K/9, 3.1 BB/9) and former outfielder Brian Anderson (6.39 K/9, 3.19 BB/9) do some grunt work in limited action, and Wordekemper is the designated "go get the crap beat out of you for an inning or two" guy (5.82 K/9, 3.44 BB/9). I guess the slack is picked up by some spare replacement level parts.
Bench
The bench is … um … limited, featuring four players, three of whom are catchers. Gustavo Molina (no relation to the other Molinas) is projected to hit .218/.258/.348, Kyle Higashioka just .225/.284/.318. Those two are going to have to learn how to play third base and the corner outfield spots. We don't have projections for Jose Gil and Bradley Suttle, but I suspect they wouldn't be fun to look at. No big loss.
Wrapping It Up
So all told, we're looking -1.1 WAR (lineup) plus 5.6 WAR (rotation) plus 3.3 WAR (bullpen). Let's be kind and call the bench exactly replacement level. That works out to 7.8 wins better than a club made of career minor league leaguers and the like. A team of 25 replacement level players would be expected to win something like 46-48 games at the big league level, so we've got a 54 win team on our hands. Maybe even 56 or 57 with some lucky breaks. That means they're about as good as the 2010 Pirates, except instead of watching Andrew McCutchen 162 times a year, you get to watch Montero.