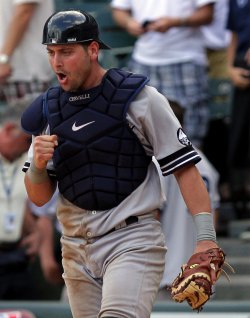 For the past year and change we've gotten to know Francisco Cervelli, but we haven't seen him in his proper role. In each of the last two seasons he has been miscast out of necessity. This year figures to unfold a bit differently. The Yankees have enough options at catcher that they can finally reserve Cervelli for the role he is meant to play: backup catcher.
In 2009 the Yankees needed his services early in the season when both Jorge Posada and Jose Molina hit the DL at the same time. For a few weeks in May he took over as the starter, with Kevin Cash serving as his backup. He stayed with the team through June, and then came back up when rosters expanded in September. Last season he went into the season as Posada's backup, but the latter's health did not comply. He ended the season with 317 plate appearances, about a hundred too many.
Still, he was far from the worst backup catcher in the league. In fact, his offensive numbers suggest that he could start for a number of teams. Among catchers with at least 200 PA, Cervelli's .315 wOBA ranked 18th. His .359 OBP ranked eighth. He doesn't hit for a lick of power, but a backup need not do everything. If he did, he'd be a starter. And yet, even absent extra base hit potential — only Jason Kendall produced a lower ISO among catchers with more than 200 PA — Cervelli would represent an upgrade over many of the league's 30 starting catchers.
Wouldn't the Dodgers rather have him than an aging and mostly ineffective Rod Barajas? The Royals could use him in place of whomever they're trotting out there this year. The Mariners signed Miguel Olivo, but I'm fairly certain they'd rather have Cervelli as they wait for Adam Moore to mature. The Pirates could use them while Tony Sanchez gets more time in the minors. Wouldn't the Angels love to get him as an upgrade over Jeff Mathis? There are definitely teams out there with starters inferior to Cervelli.
Looking around the league, I don't see many backups I'd rather have than Cervelli. David Ross is the only one who stands out. Other than that, maybe Ramon Castro, though he is basically Cervelli's opposite: all power, no on-base. Otherwise, teams either employ a catching tandem, or they have a backup catcher I wouldn't take over Cervelli.
Yes, Cervelli displayed some defensive issues this past season. But to my eye, it was more about boneheaded plays than a lack of skill. He was just 24 last season, and he has only 1,251 plate appearances in his professional career. There's room to grow. In all likelihood he won't grow into a viable starter for a first division team. But he can settle in as a backup and rank among the league's best at his job.
Thankfully, he will almost certainly stay in the backup role all season. If Russell Martin doesn't work out, Jesus Montero will be the first replacement. Jorge Posada is still around, too, and he insists that he'll catch this season. Then there's Austin Romine, whose name has come up plenty this winter. The Yankees have plenty of catching options in 2011, and Cervelli need not be a major part of their plans. Finally he can sit back, play once a week, and fulfill the role for which he is ideal. He is the 2011 backup catcher.