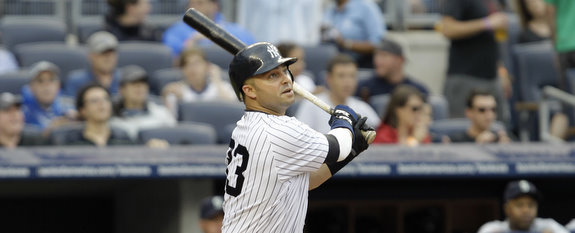 Over the last few years, the Yankees lineup has been a matchup nightmare for opposing managers because it's so diverse. They've mixed quality left-handed batters with quality right-handed batters, mixing in a few quality switch-hitters just to be mean. One of those switch-hitters is Nick Swisher, who has consistently been better as a lefty batter in his career (.371 wOBA). That's not to say that he's been poor from the right side, because he certainly hasn't (.352 wOBA), but with more righty pitchers around (it was almost 75/25 RHB/LHP in 2010), it's a good thing that Swish is more prolific from the south side.
As a power hitter, really a three-true outcomes guy prior to 2010, Swisher has done most of his damage when he pulls the ball. That's pretty normal, bat control freaks that go to the opposite field as often as say, Derek Jeter or Tony Gwynn, are just that, freaks. Swish's output as a right-handed batter did change a bit last season though, let's take a look…

There's a lot to take in here, but the first thing that should jump out at you is where he's hitting the ball. From 2007 through 2009 he was an extreme pull hitter as a right-handed batter, with more than half of his balls in play getting hooked into left field. Swish trimmed almost 13% off that total last season, redistributing most of it towards center and a little bit towards right. He also increased his overall production, with most of his damage coming on balls hit the other way. Of course, a standard small sample size warning applies.
The batted ball profiles changed a bit as well. When Swisher did pull a ball as a right-handed batter last year, there was better than a 50-50 chance that it was a grounder and less than a one in five chance that it was a fly ball. In years past it was closer to 40% grounders and more than 30% fly balls. Ground balls are more likely to go for hits, but fly balls have a tendency to land over the fence, so it's not much of a surprise that his wOBA fell almost two hundred points to the pull field.
Things changed some on balls hit to center field, as Swish traded in a few ground balls for some more fly balls and line drives. The result was an additional two hundred and fifty points of wOBA, but again, sample size. There wasn't much of a change on balls to the opposite field, at least in terms of batted ball type. What is interesting is that Swisher went the other way 31 times last season, just about half as many times as he did in the previous three years combined.
As we know, Swisher changed his setup with some help from Kevin Long, starting back in the 2009 postseason. He closed his stance a bit and quieting some pre-swing movement in his hands. Although we can't say that those adjustments have resulted in a right-handed batter that uses the whole field (at least moreso than he did before) with any certainty, we shouldn't just rule it out. More than anything, we have to see how things play out in 2011. For all we know it could just be small sample size noise.
Here's one last little interesting nugget about the right-handed version of Nick Swisher: he walks a whole lot more than he strikes out. That's surprising since he can be prone to strike three, putting it nicely. Since 2007, Swish has drawn 141 unintentional walks as a righty but has struck out just 122 times. It's pretty consistent on a year-to-year basis as well; he hasn't struck out more than he's walked as a righty since 2006. Over the same time as a left-handed batter, it's 174 uIBB and 609 K. I don't know what Swisher's natural side is (he's a lefty thrower), but for whatever reason he's a much better contact hitter when looking over his left shoulder.
The AL East boasts the best collection of left-handed pitching in the game, so having a switch-hitter capable of hitting so well right-handed is an obvious advantage. Leaving out CC Sabathia because he plays for the good guys, there's also Jon Lester, David Price, Brian Matusz, Ricky Romero, Brett Cecil, and Marc Rzepczynski. The Orioles could call up Zach Britton and/or the Red Sox could insert Felix Doubront into their rotation at a moment's notice. If Swisher can maintain what may or may not be a newfound all-fields approach withot sacrificing power as a right-handed hitter, well that would be splendid.