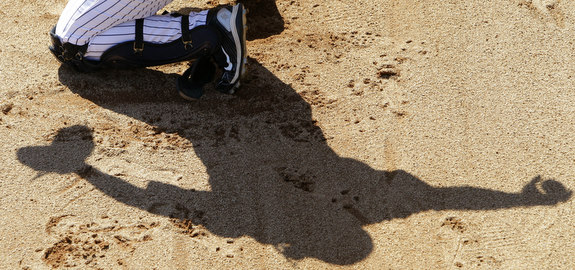 Spring Training, the new season, brings optimism and excitement to everyone and their team. Every club is in first place, everyone feels good about so-and-so having a breakout year or that new free agent or the hotshot prospect, but not in Yankees camp. Yankees camp is all about controversy in Spring Training, spreading the doom-and-gloom scenarios that help sell papers and get page views. You won't get anyone to admit it, but there are some writers (and bloggers) that have an undeniable hatred of certain players/executives, and it comes through in their writing.
Pitchers and catchers have officially been in Tampa for three whole days, and already we've had doomsday scenarios presented about a) CC Sabathia's opt-out clause, b) A.J. Burnett's mental state following his down year, and c) Joba Chamberlain's weight. Mariano Rivera didn't show up until this morning, and we're already three controversies into the new season. That has to be some kind of record.
It's early in camp and everyone needs something to write about, but controversy sells. No one cares that Phil Hughes is ahead of all the other pitchers because of the work he's done over the last few weeks, and we've heard very little about Jesus Montero despite his status as arguably the game's best offensive prospect and his legitimate (albeit small) chance to make the team. Hell, has anyone read anything about Pedro Feliciano or Rafael Soriano? They're club's two most notable free agent signings, and no one's bothered to get a quote from them. I know more about Hector Noesi's visa status than I do about how Feliciano and Soriano feel about being Yankees.
It's not that CC's opt-out and A.J. mental state and Joba's weight gain and whatever other stuff comes out of camp isn't a story, it certainly is. But there's only so much that can be said about it until the coverage starts becoming a parody of itself. We're seeing stuff about Joba's career being on the line over 15 pounds. Career on the line. As if that extra weight will earn him a trip to Siberia if he doesn't pitch well. Hell, no one's bothered to notice that Bryan Hoch said the easy target's righty's stomach is flatter than you'd expect, where's the fun in that?
Last year we enjoyed a controversy-free Spring Training, all because the team was coming off a World Series win. That was great, everyone was happy, and there was talk of a dynasty (as their always is after any team wins a title), all that. But this year it's all about shock value and scare tactics. Are the Yankees perfect? Of course not. No team is. PECOTA projects them to have the second best record in baseball and the top offense, but you'd never know it by some of the coverage they receive. You'd think they were one pitch away from a Pirates-esque run in the cellar. There's nothing we can about it other than bide our time until the season begins, but this is what we're stuck with.