It appears that for the second season in a row, baseball is losing one of its star pitchers to Tommy John surgery. Last year it was Twins closer Joe Nathan blowing out his elbow in his first Grapefruit League outing, and this year it looks like Cardinals ace Adam Wainwright will have to go under the knife. Nothing's official yet, but the right-hander flew back to St. Louis yesterday to have the joint examined, and team bigwigs don't sound optimistic.
"After his bullpen on Monday, he did feel something in his right elbow," said GM John Mozeliak. "I can say just based on the initial evaluation from our training staff, things do not look encouraging. But before we jump to any conclusions, we'll just wait until the re-evaluation [Wednesday] afternoon."
"It's not a good day," said manager Tony LaRussa. "It's a huge hit. You're talking about one of those quality guys. We have to overcome this."
Wainwright, just 29 years old, is one of the best pitchers on the planet, posting a 2.99 FIP in 463.1 IP over the last two years, twice finishing in the top three of the NL Cy Young voting. The Cardinals already suffered one big hit this month when they were unable to reach an agreement with Albert Pujols on a long-term deal, but losing their best starter will have a ripple down effect, one that could impact the Yankees.
As you probably know, we've speculated quite a bit about Chris Carpenter, the Cardinals' other ace, being a potential trade target for New York this season. The logic is that the Cardinals may need to free up some cash to sign Pujols, and shedding a soon-to-be 36-year-old starter making $15M a year is a fine way of doing that. Obviously, the Wainwright injury can and almost certainly will change their plans for 2011 and Carpenter, one way or another.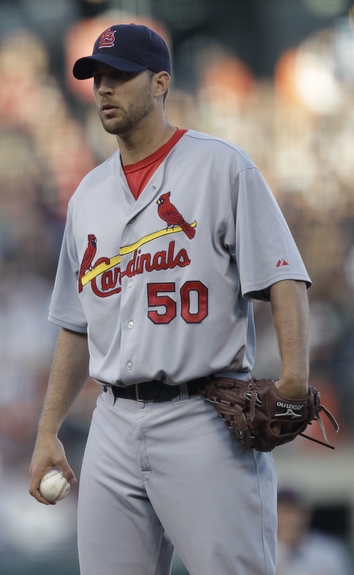 The quick, knee-jerk reaction I've seen is that the Cards should sell, that losing Wainwright essentially dooms their season. I disagree about the last part, but the point I want to make is that selling isn't as easy as you think. For one, is Pujols really going to want to re-sign with St. Louis long-term if he knows the next year or two or three will be spent rebuilding? Every move the Cardinals make from now through the end of the year has to be focused on keeping Albert around. Can a team with a nine-figure commitment to Matt Holliday with Colby Rasmus and Jaime Garcia and Yadier Molina in their prime years really convince itself that selling is the best course of action? The NL Central is very winnable, so it's not like they need a miracle to contend.
Now if the Cardinals decide to keep Carpenter and make a run in 2011 without Waino, that will affect the Yankees' pursuit of pitching. For one, Carp won't be available, so that right there takes away a prime target. Secondly, there also a chance that St. Louis will look to bolster its rotation at midseason, meaning there would be that much more competition for starting pitching on the trade market.
On the other side of the coin, maybe the Cardinals do decide to sell. Maybe they've gotten the indication that Pujols is signable and they need that little extra cash, or they believe he's leaving after the season and they want to move Carpenter while his value is high. I think it's unlikely, but we probably shouldn't rule it out. Carpenter and his salary would certainly fit nicely on the Yankees, and they absolutely have the players to give up in exchange. I suspect Wainwright's injury will make it more difficult for the Yanks to acquire a pitcher as I outlined above, but there's always a chance it will make it a bit easier.
Losing Wainwright for the season obviously sucks not just for the Cardinals, but baseball in general. He's a star player and he helps sells jerseys and fill the seats, and it's good for the game when a historic franchise like St. Louis is in contention. It's also possible that his injury will help the Yankees, and it's also good for baseball when the Yankees are a great team. I don't think it'll happen, I think it's much more likely that St. Louis will now hold onto Carpenter with a death grip, but hey, you never know.