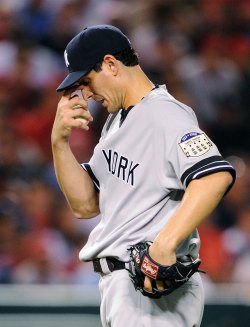 Perhaps the oddest moment of an odd winter came during the Rafael Soriano press conference. Speaking to the press after Soriano's introduction, Brian Cashman revealed that he had discussions with Carl Pavano. There was an offer, and Ken Rosenthal's sources indicated that he was on the verge of a pinstriped return. That didn't work out, though, as the Twins wooed him back with a two-year, $16.5 million deal. Still, he stood to make a decent sum from the Yankees.
Today SI's Jon Heyman reported that the Yankees offered Pavano one year at $9.75 million plus incentives. That base salary would have trumped Pavano's annual salary with the Twins, but there's no chance that the incentives would have brought him anywhere near that $16.5 million guarantee. Still, I wonder what the situation would have been if the Twins only offered the two years and $13 million that the Pirates did. Might he have come back to New York for up to, say, $12 million in incentives?
The issue really highlights the fan divide on the subject. Despite question marks in the Nos. 4 and 5 rotation spots, many fans wouldn't have wanted Pavano back under any circumstances. The emotions of seeing Pavano, flat-out accused by some fans of stealing $40 million from the Yanks, for some outweigh the positives he could bring to the mound. My stance runs counter to that; I mocked Pavano as much as the next guy, but on a one-year contract he made more sense than perhaps any other non-Lee pitcher this off-season.
The point is moot, of course. We'll never get to see Pavano write his redemption story. Instead he'll start on Opening Day for the Twins. The Yanks did make a significant effort, though, offering Pavano the highest average annual value. But in the end more money, and a less hostile environment, won out.