As we count down the days and weeks leading up to the season, we're going to preview the 2011 Yankees by looking at each of their core players and many, many more. A new preview will go up every day, Monday through Friday, from now until Opening Day.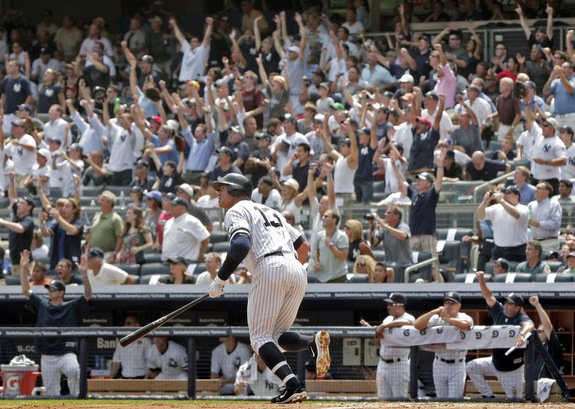 Last summer, Alex Rodriguez managed to hit .270/.341/.506 (.363 wOBA) with 30 homers, 3.9 fWAR, and more runs driven in (125) than anyone not named Miguel Cabrera. It was the worst full season of his career. Those are the kinds of standards A-Rod has set for himself, when being the seventh most valuable third baseman in the game is a self-admitted disappointment.
Finally given a clean bill of health for his surgically repaired hip after the season, nearly two years out from surgery, Alex went out and shed ten pounds and three percentage points of body fat this winter in an effort to streamline a body that was hardly out-of-shape. He came to camp noticeable slimmer and said he felt lighter on his feet, but all the workouts in the world can't change the fact that A-Rod is a soon-to-be 36-year-old third baseman with a questionable hip.
Even if you discount the contract that runs through Phil Hughes' age 31 season, the Yankees need Alex to be a middle-of-the-lineup force in 2011, a guy that strikes fear into the heart of opposing pitchers and produces runs by the bucketful. If things break right, it will be glorious. If it doesn't … well there's some serious ugly potential.
Best Case
For most players, an MVP caliber season represents their best case scenario. For A-Rod, it seems like he's capable of so much more; you know he has the talent to put up a year that re-writes the record books. The chances of him doing so are far less likely now than they were five or ten years ago, of course, but I'll never put anything beyond Rodriguez.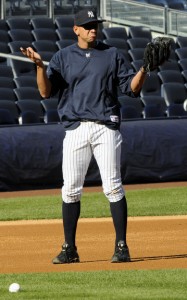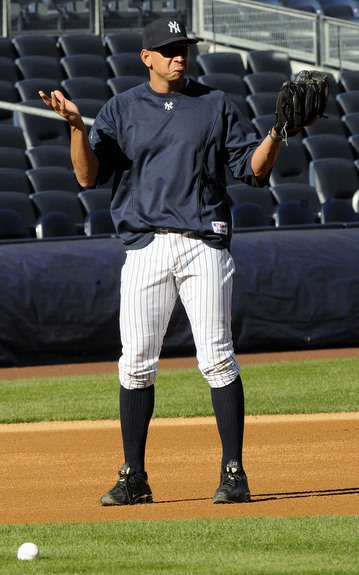 With his hip finally a-okay, A-Rod's once again capable of fully rotating his lower half during his swing, bringing back his power stroke and making those 30 homers he's hit in each of the last two years look like child's play. He's able to hang in more against pitches on the outer half, raising his .304 wOBA on balls hit to the opposite field over the last two years back to the .359 mark he posted in the three years before the surgery. With some help from Yankee Stadium's short right field porch, he might even be able to top that. A-Rod's sharp decline against left-handed pitchers (.323 wOBA in 2010 after .402 in 2009 and .395 career) turns out to be nothing more than a one year blip, explained by his comically low .212 BABIP against southpaws last season. More power means more walks as pitchers avoid him, raising that on-base percentage back up to an elite level. The statistical correction against lefties and his rediscovered power stroke bring back the glorious days of no doubt about it, take it to the bank .400+ wOBA production with 35+ homers.
Thanks to the decreased bulk and fully healed hip, A-Rod's defense at the hot corner improves dramatically. His increased range on balls hit to his left saves a few extra runs and makes Derek Jeter's defensive shortcomings slightly more tolerable. Improved durability, well-above average offense, and above average defense at the hot corner makes Alex a legitimate MVP candidate again, a six win player that is always a three week hot streak away from a seven win season.
Worst Case
As wonderful as the clean bill of health for the hip is, it can't reverse the aging process. A-Rod's declining ISO just keeps going south, meaning the days of 30+ homers are long gone. Without the constant threat of being taken deep, pitcher pound him inside with fastballs with reckless abandon, resulting in a whole lot of broken bats and weak grounders that kill his average. Walks become even harder to come by, and the issues with southpaws turn out to be very real. Without warning, A-Rod's turned into a glorified Edwin Encarnacion with the stick.
The defense doesn't improve even with Rodriguez's new streamlined physique and healthy hip; the reflexes just aren't quick enough anymore. For the fourth straight year, he's unable to play in more than 138 games, overexposing the likes of Eric Chavez, Ramiro Pena, and Eduardo Nunez. The similarities between A-Rod and late-career Mike Lowell become painfully obvious on the field, and it would be fitting since they both had the same major injury as they approached their mid-30's.
Although the worst case scenario probably has the Yankees' third baseman putting up a 2.5 or 3.0 fWAR season in 2011, it's very possible that he'd be the fifth best player at the position in the AL East. That says as much about the abilities of Evan Longoria, Kevin Youkilis, Jose Bautista, and Mark Reynolds as it does A-Rod's floor. Having the fifth best third baseman in the division while there's $143M left on his contract would be an albatross of the likes of which we've never seen before.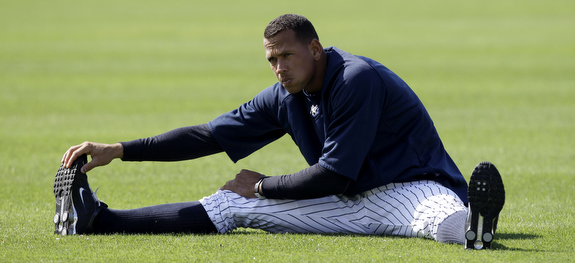 What's Likely To Happen
It's tough to nail down reasonable expectations for A-Rod. On one hand his production and durability has been down over the last three seasons (relatively speaking, of course), but on the other you know he's capable of a monster campaign. If he hit put up a .350 wOBA with 25-30 homers, I don't think anyone would be too surprised. If he posted a .400 wOBA with 35-40 homers, yeah I don't think that would be a huge shock either. Unlikely at his age, but we've seen Alex do amazing things before.
Although I'm encouraged by how he looked over the weekend with regards to his weight loss and mobility, it was two games in February and tells us basically nothing. It's very likely that the power decline is real and will continue, though we're talking about a guy still capable of a .200+ ISO and 25 homers. I think he's due for some positive regression on balls in play in 2011; his .270 BABIP in 2010 was good amount below his .296 expected BABIP (xBABIP), and that performance against southpaws is just so out of the ordinary that I can't help but think it's a fluke (jut 173 plate appearances against lefties last year, not a big sample at all). Even if he doesn't return to the .450 wOBA monster he's been throughout his career against left-handers, splitting the difference and getting back to a .380 wOBA would be a major upgrade over last season.
A-Rod is going to continue to hit in the middle of the Yankees lineup and will be heavily counted on for run production, and he's fully aware of this. His skills are undeniably in decline in his mid-30's, but his starting baseline was so high that if he's just 75% of his peak, he's still one of the best players in the game. Another season with a .270/.340/.500-ish line would be somewhat disappointing, sure, but still incredibly valuable.