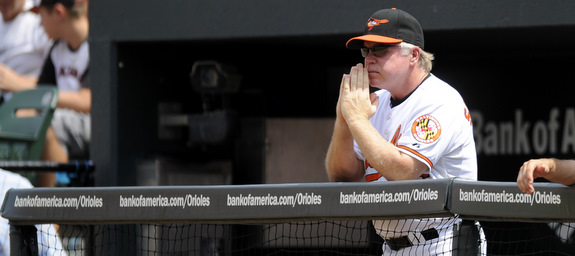 It's been 13 years since the Orioles last qualified for the postseason, and four years since they finished somewhere other than last place in the AL East. Despite that, they made some noise in the second half of last season, hiring former Yankees manager Buck Showalter in late-July and going 34-23 under his watch, the best record among AL East teams during that time. Before Buck came aboard, Baltimore won just 32 of 105 games.
After employing the American League's third worse offense (.309 wOBA, 613 runs), worst starting rotation (4.74 FIP), and fifth worst bullpen (4.25 FIP) in 2010, the O's went out and made several notable moves in the offseason. They traded four young relievers for Mark Reynolds, Brendan Harris, and J.J. Hardy, then signed free agents Vlad Guerrero, Derrek Lee, Justin Duchscherer, and Kevin Gregg, among others. Koji Uehara, Mark Hendrickson, and Cesar Izturis were also retained. Those additions undeniably help improve the team, but just how much?
Strengths
Last year's Orioles had exactly two well-above-average regulars on offense, and both are returning. Luke Scott led the team in pretty much everything, including wOBA (.387), homers (27), walk rate (11.4%), and ISO (.251). Nick Markakis finished second in wOBA (.353) and led the team in OBP (.370), producing yet another solid season in a young career full of them. Reynolds might be a whiff machine, but .241 career ISO's don't grow on trees, and neither do guys with legit 30+ homer power (at least these days). Vlad isn't really as good as his 2010 first half (.319/.364/.554 with 20 homers) but probably isn't as bad as his 2010 second half (.278/.322/.426, nine homers), so the middle ground (.355-ish wOBA) is the best bet this season. That's four legit middle-of-the-order bats, two more than Baltimore had last year.
The defense has been upgraded at short with Hardy, who has the second highest UZR (+21.4) at the position over the last three years. Lee's reputation with the glove is stellar, far better than what the incumbent Ty Wigginton can do at first. Reynolds is hardly a wizard at the hot corner, but he's better than Miguel Tejada, so three of the four infield positions have been upgraded defensively. They're not the '99 Mets, but the infield defense has been massively improved.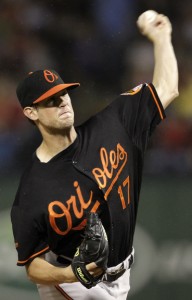 The Orioles also boast what should be an improved relief corps. Uehara was brilliant late last year as closer (11.25 K/9, 1.02 BB/9, 2.40 FIP) and has some competition from Gregg, who's had a sub-3.90 FIP in four the last five years, including 3.57 in 2010. Mike Gonzalez missed much of last season due to injury, and he overcame his early-season struggles to post a stellar 2.79 FIP. Left-handers that can strike out double-digit batters per nine innings are a rare breed. Add in Jason Berken (3.59 FIP in 2010) and Jim Johnson (3.08), and Showalter should have a solid set of middle relievers and setup men at his disposal.
Jeremy Guthrie, while no All-Star, is a fine rotation option with three straight years of 190+ IP plus a mid-4.00's FIP in three of the last four seasons. He has a knack for outperforming his peripheral stats, posting a sub-4.00 ERA in three of the last four years. Behind him will be southpaw Brian Matusz, one of the very best young pitchers in the game. He had a fine rookie season (4.05 FIP in 175.2 IP) and was nothing short of brilliant down the stretch (2.18 ERA, 3.35 FIP in his final 11 starts). The O's have a chance to win whenever either of those two guys is on the bump.
Weaknesses
Just as was the case last year, this Orioles team is only going as far as the pitching staff takes them, and it won't be that far. Beyond Guthrie and Matusz is a group of has-beens and never-wases, highlighted by Duschscherer. He started just five games last season after missing all of 2009, and has already been setback by nagging issues with his surgically repaired hip a few times this spring; the Duke of Hurl has two whole Grapefruit League innings to his credit and is expected to start the season on the disabled list. Say what you want about Kevin Millwood's awful season in 2010 (4.86 FIP, 5.10 ERA), but at least he made 31 starts.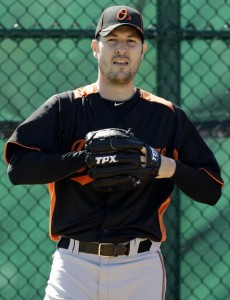 Behind Duchscherer lies Brad Bergesen, a low-slot righty with a career 4.70 FIP, the inability to miss bats (5.7% swinging strikes), and a considerable platoon split (5.32 xFIP vs. LHB, 4.09 vs. RHB). He's young (25) and a ground ball guy (49.3% career), but the AL East is a tough place to live if you can't get strike three consistently (4.48 K/9). Jake Arrieta showed flashes of good and bad in his debut last season, ending up with a 4.76 FIP and nearly as many walks (48) as strikeouts (52) in 100.1 IP. Chris Tillman is still struggling to find his way at the big league level (6.00 FIP in 118.2 IP), but has more talent than either Bergesen or Arrieta. Young pitchers tend to take a lot of lumps in this division, and it probably won't be any different for Baltimore this summer.
Aside from Duchscherer, both Brian Roberts and Lee offer major health concerns. Roberts missed more than three months last year with an abdominal injury and has been limited by neck issues in camp. Lee had offseason wrist surgery and has already been slowed by soreness in the wrist, and the duo has combined for just 16 games played this spring. If they miss any length of time this year, the likely replacements are some combination of Izturis, Robert Andino, Jake Fox, and Josh Bell. Yikes.
The offense is still below average at short (Hardy has a .302 wOBA over the last two seasons) and behind the plate (Matt Wieters has a .315 wOBA in his young career), though both are capable of much more. Markakis' cannon arm doesn't make up for his shoddy range (-11.0 range runs over the last three years), and although Scott isn't as bad with the glove as you'd think, going from Felix Pie in left to him is a step down.
Furthermore, the Orioles have one of the weaker farm systems in the game, ranked in the bottom third by most publications. Zach Britton, arguably the best left-handed pitching prospect in the game, will make his debut at some point this year, but as we saw with Matusz early last year, quick success is no guarantee. Bell, Wynn Pelzer, Brandon Snyder, and Ryan Adams are more solid contributors than future cornerstones. There just isn't much help on the way right now.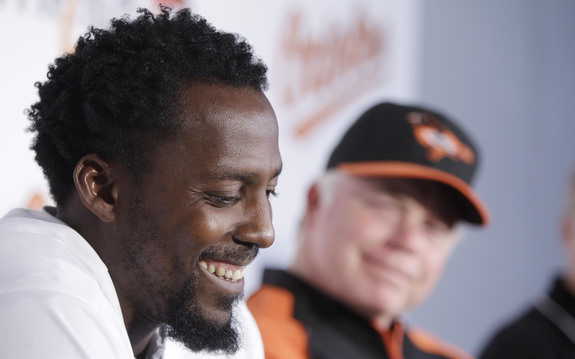 Overall Outlook
If the Orioles are going to make any noise in the AL East this year, it won't be because of veteran additions like Vlad, Gregg, and Duchscherer. It'll be because the young guys all take a major step forward, a step forward that will inevitably be attributed to Showalter. Markakis has flashed MVP potential in the past, and Wieters has all the talent in the world. Adam Jones is a fine player, but a .325 wOBA and just 5.5 fWAR is not what everyone expected in his first 1,800 PA. Matusz, Tillman, and Britton are the makings of a stellar rotation, but progress must first be made by all three. Again, the talent is there, it just has to turn into performance.
Are the Orioles a better team than they were 12 months ago? Sure, I don't think there's a doubt about that. Unfortunately, we're talking about a 74-76 win team being better than a 66 win team. The improvement under Showalter is real but only to a certain extent. Anyone thinking they'll maintain that 97-win pace they had under Buck over a full season is going to be very disappointed. The O's are not going to be a total pushover in 2011, but they're not going to be a real threat to the three AL East powers either.