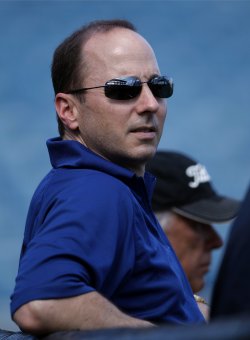 Do general managers react to contract years in the same way as players? While the effect doesn't apply to every player — see Andruw Jones's contract year in 2007 — Dayn Perry, writing in Baseball Between the Numbers, found that there is a small, but statistically significant, uptick in player performance when a free agent contract is on the line. Maybe that's why the Yankees have a policy of not negotiating new contracts until the old ones expires. That policy applies to players, coaches, and executives alike. As such, Brian Cashman is headed into a contract season.
If we're to believe Cashman's peers and bosses atop the Yankees organization, this will not be an issue. They love Cashman and want him back. Cashman, by most indications, enjoys his position. In that way, I'm not sure that his impending free agency means much. The Yankees have been down this road before, and despite a poor 2008 season the team eagerly re-upped with Cashman. Now, three years and a World Series title later, I expect much of the same. The situation might change if the Yankees miss the playoffs, but given recent history I'm not sure about that.
It is fitting, though, that Cashman's toughest season will come in a contract year. The Yankees have made some depth moves to help shore up the rotation, but at some point they're going to need someone better than Freddy Garcia or Bartolo Colon, or perhaps even Ivan Nova, pitching in the rotation. That's how competitive the AL East has become. It's not enough to have just a solid rotation. The Yankees need to go above and beyond. They tried this winter, but were snubbed despite having made the best offer. Now Cashman has to get creative in order to upgrade. Money alone won't get it done this time.
Maybe the Yankees' brass is just making overtures to feign a sense of stability. Maybe Cashman really does pine to run a franchise where his moves aren't downplayed because of his deep pockets. If one is true, the Yankees will be searching for a new GM this fall. But given most indications, the Yankees like Cashman. They did, after all, re-sign him after the team failed to make the playoffs in 2008. From Cashman's angle, he hasn't worked for another company his entire adult life. His family is settled in the area, and he wields more power than other GMs. It's not a guarantee, but it's still a pretty good bet that Cashman's back for 2012 and beyond.