As we count down the days and weeks leading up to the season, we're going to preview the 2011 Yankees by looking at each of their core players and many, many more. A new preview will go up every day, Monday through Friday, from now until Opening Day.
For half a decade the Yankees lacked a prototypical ace. Chien-Ming Wang came close, and in 2008 Mike Mussina did his best to lead the staff. But neither of them was truly that 220-inning workhorse ace that the team needed. That's why the Yankees went after CC Sabathia so aggressively in the winter of 2008. The past two seasons have proven why that was a worthwhile pursuit. In the past two seasons Sabathia has thrown 467.2 innings and has led the team with a 3.27 ERA. Given the state of the pitching staff, they need more of that in 2011.
Best Case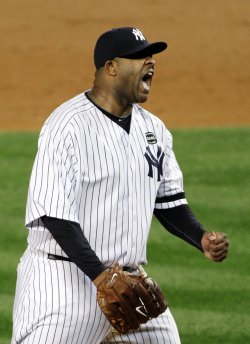 While Sabathia has been nothing but excellent for the Yankees, he's definitely had better years elsewhere. From 2006 through 2008 he accumulated the most WAR among pitchers, 20.2. He also had the second lowest ERA, FIP, and xFIP in the league. Since different pitchers ranked ahead of him in each category, it's pretty safe to say that he was the best pitcher in the league during that span. In 2007 he brought home the Cy Young Award, and in 2008 he had a legitimate chance at the Cy in the NL despite having thrown only half a season. That's what happens when you put up a 1.65 ERA in 130.2 innings.
Since Sabathia came to New York a few things have changed. His strikeout rate has dipped a bit, and his walks have risen. In a way that's to be expected, since he went from the AL Central, and a short stint in the NL Central, to the AL East. But in another way, he doesn't have it as bad as, say, a pitcher for Baltimore. Since he pitches on the Yankees he doesn't have to face the Yankees hitters, who have produced the best offensive numbers in baseball the past two seasons. In other words, while Sabathia's numbers were going to dip to some degree with the move to the AL East, I think he has more in him than he's produced in the last two years.
How high can he go? Last year Felix Hernandez won the Cy Young with 8.36 K/9, 2.52 BB/9, and 0.61 HR/9, leading to a 3.04 FIP. But it was his 2.27 ERA that won it for him. I think it's pretty safe to say that Sabathia is capable of those fielding independent numbers. With a few breaks here and there, he can probably get his ERA below 3.00, but probably not to 2.27. It would add up to a Cy Young caliber season, since the Yankees offense figures to help him out plenty. From a purely best-case standpoint I can see CC going 23-7 with a 2.95 ERA. That would almost undoubtedly give him the Cy Young Award.
Worst Case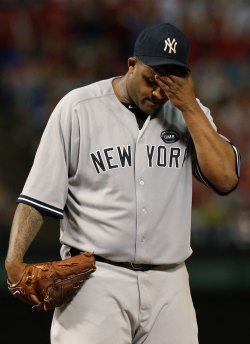 The whole idea behind acquiring CC, and paying him more than any other pitcher in history, is that he comes with a lower risk level than others. He is, to put it bluntly, a physical freak. Those are the kinds of guys you overpay for, because they don't follow typical career paths. That is, where a typical pitcher gets hurt a certain amount of time and starts a decline at a particular age, physical freaks defy those definitions and boundaries.
There really isn't a bad season on CC's ledger. He produced ERAs around 4.35 during his first two seasons in the bigs, but he was 20 and 21 those years. His worst, by most measures, came in 2004, when he had a 4.12 ERA and 4.21 FIP in 188 innings. Since then he's been magnificent, which makes it difficult to envision a worst case scenario. That is, I suppose, nothing but a good thing.
Injury is always a concern with pitchers. At FanGraphs, Jeff Zimmerman examined the odds of any pitcher hitting the DL in any given season, and the odds are quite high. He hasn't hit the DL since 2006, and has only spent time on the shelf twice in his career. His heavy workload — he has thrown 720 innings in the past three seasons, second most in the majors — is always a concern. But Sabathia hasn't shown much wear and tear from those years. Again, he's a physical freak. Sometimes those guys can handle workloads that would absolutely break a regular old pitcher.
If I had to peg an absolute worst case, it would be a short 15-day DL stint combined with an ERA that matches his xFIP from the past two years. That is, about 190 to 200 IP at a 3.80 ERA. That's how good Sabathia is. It's hard to imagine him being any worse than that.
What's Likely To Happen
As in most cases, the most likely scenario for Sabathia involves a combination of his previous two seasons. During those seasons he has pitched to a 3.27 ERA and 3.47 FIP, and has produced 5.7 WAR per season. I honestly think he has a better year in him, but that doesn't make the situation any more likely. Sabathia has shown us plenty in the past two years, and that's what we should use to forecast him.
Of course, a 3.27 ERA in 230 innings will be plenty for the Yankees. With an offense that will support him with plenty of runs, it will lead to many Yankees victories. That will run up his pitcher win total, which will again put him in the Cy Young conversation. Yes, Sabathia is so good that even the most likely scenario has him contending for the Cy Young Award. That's why they're paying him $23 million per season.
Long-term contracts for pitchers are always risky, but the Yankees did it right with Sabathia. He has been that workhorse ace that they've needed ever since Clemens, Pettitte, and Wells all departed after the 2003 season. There will be talk about his opt-out all season, but I suggest everyone ignores it. He's in town for at least one more year, and even if he has his worst season in the Bronx it will still be a good one. He is the reason that the pitching staff hasn't become an overwhelming concern.