One issue that plagued the Yankees through the mid-00s was the lack of a quality bench. This included both the position players and the bullpen. Both units tended to be sub-par. As we covered last week in our 2011 season preview, the bullpen looks a lot better, in terms of Opening Day personnel, than it has in many years. The bench, too, has a stronger feel this year. With plenty of spare payroll, the Yankees were able to land a few chips that they haven't sought in years past. For the first time in a long time they'll have two quality bench bats to start the year.
Andruw Jones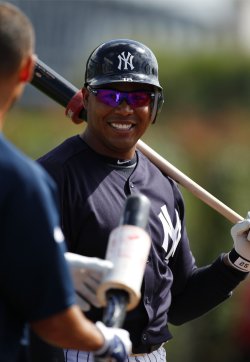 For most of the off-season, Jones and the Yankees appeared a natural match. They needed a fourth-outfielder, preferably a righty, and Jones needed a part-time destination. It took a while for the move to finally happen, and even longer for it to become official, but Jones is in a Yankee uniform for 2011. He's not the same player that ranked among the most valuable in center field from 1998 through 2005, but he can still play a useful role.
For the past three seasons Jones has been a part-time player, either because of injury or ineffectiveness. Right knee problems completely sapped his 2008 season. In 2009 he appeared to be on the comeback trail, but fell off considerably after a hot start. Last year, with the White Sox, he started similarly hot, and while he dropped off it was not nearly as dramatic. At season's end he had produced a .364 wOBA in 328 PA. The Yankees will gladly take that from him in 2011.
Not only can Jones provide some value with the bat, but his defense can still come in handy. He's no longer the best-in-league center fielder, but he can fill in there if needed. More likely he'll play left field against tough lefties, relegating either Brett Gardner or Curtis Granderson to the bench. This is a level of versatility the Yankees did not have in Marcus Thames.
Eric Chavez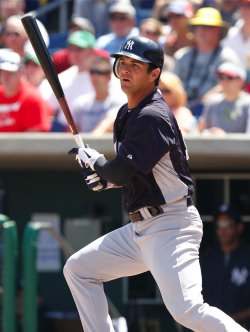 When the Yankees signed Eric Chavez to a minor league deal just before the start of spring training, it appeared to be an insignificant move. After all, Chavez hadn't gotten as many as 300 plate appearances since 2007, and has been generally awful since 2006. Even then, since 2004, when he was limited to 125 games due to injury, he hasn't measured up to the lofty standards he set in the preceding five seasons. But at age 33 there's still potential. The Yanks, as it turns out, were right to jump on it.
In Chavez the Yankees have a player who can back up both Mark Teixeira and Alex Rodriguez. If Jorge Posada hits the DL for the fourth straight year, he and Jones can platoon at DH. He also provides a lefty off the bench, which can prove useful in late-game situations. The need for a lefty off the bench last year wasn't great, since there weren't many players for whom Girardi would pinch hit. But with Russell Martin on the team, and with the repeated possibility of guys such as Kevin Russo getting playing time, having Chavez's bat in late innings will help plenty.
While spring stats mean little, Chavez has impressed during his time this March. Even when he makes outs he's hitting the ball hard. He will certainly travel north with the team, with the hope that a part-time role will help keep him healthy and productive. It might not be striking gold, but the Yankees have done very well for minimal risk.
Ramiro Pena / Eduardo Nunez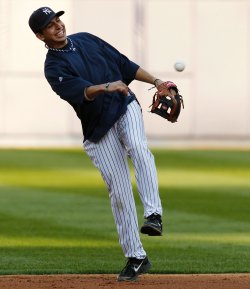 It just feels as though the Yankees want Nunez to fill that utility infield role. In recent games they've tried him in the outfield, a sign that they're grooming him for a super utility role. It hasn't appeared pretty, though, and chances are Nunez will stick to the infield, at least in 2011. But will he play behind Jeter, Rodriguez, and Cano, or will he take regular reps at AAA?
The Yankees are always in a tough position with the utility infield role. It doesn't make sense to take anyone significant, because Jeter and Cano do not take days off. Even last year, through his struggles, Jeter played in 157 games. Cano played in 160. There will be some at DH, and some of those games won't be starts. Still, it leaves possibly a dozen games, absolute max, that will require a utility infielder as a starter. That's why Pena makes sense. His noodle bat won't hurt too much, since his playing time is limited. If either Jeter or Cano requires a DL trip, the Yanks can recall Nunez to play full-time.
(And at third base it's a non-issue, since Chavez is there to play when A-Rod needs days off.)
This actually figures to be the least important spot on the bench. Oftentimes that title is reserved for backup catchers. But the utility infielder on the Yanks will almost certainly get less playing time than the backup catcher. And that's especially if a certain top prospect sticks in that role.
Jesus Montero / Francisco Cervelli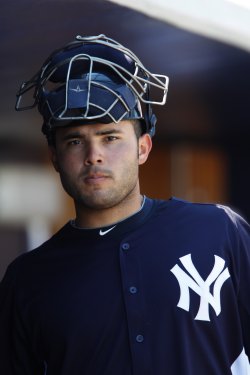 With Cervelli on the shelf to start the season, we can assume that Montero breaks camp as the backup catcher. That will give him a quick taste of the big leagues, affording him maybe three starts each week he's with the club. Then, when Cervelli returns the team can re-assess. If Martin is playing well they can ship Montero back to AAA and use Cervelli as the backup, which is clearly his most useful role. If Martin isn't hitting, perhaps they'll keep Montero around and let him split time and learn at the major league level.
It's hard for the Yankees to go wrong in this scenario. If Martin is hitting the Yankees have a valuable starter and backup combination. Cervelli can play once a week, which suits him well. If Martin isn't hitting, the Yankees can put a greater emphasis on Montero, whose bat is, by all accounts, ready for the majors. Either way, the Yankees will likely realize well above average production from their catcher. That's a good thing, since it's what they've grown accustomed to in the past decade with Posada behind the plate.
It has been a while since the Yankees have broken camp with a high quality bench. They face issues every year in attracting free agent reserve players, since their full-time players don't leave much room for additional playing time. But this past off-season they took time to build a strong and versatile bench. From the way things appear now, that effort should pay off handsomely. Even if it doesn't, there's still room for the Yankees to build the bench the way they did in 2009. There will always be players available around the deadline.