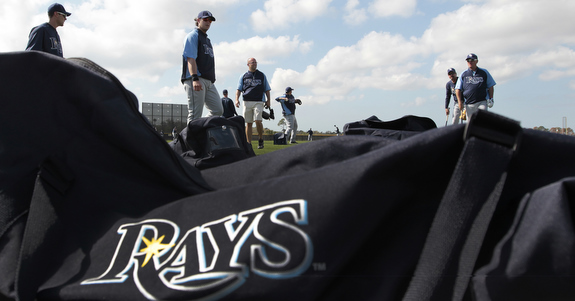 These aren't your grandfather's Devil Rays anymore. Since losing the Devil, the Rays have won the AL East twice in three seasons, including last year by one game over the Yankees. The front office, led by acting GM Andrew Friedman, continues to squeeze valuable water out of the payroll rock with some help from manager Joe Maddon, who is willing to buck convention more than any other skipper in the game. Nine players from Tampa's 25-man ALDS roster will be playing elsewhere this season, and a tenth (Rocco Baldelli) moved into a front office role. They've proven adept at rebuilding on the fly, but a roster overhaul of this caliber might have been too much at one time.
If you want a full preview of the 2011 Rays, I highly recommend purchasing The Process Report 2011, the best $15 you'll spend this spring. The 103-page document includes in-depth articles and player profiles written by the brightest minds on the Rays' blogosphere. In the interest of full disclosure, our own Joe Pawlikowski contributed an article about former Yankee and new Ray Johnny Damon. Think of TPR11 as the Mariano Rivera of season previews while what you see below is more … Kyle Farnsworth.
Strengths
It wasn't long ago that a three-game series against the Tampa franchise meant good times for Yankees hitters, who routinely pounded inferior pitching staffs. Things have changed now, and the Rays' starting rotation is the backbone of the club. David Price broke out and became one of the very best pitchers in the game last season, a hard-throwing lefty with strikeout stuff that has not yet reached his 26th birthday. Number two starter Jamie Shields is one of just eight pitchers that have thrown at least 200 innings in each of the last four seasons, so if nothing else he provides innings. He fell victim to some back luck last year (.341 BABIP, 68.4% strand rate), but his 3.55 xFIP was his best ever. Still just 29-years-old, a rebound is possible, if not likely.
The three and four spots go to 28-year-old Jeff Niemann (4.18 xFIP last year, 4.35 career) and 25-year-old Wade Davis (4.61 xFIP as a rookie last year). Matt Garza takes his three straight years of 180+ IP to Chicago's north side and in steps young Jeremy Hellickson, who is arguably the best pitching prospect in the game. The soon-to-be 24-year-old had a fine big league cameo last year (3.83 xFIP in 36.1 IP), and is just the latest product from the game's premier player development franchise. Right-hander Alex Cobb (2.80 FIP in Double-A last year) and left-hander Alex Torres (3.47) are next in line and will start the year in Triple-A. Behind them in Double-A will be Matt Moore, Alex Colome, and Nick Barnese. All five of those guys represent some of the better prospects in the game's second best farm system.
Now that we're past the starting rotation, we have to talk about Evan Longoria, arguably the best all-around player in baseball. His 19.6 fWAR since 2008 trails only Albert Pujols (25.3) and the now-hobbled Chase Utley (20.9). Still just 25, Longoria has three seasons of .370+ wOBA's, .210+ ISO's, and 10+ ADR's (aggregate defensive rating) to his credit all ready. Plus he packs some serious heat. Simply put, he's a superstar of the first order and the best player in the division.
The team defense as a whole has been a strength for several years and figures to be one again in 2011. Losing Carl Crawford definitely hurts, but they're still very strong up the middle with Reid Brignac at short, Ben Zobrist/Sean Rodriguez at second, and B.J. Upton in center. Maddon also has a deep and versatile roster at his disposal, allowing him to take advantage of platoon matchups and defensive shifts and what not. That farm system also provides a friggin' ton of ammo for trades, and Friedman has shown a willingness to make huge splashes.
Weaknesses
As I said earlier, the Rays' roster took a really big hit this winter. Crawford is the best player in franchise history, but he left for Boston. Carlos Pena fled for Chicago. Say what you want about his poor 2010 season (.196 AVG, .326 wOBA), but he hit at least 28 homers for the fourth straight year, and that will be missed. In their place will be old buddy Damon (coming off a .340 wOBA with Detroit, his lowest in the last seven years) and old nemesis Manny Ramirez (his .382 wOBA last year was excellent, but his second worst since becoming a full-time player). Both are on the wrong side of 35, but Tampa didn't bring in either guy expected them to perform like they did three or five years ago. Either way, going from Crawford and Pena to Damon and Manny is likely to be a three or four-win downgrade, maybe even five.
The rest of the lineup, beyond those two and Longoria, is almost like a patchwork group. Zobrist won't ever have another .408 wOBA season like he did in 2009 again, but his career .346 OBP and .168 ISO are fine marks for a guy that can legitimately play seven positions. B.J. Upton is now two years from free agency and it's looking less and less likely that he'll turn into the megastar everyone though he would after a stellar (.387 wOBA) 2007 campaign. His .317 OBP over the last two years won't get the job done, even when combined with 40+ steals. Dan Johnson's late season heroics over the last two years are well-known, but his big league career features a decidedly un-first baseman-like .333 wOBA. Brignac has some pop but is in there more for his glove than his bat, and the catching platoon of John Jaso and Kelly Shoppach is fine as long as they have bats in their hands and not gloves. I like Matt Joyce as a breakout candidate, but he's a bit of a question mark until he actually does it.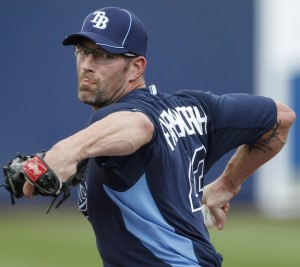 And then there's the bullpen. The Rays lost almost everyone from their relief corps over the winter, with the one holdover being the forgettable Andy Sonnanstine. The dominant late-game trio of Rafael Soriano, Joaquin Benoit, and Grant Balfour has been replaced by Kyle Farnsworth, Adam Russell, and Joel Peralta, a step down no matter how you look at it. Dan Wheeler goes from righty killer to Red Sox, Randy Choate from lefty killer to Marlin. Those two will essentially be replaced by a pair of rookie left-handers: Jake McGee and Cesar Ramos. A couple of guys named Mike Ekstrom, Rob Delaney, and Brandon Gomes provide the depth. Russell and McGee have big-time arms but are unproven, and will be thrust in high-leverage spots this summer. That's not to say it can't work, but I'm sure Maddon and fans alike will be reaching for the Tums much more often this year than last.
Of course, the team's biggest weakness is it's financial situation. Payroll shrunk down to something like $45M after topping out at close to $73M last season, and it's not because ownership is cheap. The franchise simply can't sustain anything higher. Tropicana Field has some appeal in a grungy "it's a dump, but it's our dump" kind of way, but it's poorly located and the attendance totals reflect that. When the star players start calling fan attendance "embarrassing" … yeah it's bad.
Overall Outlook
There's no question that the Rays lost a lot of firepower this offseason. Crawford is irreplaceable, but remaking an entire bullpen and finding suitable offensive fill-ins in a single offseason is a minor miracle. Are they as good as last year? Almost certainly not, but Tampa is still extremely dangerous and very capable of winning the division. They have two bonafide stars in Price and Longoria plus a strong supporting cast, not to mention the deepest and most talented rotation in the division. Don't kid yourself, Maddon's club is a very real threat to the 2011 Yankees.