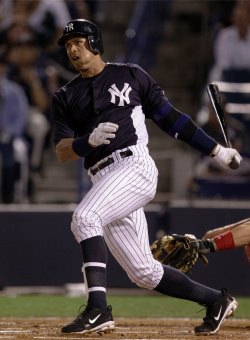 Last week, while eulogizing Duke Snider, Joe Posnanski broke down the Hall of Fame by position. His main point centered on the lack of center fielders elected, but in the process he noted that there are just as few third baseman in the Hall. That might seem odd at first, but a glance at the career bWAR leader board for third baseman makes it a bit clearer. There just don't seem to be many overly encouraging third basemen on the list.
Or are there? Yesterday Beyond the Boxscore's Adam Darowski looked at Hall of Fame third basemen in a different way. Instead of using straight WAR he used what he terms weighted WAR. That is, it places a greater emphasis on seasons in which the player produced 3 or more WAR, and even greater emphasis still on seasons with 6 or more WAR. He suggests that , based on this view, a number of other third basemen deserve enshrinement. That led me to wonder where Alex Rodriguez stood among them.
Figuring out A-Rod's case is a clean job, since he moved to third base in 2004 and hasn't moved around since. During his shortstop years he produced 61 bWAR, which ranks 11th all-time among players with at least 75 percent of their games at shortstop. And that's just the first nine years of his career. In the following seven seasons he has produced 40.9 WAR at third base, which puts him 18th, just behind Adrian Beltre. I asked Darowski about his wWAR, and said it was 67.4, which, if we look at his chart, places him on this list. A 1.6 WAR season, says Darowski, will put him within his wWAR cutoff. A 5.1 WAR season will put him ahead of Robin Ventura in wWAR.
If numbers with aggressive acronyms don't do it for you, here's another accomplishment A-Rod is nearing. If he hits 32 home runs this season he will have 300 since he moved to third base. There are only 10 third basemen in history with 300 or more home runs. None of them, of course, has 300 home runs as a shortstop. In fact, the only player in major league history with more than 300 home runs, with 80 percent of his games coming at the position, is Miguel Tejada, who has 300 exactly. A-Rod had 345 before 2003.
(After I finished this, Adam wrote up shortstops using wWAR. His 182.3 career wWAR destroys all non-Schmidt third basemen and non-Wagner shortstops.)
For some people we're prone to exaggeration. Chuck Norris is a bearded Superman. Matt Wieters is the Hulk with a baseball bat. That need not be the case with Alex Rodriguez. The facts are mind-blowing on their own.