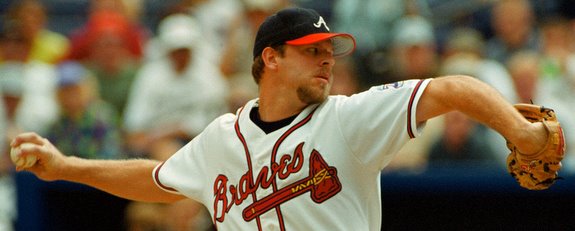 Update by Mike (3:04pm): Marc Carig says Millwood will get $500,000 each for five, ten, 15, 20, and 25 starts, plus a million bucks if he reaches 30.
Update by Mike (12:06pm): Wally Matthews says Millwood can become a free agent if he's not on the big league roster by May 1st. He get's $1.5M pro-rated, so the same as Garcia.
Update by Mike (10:56am): Andrew Marchand says the terms of the contract are similar to Freddy Garcia's. Garcia will $1.5M with the big league team plus another $3.6M in possible incentives, so it's pretty cheap. Glad to hear Millwood is coming dirt cheap as well.
Update by Mike (8:49am): Heyman says it's a done deal, the Yankees have signed Millwood to a minor league contract. He adds that either Bartolo Colon or Freddy Garcia will be in the rotation to at least start the year (presumably Ivan Nova gets the other spot) since Millwood will need some time to prepare.
Original Post (3/25/2011, 12:00am): In an effort to corner the market on players who had memorable moments in 2003, the Yankees and right-handed pitcher Kevin Millwood are "close" on "an incentive-laden minor-league deal," Jon Heyman tweeted late this evening. The Yanks had long been linked to Millwood, but until recently, the pitcher had said he wouldn't sign anything but a Major League deal.
For the two parties, this deal seems to be the culmination of a winter-long seduction. Once Andy Pettitte retired, the Yanks seemed to have a passing interest in Millwood and were, according to our coverage still considering him in early February and still interested two weeks after that. Millwood reportedly rejected a Minor League deal after Spring Training had started. Although he wanted a Major League deal, the Yankees continued to watch him throw. A meeting of the minds seemed all but inevitable.
As the Yanks prepare to head into the season with Ivan Nova, Freddy Garcia and Bartolo Colon around, this move is basically for depth. They'll have to jettison Sergio Mitre and will most likely do so before Monday when they will owe him only termination pay. With Millwood, they know have a seventh starter in the wings with some Major League experience. He might not be as good as he once was, but if he has to hold down the fort for a few turns through the rotation, he should be adequate.
Here's what I said about Millwood when his name popped up a few weeks ago, and the same still holds true:
For the Yankees, Millwood would simply be another piece for the depth charts and another placeholder. If someone goes down and Millwood is still out there, he would be potentially a better and more reliable choice than an unknown AAA kid. He won't blow the world away, and he won't throw quality innings. He will though throw innings. Maybe there's something to be said for that right now…
The same still holds true. Beyond Freddy Garcia, the Yanks are short on Major League starting depth. Maybe Manny Banuelos would be ready by mid-season, but the club isn't inclined to rush him. Hector Noesi and Adam Warren aren't high-ceiling guys, and the Yanks can stash Millwood at AAA to give them depth in case someone goes down early. It's not impressive, but it's another piece. Hopefully, it's one the Yanks won't have to use this year.