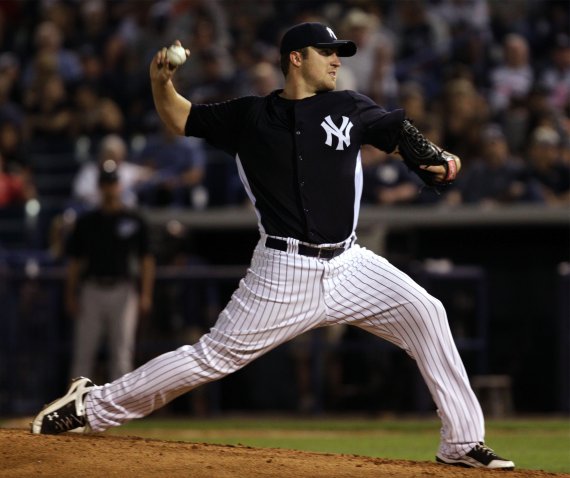 The fastball has always been Phil Hughes's best pitch. Even when the Yankees drafted him out of high school in 2004 they liked it for a number of reasons: the velocity, the late life, and the way Hughes commanded it. Through years of development, both in the minors and majors, the fastball has been the only consistent part of Hughes's repertoire. All of his other pitches have been in flux.
In his breakout 2006 season he featured a curveball that projected to be a plus pitch. It's a testament to Hughes's talent, since he had added the pitch after turning pro. But by the time he hit the majors full-time in 2009 he had changed his grip on the curve, utilizing the same knuckle grip that served Mike Mussina well throughout his 18-year career. Hughes also changed his secondary fastball, from a two-seamer in the minors to a cutter in the bigs. Yet even that is changing.
For his entire career Hughes has worked to add a serviceable changeup to his repertoire. As we've seen, that project hasn't progressed particularly well. Before the 2005 season Baseball America said that Hughes had good arm action on the change and that it projected to be at least an average pitch. There was similar optimism in 2006. But by 2007, when Hughes was the No. 4 prospect in baseball, Baseball America had lost faith in the pitch's development. We've seen Hughes emphasis his work on the changeup during the last two spring trainings, but we've yet to see him implement it effectively. Chances are it won't play a prominent role in his 2011 repertoire.
Still, Hughes isn't headed into the season with the same four-seamer, cutter, knuckle curve arsenal that he featured in 2010. Last night The Star-Ledger's Marc Carig noted that Hughes changed the grip on his cutter, and that it now breaks more like a slider. "Slower, but more break," wrote Carig. That appears to be an additional weapon against righties, who hit .253/.292/.381 against him last year. This is nothing new for Hughes. In fact, his slider was once thought to be his best complimentary pitch.
Baseball America provides a telling timeline. We can look at their profiles of Hughes from the year he was drafted through the year they ranked him the No. 4 prospect in the game to see how his slider developed — or, in this case, declined. In its 2005 Yankees prospects list, BA had this to say about the slider:
"Hughes changes a hitter's sightline with a slider that at times has good bite and depth."
I've heard more glowing reports of that slider, including the one from MLB.com's draft tracker, which read: "Flashes major league slider w/ late bite, good down plane."
Hughes came into his own in 2005, dominating Low-A Charleston and heading up to High-A Tampa before an injury ended his season. It was the first time many Yanks fans heard the name Hughes, as he had been connected to many teams in trade rumors (the most prominent of which I remember being Mark Kotsay). After the season, BA made another note about his slider:
"He has a hard, late-biting slider that the Yankees wouldn't let him throw in last year, but he likes it better than his curveball and has the go-ahead to use it again in 2006. … As he reintroduces his slider, he should become a starter with well-above-average control and above-average command who throws three plus pitches for strikes."
Only that reintroduction didn't happen in 2006. Not that it mattered. Hughes steamrolled both High-A Tampa and AA Trenton, earning him accolades from nearly every scouting source. And he did it all without his slider. From BA 2007:
"Hughes' greatest accomplishment as a pro has been to forsake his slider in favor of a knockout curveball, which is more of a strikeout pitch and produces less stress on his arm. … While his slider is still a good pitch, he rarely throws it in games anymore."
We haven't really seen the pitch since. It was a bit of a disappointment to see him scrap an above-average — or at least potentially above-average — offering, especially has the effectiveness of his curveball has ostensibly faded. One thing I'd hoped to see from Hughes this year was a change back to his straight-grip curve, rather than the knuckle grip. But perhaps altering his cutter grip to more resemble a slider can produce a similar effect.
The change will undoubtedly improve his performance against righties. Against lefties he'll still feature the cutter, which he can throw inside, a la Mariano Rivera. But unless he starts throwing his curve for strikes, he's going to struggle to put away lefties. There will be days when he's feeling strong and his fastball will be enough to dominate them; we saw that in the ALDS when he tore through the Twins' tough lefties. But on days when his fastball isn't at 100 percent he'll need that other offering. So while the development of his slider can be seen as a positive, it still doesn't address his most glaring flaw: an out pitch against lefties.
Don't be surprised to see Hughes go to the slider fairly often against right-handed hitters this season. The pitch is an old friend, one of the weapons that put him high on draft boards in 2004. It should prove an effective addition and help Hughes improve during his second full season as a starter. Lefties might still pose a problem, but the slider will go a long way in making him a more complete pitcher.