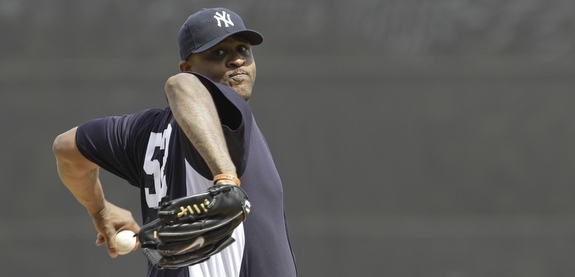 CC Sabathia has been many things since signing with the Yankees two offseasons ago. An ace, a Cy Young contender, a playoff hero, and more than anything else, amazingly durable. Seriously, the guy has thrown 467.2 innings over the last two years and 961.2 innings over the last four years, and that's just the regular season. Roy Halladay is the only other pitcher within 50 innings of that total, and Dan Haren is the third and final member of the 900+ IP club going back to 2007. It's an exclusive club.
Joe lovingly called Sabathia a freak in his season preview, and we mean that in the nicest way possible. CC is literally the largest left-handed pitcher in baseball history, in terms of combined height (6-foot-7) and weight (295 lbs.). Randy Johnson was listed at 6-foot-10 but only 225 lbs., and Mark Hendrickson stands 6-foot-9, 240 lbs. The only other pitcher to be at least CC's height and weigh over 270 is another guy in Yankees camp, Andy Sisco (6-foot-10 lbs., 270 lbs.). Marlins lefty Sean West is the only other guy in history to stand at least 6-foot-5 and weight at least 250 lbs. That's it, just those three; Sabathia, Sisco, and West. One of these things is not like a way better pitcher than the other things.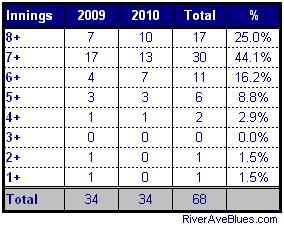 The table to the right tallies up Sabathia's starts as a Yankee, broken down by the number of innings thrown. He's thrown at least eight full innings in exactly one-fourth (17) of his 68 starts over the last two years. That's pretty amazing. Another 30 starts lasted at least seven full innings, so that's no fewer than 21 outs recorded in 69.1% of his starts, essentially seven out of ten. Just think about that for a second. Seven innings in seven out of ten starts. That's not even video game stuff; my starters have a tough time completing seven innings in The Show. Sabathia is that good.
(Just to be clear, 8+ refers to starts longer than eight innings. 7+ is starts between 7 and 7.2 innings, 6+ is starts between 6 and 6.2 IP, so on and so forth.)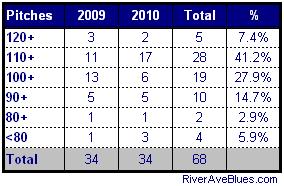 In terms of pitches thrown (table to the right), only 16 times (23.6%) has CC failed to top the century mark. Furthermore, two of those 16 starts ended with his pitch count at 99. That 110-120 pitch range seems to be the comfort zone, but Sabathia has certainly proven to be capable of 120+ pitches if needed. His single game high with New York is 123 pitches, done three times.
Amazingly enough, Sabathia only has one nine-inning complete game with the Yankees. That came on May 8th of 2009, when he threw a shutout and four hit the Orioles in what was pretty much his "welcome to New York" moment. That has more to do with having the greatest reliever in the history of the universe available to close out games than it does Sabathia's inability to get 27 outs in a start. CC has also thrown three other complete games in pinstripes, but two were eight-inning loses and the other was a six inning, rain-shortened game.
Both of the starts in which Sabathia failed to complete three innings came in 2009. The first was in late-June, when he left a start against the Marlins after recording just four outs due to stiffness in his biceps. He was back on the mound five days later, holding the Mets to one run in seven innings. The other short start was his final one of that season, when the Rays rocked him for nine runs in just 2.2 IP. Five days later, he beat the Twins in Game One of the ALDS. As for the two other starts that were less than five innings, the first came in his very first start with the Yankees, and the other was that 4.2 IP start against the Red Sox last summer that got hit with a rain delay. If it hadn't been for Mother Nature, he surely would have completed the inning. When Joe Girardi hands the ball to Sabathia, he's getting at least five innings out of him, more than nine times out of ten. That level of reliability is impressive and incredibly valuable.
The term "innings-eater" is usually reserved for guys like Joe Blanton and Jon Garland, and all it really means is that the pitcher is capable of sucking for six or seven innings instead of four or five. Guys like Sabathia, who combine quality pitching with bulk innings are true workhorses, and you can count the number of pitchers like that on one hand. I didn't think it would be possible for a pitcher to exceed the expectations associated with a $161M contract, but so far Sabathia has done that for the Yankees.