I've got four questions this week, three of which deal with a current or former Yankees prospect. The other has to do with a guy taking up space in the minors. Remember to send in your questions via the Submit A Tip box in the sidebar.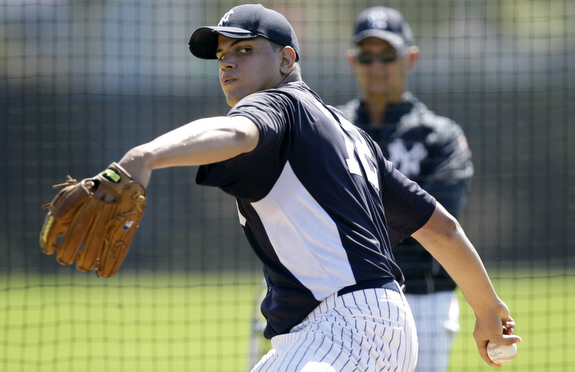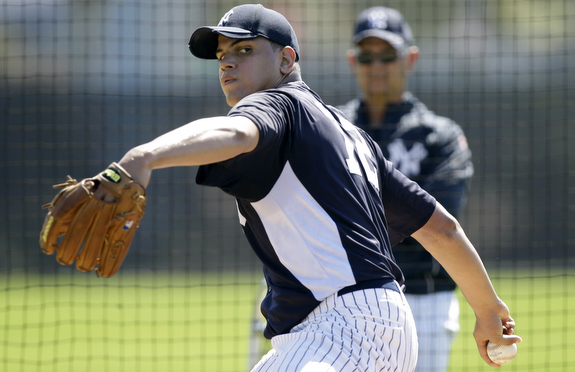 Joe asks: Do you think there is any chance the Yanks keep and develop all of the Killer B's?  I know the odds of all three reaching their ceiling and staying healthy are long, and as you or Joe or Ben said last week don't fall in love with your prospects, but it be nice to see them all on the big club.  What % do you think it will occur?
If you've got three pitching prospects of that caliber, my general (and completely amateur) rule of thumb is that one will reach (or at least approach) his ceiling, one will fall short of his ceiling but still be a productive big leaguer, and the third will be a complete bust. The Yankees exceeded that with Phil Hughes, Joba Chamberlain, and Ian Kennedy, turning them into two viable big league starters and a reliever. Look back at the Red Sox five years ago; they got an ace, a reliever, and a bust out of Jon Lester, Jonathan Papelbon, and Craig Hansen.
I'd expect Manny Banuelos to approach his ceiling, Andrew Brackman to fall short of his ceiling but be a useful player, and Dellin Betances to be the complete bust out of the Killer B's. Nothing personal, it's just that Dellin's health record scares me. That said, I fully expect them to trade one of those guys, probably sometime this year. The big league team needs pitching right now, and the Yankees have some high end pitching depth and can afford to move one of those guys.
Of course I'd love to see all three of them stay with the team and flourish in the big leagues, but the odds are so stacked against it. I'd give it less than a 50-50 chance that all three will stay with the Yankees for the next few years, and less than a 5% chance that all three turn into productive players. Prospects will break your heart, the Killer B's are no different than the hundreds that came before them.
Nicolai asks: If Kei Igawa was blocking somebody from being promoted to Scranton, could the Yankees just send him down to Trenton, Tampa or Charleston?
Yep, absolutely. The Yankees actually sent him all the way down to High-A Tampa for two starts in 2007. Igawa's not blocking anyone from anything.
A different Joe asks: I was listening to the Yankees game and it was the Tigers radio crew. They claimed A-Jax would be a 15 homer and 40 SB guy this season. I personally don't see this happening at all. Any thoughts on it?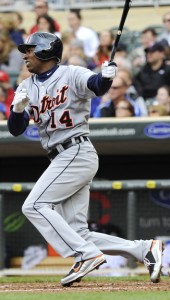 This year? No way, not in Comerica. Austin Jackson has 17 homers total in his last 1,816 plate appearances dating back to 2007, so I don't see a sudden spike happening. I could definitely see 15 homers at his peak, maybe even 20, but 2011 is too soon for that. If Jackson did pop double-digit homers this year, that would mean everything went right for him and he even squeezed in an inside-the-parker or three. Of all the projection systems out there, only CAIRO and ZiPS have him hitting more than six homers, and both forecast seven.
I like Jackson and there's no doubt that he's an above-average player, but expecting 15 homers out of him this year is a bit much. Even the 40 steals is a bit of a question mark (27 last year), but it's not as unbelievable as the power numbers. Just for some perspective, only three different players have had a 15-40 season in the last three years, and Carl Crawford was the only one to do it twice.
Anthony asks: What's the projection for 2010 first rounder Cito Culver as a major leaguer? Does he have the potential to be a solid starter on a high caliber team?
Culver's long-term value is going to lie mostly in his glovework, which, luckily, is really really good. Is he going to be Derek Jeter? Absolutely not. Is he going to be Cesar Izturis? Eh, maybe. It's always possible. I think the best case scenario for the Yankees' 2010 first round pick is an above-average defensive shortstop (probably not Gold Glove caliber though) that hits for average, draws some walks, and steals some bases. Culver doesn't have much power and doesn't project to down the road, but he's switch-hitter with some contact skills, and he did manage to a walk in nearly ten percent of his plate appearances in his pro debut last summer.
If I had to put numbers on it, which I hate doing, I think his offensive ceiling is something like .300/.360/.400, right around a .350 wOBA. Culver also has the speed and skills to steal a healthy amount of bags, maybe even 40+ in his basestealing prime. Stick that at shortstop over 600 plate appearances with say, +4 or +5 run defense, and you've got a four win player. Again, that's not Derek Jeter, but that's a player good enough to start on a championship team. Of course, Culver has a long, looong way to go to live up to that potential.