I wonder if Manny Banuelos will be in pinstripes before a September call-up.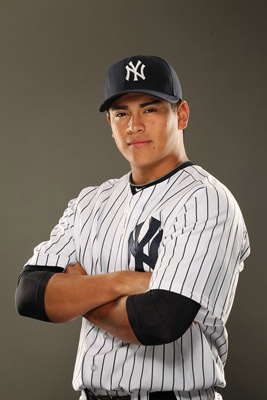 Calm down, I'm not saying it's a good idea. But I also don't think it's impossible. Let's review what we know and see how likely it is.
First: he's rocked Spring Training with five strikeouts (including Jhonny Peralta and Brandon Inge looking) and a walk in 3 IP. He went from scraping prospect lists (in 2010, he was 96 on Keith Law's and didn't show up on Baseball America) to being in the top 20. Michael Kay and John Sterling are singing his praises in between being in awe of Ryan Pope's college (Savannah College of Art and Design) and confusing Brandon Laird with his brother, Gerald. Keith Law thinks he could pitch in the majors now. Frankie Piliere loves his three plus pitches. He'll be only 20 next week. Life is good.
We also know he's not going to break camp in the Bronx. He's been penned to start with the Trenton Thunder, which is exactly where he belongs. He has a whopping 15 IP above A-ball and last year threw only 65 IP due to an appendectomy in the beginning of the season. It was an impressive 65 IP with a 2.58 ERA and an 11.8 k/9, but a small sample nonetheless. Though we've yet to see how well he can perform over a full season facing batters above A-level, it's obvious that Banuelos has something going. The peripherals are there.
Make no mistake, it's not a good idea to have ManBan pitching August games in the Bronx. If Banuelos is putting on pinstripes, the fifth starter problem hasn't been solved. Someone is probably injured. The AAA kids aren't doing well enough to get the call themselves. If Banuelos blows through a few months of AA, puts on his Scranton Yankee outfit and absolutely dominates, I think he's just as likely to be promoted. Is there a chance that he is chosen to pick up that fifth starter spot over some of the older kids? I think so, especially if the numbers are there. If Warren, Noesi and Phelps are struggling (or simply not as good), it doesn't seem sensible to use them over a surging Banuelos.
It's also not unfeasible to bring Banuelos up straight from AA, which is the more likely possibility than a short stint in Scranton. Taking a pitcher straight from AA and plopping him into a major league rotation might seem like a big jump, but it's been done before with plenty of success: CC Sabathia, Clayton Kershaw, Josh Beckett, and Cole Hamels all never sniffed AAA before they played with a big club. Rick Porcello played only one year in High A before the Tigers stuck him in their rotation to post a 3.96 ERA the next year. Interestingly enough, Mark Prior threw only 90 innings of minor league ball (though this included seven AAA games) before he was called up by none other than Larry Rothschild.
If Banuelos comes up for an extended period of time – perhaps filling in for a June injury and a Mitre failure to perform – the Yankees would have to put him on a pretty strict innings limit. The most innings Banuelos has ever thrown was 109 back in 2009. We know enough about Joba's rules that I don't have to get into it, and Hughes was skipped several times in 2010 but still threw almost 80 more innings than his previous year. We all watched Hughes' second half taper off as he climbed over that limit, and the last thing we want is to watch Banuelos have several brilliant starts and hit a wall. If all of ManBan's starts go six innings, that's just about eleven starts before he's pitching over his 2010 IP. Hopefully, he's not needed for that long.
While I don't think it's the best idea to put Banuelos in pinstripes this year, I can certainly see it happening. It wouldn't be too bad, either, as long as the Yankees are careful with his innings and don't throw him to the wolves the way the Tigers did to Jeremy Bonderman the year they lost 119 games. I think we're safe from a losing season of that caliber, but the fact is that Banuelos' arm seems pretty damn nice and it shouldn't be thrown about willy-nilly. From what it's worth, I think the Yankees can figure out how to turn him from prospect to number-one starter and I am personally super excited to see him in the rotation. While I don't think he's definitely going to show up this year, I wouldn't put it past the Yankees to bypass Warren or Noesi and see what Banuelos can do.