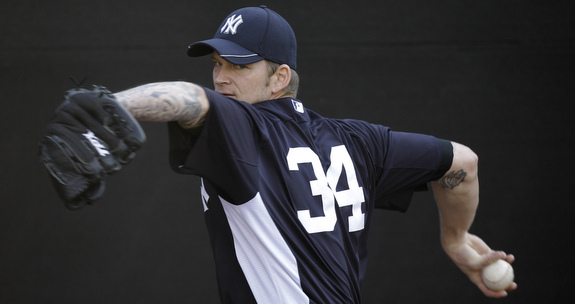 Just about every Yankees starting pitcher has pitched in a game already, except for one guy: A.J. Burnett. He pops his 2011 cherry against the Astros today, and will hopefully show off some of the things he worked on with new pitching coach Larry Rothschild over the winter. I remember reading somewhere that they focused on driving his front leg towards the plate, rather than swinging it around, so I guess we can keep an eye out for that. I'm hardly an expert on pitching mechanics, so I doubt I'll pick anything up.
On the offensive side of the ball, Robbie Cano is hitting second between Derek Jeter and Mark Teixeira, which probably has more to do with it being Spring Training and wanting to get him as many at-bats as possible before being lifted. It'll still be interesting to watch though; I made the case that Robbie should hit second full-time in 2011 earlier this winter. Here's the full starting nine…
Derek Jeter, SS
Robbie Cano, 2B
Mark Teixeira, 1B
Alex Rodriguez, 3B
Jorge Posada, DH
Andruw Jones, LF
Frankie Cervelli, C
Colin Curtis, RF
Justin Maxwell, CF
Available to Pitch: A.J. Burnett, Sergio Mitre, Joba Chamberlain, Boone Logan, David Phelps, Hector Noesi, Luis Ayala, D.J. Mitchell, Robert Fish, Daniel Turpen, and Adam Warren. Obviously all of them won't get into the game, but they're available if needed.
Also Scheduled to Play: Austin Romine (C), Bradley Suttle (1B), Kevin Russo (2B), Eduardo Nunez (SS), Brandon Laird (3B), Dan Brewer (LF), Melky Mesa (CF), Jordan Parraz (RF), and Russell Martin (DH).
At some point today, Jordan Lyles will pitch for Houston. He's their top prospect and one of the better pitching prospects in the game overall. The kid (deservedly) reached Triple-A as a 19-year-old last year (3.86 FIP in 31.2 IP). Today's game will be aired live on both YES and MLB Network, and begins at 1:05pm ET. Talk about the game here, enjoy.