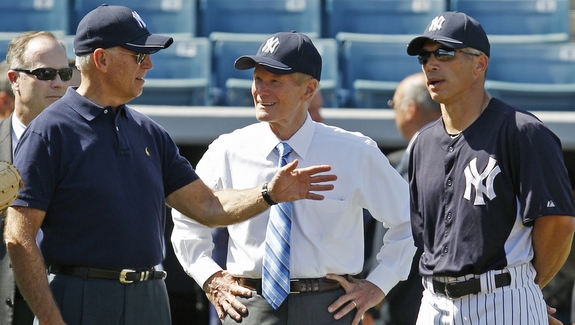 As the Yankees run on the clock on their Grapefruit League schedule, Joe Girardi has been tinkering with the lineup somewhat, most notably hitting Brett Gardner leadoff. He's done that the last few days, but Derek Jeter and Nick Swisher are back in the one-two slot today. Why? Because there's a lefty on the mound; the Blue Jays are throwing Joey Joe Joe Junior Shabadoo Jo-Jo Reyes. I'll talk more about this setup tomorrow, but tonight we'll get to see it in action. Here's the lineup…
Derek Jeter, SS
Nick Swisher, RF
Mark Teixeira, 1B
Alex Rodriguez, 3B
Robbie Cano, 2B
Jorge Posada, DH
Andruw Jones, LF
Russell Martin, C
Brett Gardner, CF
Available Pitchers: Phil Hughes, Mariano Rivera, Boone Logan, Luis Ayala, Steve Garrison, Eric Wordekemper, Ryan Pope, Buddy Carlyle, and Josh Schmidt.
Available Position Players: Gustavo Molina (C), Brandon Laird (1B), Ronnie Belliard (2B), Ramiro Pena (SS), Eduardo Nunez (3B), Jordan Parraz (LF), Melky Mesa (CF), and Greg Golson (RF).
Tonight's game will be aired on MLB Network in all markets, they confirmed that the game will not be blacked out in the Tri-State Area via Twitter. First pitch is scheduled for 7:05pm ET, so enjoy.
Roster Notes: Laird, Golson, Parraz, Jose Gil, Jorge Vazquez, and Kevin Russo have all been reassigned to minor league camp. Golson being sent probably means that Justin Maxwell beat him out for the potential fifth outfielder's job, should one be needed.