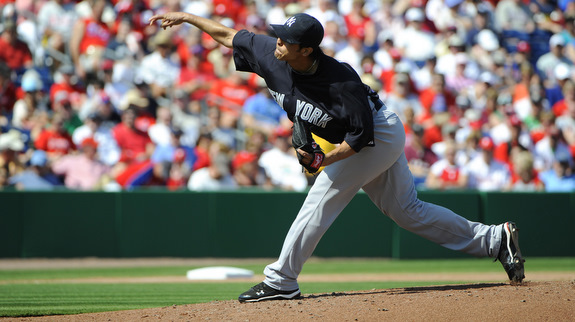 As the fourth and fifth starter competition rolls along, it's tough to see how exactly Sergio Mitre fits into this whole equation. Ivan Nova and Bartolo Colon have shown enough in camp that they should at least be given chances in the regular season, and for whatever reason we keep giving Freddy Garcia the benefit of the doubt. Maybe that lat part is just me.
Anyway, we've already talked about the possibility of releasing Mitre, and even though it doesn't make sense to me, that doesn't mean it won't happen. Sergio's on the hill today, and I suppose it could be the last time he ever pitches in the Yankees uniform. Here's the lineup…
Curtis Granderson, CF – Melky Mesa, CF …  Grandy's hurt
Nick Swisher, DH
Mark Teixeira, 1B
Andruw Jones, RF
Jesus Montero, C
Greg Golson, LF
Eduardo Nunez, SS
Ronnie Belliard, 2B
Brandon Laird, 3B
Available Pitchers: Sergio Mitre, Joba Chamberlain, Mark Prior, Romulo Sanchez, Luis Ayala, Ryan Pope, Steve Garrison, George Kontos, and Wilkins Arias.
Available Position Players: Gustavo Molina (C), Jose Gil (1B), Ramiro Pena (2B), Doug Bernier (SS), Kevin Russo (3B), Justin Maxwell (LF), Melky Mesa (CF), and Jordan Parraz (RF).
I should probably also mention that Joba will be appearing in his first game since suffering that oblique injury. This Grapefruit League game against the Orioles is being broadcast live on both YES and ESPN at 1:05pm ET. Enjoy.