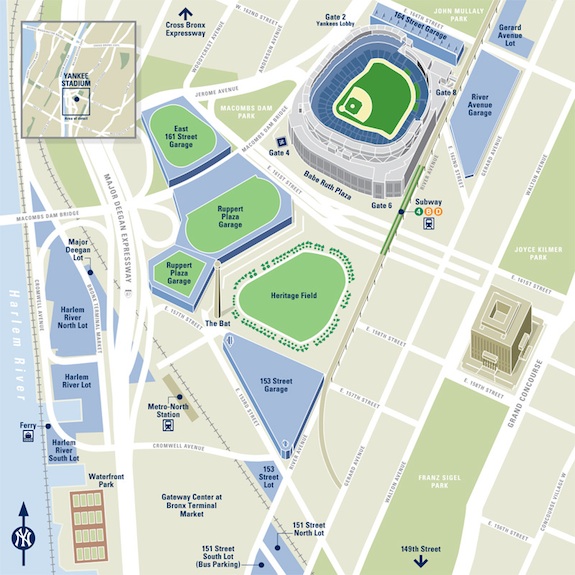 Throughout the last few years, I've followed the Yankee Stadium parking problems fairly closely. It fits in quite nicely with my urban planning hobby, and it also highlights the institutional problems with urban development planning in New York City. Essentially, the city added over 2500 parking spots in the South Bronx as the Yankees decreased stadium attendance and Metro-North opened a new station to serve the stadium. When the city's Economic Development Corporation picked a company with a history of defaulting on its bond payments, well, nothing good could come of it.
As early as September, we first heard that Bronx Parking was in trouble. Their revenue stream fell far short of projections, and the company was, as recently as mid-March, in danger of defaulting on its bond payments. We had already reported in October that parking prices would increase 50 percent for 2011 with more rate hikes on the way.
Today, just a few short hours away from Opening Day and as fans from all over prepare to drive to the stadium, we know that parking prices at the Yankee Stadium lots will be $35 per car this year. That total could increase to $42 in 2013 and to $55 by 2015, Bloomberg News reported.
As the parking new percolates throughout those who rely on the garages for safe storage of their automobiles during the season, the good news for Bronx Parking and its bond holders is that the company will not default on its payment due tomorrow. For now, it can still dip into its reserve fund to meet its obligations. Still, Bronx Parking is changing the management of the garages, filing more detailed expense and revenue reports and working to improve signage along the Major Deegan to draw in more paying customers. As Juan Gonzalez of The Daily News noted, the city doesn't expect to receive the $17 million in back rent any time soon.
For years, this parking issue has been on the minds of South Bronx residents and politicians. Those who do own cars — a small percentage of the area's permanent residents are car-owning households — already bemoan the state of parking on game days. The city bars parking in a 10-block radius around the stadium, and while the Community Board is hoping to develop a residential parking permit plan, for now, residents must constantly move their cars during the season. It is far too expensive to park long term in the stadium lots.
Beyond those concerns though, most South Bronx residents wanted parks, not parking lots. They knew the stadium parking supply would far exceed demand and repeatedly asked the city to scale back its parking plans. Some folks think Bronx Parking should ask the Yankees to attempt to sell the spots, but with so many transit options, the number of spots is simply egregious. It was a bad planning decision five years ago, and one with which the city must live for the foreseeable future.