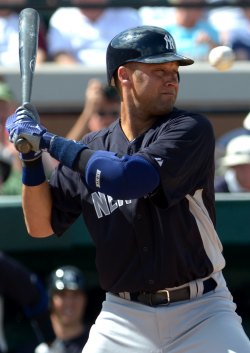 For 14 years, Derek Jeter has been a media darling in New York. The team captain, he has projected an aura of calm professionalism while going about his job in an intense way. He doesn't get into trouble; he doesn't stick his foot in his mouth; and his girlfriend has never been caught on national television feeding him popcorn. He might not say too much, but he speaks often enough to remain a favorite.
Lately, though, Derek has seen his image lessened. It isn't tarnished, but the do-no-wrong short stop has seen the less glamorous side of New York adulation. It started last year when he had a sub-par season. He hit just .270 and his .710 OPS was a career low by 60 points. He clearly had lost a step at short as well. The Yanks, though, never moved Jeter down in the lineup, and fans didn't know what to do.
Meanwhile, during his contract negotiations this past winter, things came to a bit of a head. The media reports focused on the animosity between Jeter's camp and the Yankees as well as the differences in the offers the two sides reportedly had on the table. Some of that stemmed from his agent's decision to talk to the Daily News about the negotiations, but some of it came from the Yanks' comments on Jeter's skill set and role going forward.
The captain retaliated by dragging the Yankee reporting contingent down from Orlando to Tampa during the Winter Meetings for a ceremonial press conference. It was Jeter's way of saying that he's still boss in this town no matter what happens on the field — or off it for that matter.
Now, he's back in the headlines again. On the one hand, we have his big house. It's a mansion; it's big; it's a big house. How big is his house? The Times offered up this succinct summary: "The 30,875-square-foot mansion, which overlooks Hillsborough Bay, features seven bedrooms, nine bathrooms, a pool, two boat lifts, a drive-through portico and a pair of three-car garages flanking the north and south ends of the property." It is nearly 20,000 square feet larger than George Steinbrenner's old home. As I might have mentioned, it's big.
On the other hand, we have Jeter's retooled swing. As Joe wrote yesterday, we must have patience with it. Jeter is off to a slow start in Spring Training — an indication of approximately nothing — but already people are eying his work with Kevin Long and Jeter's mechanics. Is he trying to cheat age (and fastballs) by swinging earlier? Will it work? Can he be as Tyler Kepner asks today, another Omar Vizquel?
It's not easy watching favorite players get old. We saw Andy Pettitte age over the past few seasons as his body didn't rebound from injuries. Jorge Posada hasn't been the same since his 2008 shoulder surgery. Now, Jeter, 36 going on 37, has to find a way to delay the inevitable or we all must come to grips with it. How Jeter goes this year will determine, to a large extent, the media reaction to him.