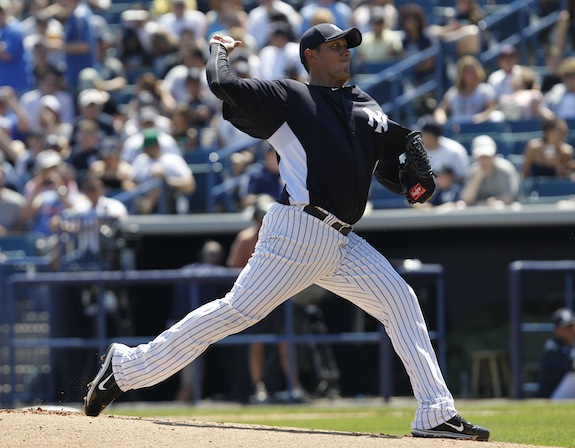 As Spring Training results go, Freddy Garcia's haven't been much. He had a few good starts early on when pitchers were still ahead of hitters, but as the Grapefruit League has progressed, his results have regressed. He had a fairly representative start on Saturday when he had trouble at the beginning and end of his outing but kept the Blue Jays off the board in the middle innings. It could mean that he winds up the odd man out.
On the spring, Garcia has now thrown 13.2 innings with mixed results. His ERA is 5.93, but he has issued just two free passes while striking out 12. He can get the ball past hitters at times, but when he misses his spots, he's fooling no one. Such are the pitfalls of a 34-year-old who can't muscle the ball past the 90 mile-an-hour mark any longer.
So what future awaits Garcia? The consensus emerging from the Yankee camp with but a week left of Spring Training — and another outing or two at most for the rotation candidates — is that the Chief is falling behind. Brian Costello wrote as much yesterday in The Post. Brian Cashman though had little to say. "We're going to have to make a call here shortly because we're going to have to keep stretching whoever we choose out and start settling people in defined roles," Cashman said. "That's going to come sooner than later."
For his part, Garcia said in no uncertain terms that he will either be on the Major League roster or off the Yanks. "If I don't make the team, what am I supposed to do in Triple-A?" Garcia said to The Post. "I'm 34 years old. I've been in the big leagues a long time. There's nothing to go to Triple-A and prove. It's either I make the team or not."
So here, for Garcia, is the $1.5 million question: Can he make the team out of the bullpen if he's out of the running for a rotation spot? Garcia has said he's willing to pitch in long relief. Thus, he is fighting for a job with Sergio Mitre. In eight innings this spring, Mitre has given up just two runs while walking no one and strike out six. Despite many fans' seeming dislike of Mitre, the sinker baller has done the job. He pitches low leverage innings without turning games into disasters, and the Yanks haven't been willing to let him go.
As Spring Training hits the home stretch then, the position battles are shifting a bit. The rotation is still unsettled, but Garcia is now fighting with Sergio Mitre for the long man role. It might be a bit of predetermined contest though. The Yanks, for whatever reason, like Mitre, but will they go with potential rotation depth? I wouldn't be surprised if Garcia breaks camp with the team even if he's in the bullpen for now.