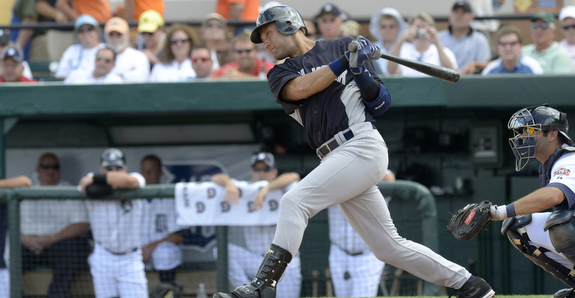 We know the Yankees and Joe Girardi have been tinkering with the lineup during the last few days of Spring Training, but there's only so much tinkering that can be done. Mark Teixeira, Alex Rodriguez, and Robbie Cano are going to going to hit in the middle of the order no matter what, and it's pretty much a foregone conclusion that Jorge Posada, Curtis Granderson, and Russell Martin will follow them at some point. The only thing left to toy with is the top two spots of the order, and that's exactly what they've done.
Brett Gardner, the team leader in on-base percentage last year, has been getting reps at leadoff over the last week or so while Derek Jeter slid down to second (in the lineup, not the position). It makes perfect sense; if Gardner's going to get on base that often, he should do it ahead of the power hitters. But Brett is presumably going give way to Andruw Jones against lefties at least some of the time and rightfully so. He's no world-beater against southpaws (.316 wOBA in his career, albeit in a relatively small sample) whereas Jones tore them to shreds last season (.402 wOBA). That makes for a sticky situation, because Andruw won't be hitting leadoff against lefties (or ever), so Girardi will need to employ two lineups.
Last night's game featured a familiar arrangement, with Jeter leading off and Nick Swisher hitting second, of course against lefty Jo-Jo Reyes. The rumblings of a platoon that features Gardner-Jeter versus righties and Jeter-Swisher versus lefties have been popular for about a week now, but is it the best setup? I think we can all agree that Jeter-Swisher is the best arrangement against lefties since the Cap'n absolutely destroyed southpaws last season (.382) and has for the last few years (.396 wOBA vs. LHP from 2007-2009 as well), but is Gardner-Jeter really better than Gardner-Swisher against righties?
The answer, as you probably suspect, is no. Jeter hit just .246/.315/.317 (.286 wOBA) against righties last year while Swisher tagged them to the tune of .285/.330/.547 (.376 wOBA). Over the last three seasons, it's .285/.350/.383 for Jeter and .255/.337/.492 for Swish. If you want to do a 5-3-2 weighting system, where 2010 counts for 50%, 2009 counts for 30%, and 2008 counts for 20% (so the most recent season counts the most), you get .276/.340/.368 for the Cap'n and .265/.335/.513 for Swish. By pretty much any measure, the Yankees' right fielder has the advantage because his big time edge in power output trumps the shortstop's slight edge in on-base ability.
Of course you probably knew that already, plus the Yankees aren't exactly in a rush to move Jeter down in the lineup anyway. He's built up quite the bit of leeway and has plenty of rope so to speak, so it'll take a total offensive collapse to see him moved down towards the bottom third of the order. But yeah, batting him first or second against right-handed pitchers is hurting the team to an extent, though it's not a huge difference even over the course of a 162-game season. The Yankees faced a right-handed starter about two-thirds of the time over the last few years, which is a pretty normal percentage, so batting Jeter second against them instead of Swisher will probably cost the team something like five runs next year. It's not ideal, but it's hardly the end of the world.