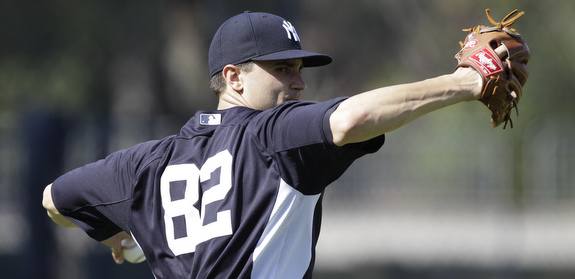 Yankees history is littered with great left-handed pitchers, dating back to the days of Lefty Gomez and Whitey Ford and more recently Ron Guidry and Andy Pettitte. They have a stalwart lefty in the big league rotation with CC Sabathia as well as arguably the best left-handed pitching prospect in the minors in Manny Banuelos. After that though, the cupboard is pretty bare.
Jeremy Bleich, New York's highest signed pick from the 2008 draft, was just so-so after signing (4.04 FIP in 188.2 IP) and is currently recovering from major shoulder surgery. Steve Garrison is interesting but hardly a cornerstone-type prospect, and youngsters like Evan Rutckyj and Nik Turley are years away in the low minors. The wealth of college pitching available in this June's draft could help the Yankees rebuild some of that left-handed depth, and here's a few notables…
Andrew Chafin, Kent State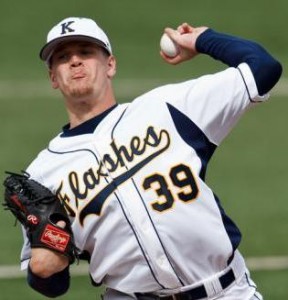 Completely unheralded out of high school in 2008, Chafin had a dominant showing with the Golden Flashes as a freshman (55 K and 16 BB in 35 mostly relief innings) but had to take a medical redshirt as a sophomore after blowing out his elbow. The The 6-foot-2, 210 lb. southpaw has come back from Tommy John surgery in a big way this spring, striking out 49 batters and walking just 11 in 41.1 IP as a starter (0.65 ERA and just three extra base hits allowed). Chafin typically sits 89-92 with his fastball but has shown a few 94's this season, and he backs it up with two solid offspeed offerings. The slider is ahead of the changeup, but he uses both regularly. He's still in the process of re-finding his command following elbow reconstruction, but there's definite upside here. Chafin could wind up going as high as the first round, but right now he's looking more like a sandwich round talent.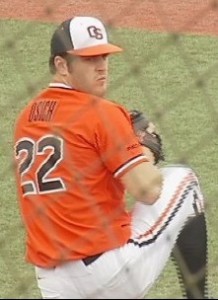 Josh Osich, Oregon State
Hailing from the baseball wasteland known as Idaho, Osich is similar to Chafin in that he wasn't highly regarded coming out of high school and missed the entire 2010 season de to Tommy John surgery. He performance was enigmatic as a freshman and sophomore (73 K, 43 BB in 51.1 mostly relief innings) before the injury, but the Angels drafted him the seventh round last year anyway. Obviously he didn't sign, but the reason he was drafted so high despite the injury is his elite raw stuff. Osich, listed at 6-foot-3, 225 lbs., hit 99 with his fastball before the injury and has topped out at 97 this spring. He'll usually sit 93-94. A hard, low-80's changeup allows him to neutralize righties and a big-breaking slider is his put-away pitch. There's a chance Osich will end up in the bullpen because his command is shaky and he wasn't able to hold his velocity deep into games (even pre-surgery), but that kind fastball from the left side is always at a premium. His draft stock is a little unclear at the moment; he could go everywhere from the first through fifth round or hell, maybe even later. Osich has struck out 29 and walked 12 in 29 innings this season while being held to strict pitch counts as he comes back from surgery.
Henry Owens, Edison High School (Ca.)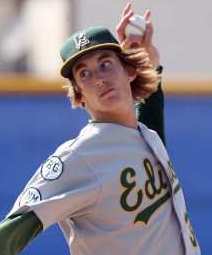 Listed at 6-foot-5, 185 lbs., Owens is a classic high school projection pick. You're not drafting him for what he is now, you're drafting him because the current package portends great things in the future. Owens has sat anywhere from 88-93 mph this spring, but it's easy to envision him adding more once he starts to put some meat on his bones. His second pitch is a changeup that he has good feel for despite his age, and he's also working on a breaking ball. The mechanics and delivery are still very much a work in progress, but that's not surprising. Owens has first round talent, but in a class deep with college arms like this, there's a good chance he'll fall into the sandwich round if not later. A commitment to Miami isn't helping his cause either.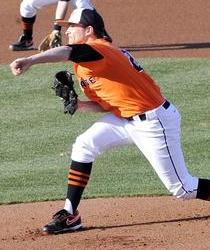 Mike Strong, Oklahoma State
Strong has already been through this routine before. The White Sox drafted him out of an Iowa JuCo in the 25th round two years ago, and last year it was the Athletics doing the honors by calling his name in the 22nd round. Strong pitched well last spring (66 K and 36 BB in 64 IP) and has been even better this year (39 K and 8 BB in 30.2 IP), but I should warn you that he's not some high-upside superprospect. Strong falls into the Adam Warren category of "solid college senior," meaning he's likely to contribute in some capacity but not necessarily at the front of the rotation. It's okay, guys like that are absolutely useful. Listed a 6-foot-0, 187 lbs., Strong gets ground balls with an 88-91 mph fastball and a curveball in the mid-70's, deceiving hitters with a slightly lower arm slot (higher than sidearm, but lower than 3/4). That package is good enough to project his floor as a lefty specialist, which is great return when you consider that he's again expected to go in a double-digit round.
* * *
He's not a starter, but a personal fave of mine is Nick Maronde of Florida, who I wrote about back in 2008. The Scott Boras client did fine work as a freshman (59 K and 18 BB in 59.1 IP) but completely fell apart as a sophomore, walking 24 men in 26.1 IP. Maronde has gotten back on track this year, striking out 25 and walking just three in 15.1 relief innings. He runs his fastball up to 94 mph with improved control and a wipeout slider. It didn't work as a starter, but Maronde's a legit relief prospect, one likely to come off the board in the fourth round or later. Anywho, I'm a fan.