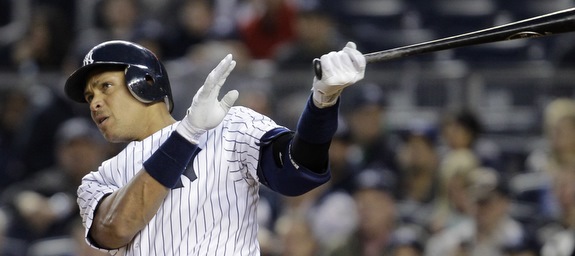 Unless you haven't been paying attention, you're well aware that Alex Rodriguez was hitting the snot out of the ball before being shelved by a back/oblique issue over the weekend. He was (and still is, really) hitting .385/.500/.821 with four homers, nine walks, and just four strikeouts in 50 plate appearances before the injury, a .541 wOBA that rank behind only the currently super-human Matt Kemp in all of baseball. After a substandard 2010 season and his 35th birthday, there was reason to be skeptical about A-Rod coming into the season. That skepticism has been answered in a big way.
Finally cleared to resume full baseball training following his 2009 hip surgery, Alex showed up to camp this year noticeably slimmer (he claimed that he shed ten pounds and 3% body fat over the winter) and lighter on his feet. That appears to have quickened A-Rod's bat as well, because the guy is straight up annihilating fastballs so far this year…

There's no denying that there were times during the previous two seasons when Alex would swing through what appeared to be hittable fastballs, I'm talking 90, 91, 92 mph offerings in the happy zone right out over the plate. We're used to seeing him park those pitches either over the fence or off the wall or in the gap somewhere. It's obviously still very early, but missing those hittable fastballs has not been an issue in 2011. A-Rod is making pitchers pay for mistakes, back to being the hitter that gave the guys on the mound zero margin for error.
As you can see from the table, Alex is doing quite a bit differently against fastballs this year. For one, he's not swinging at nearly as many. That goes for all pitch types as well, his swing rate is down to just 34.7% this year after sitting north of 42% every year of the FanGraphs era. Secondly, when A-Rod does offer at a fastball, he's not a) swinging and missing, or b) fouling pitches off. Whenever he's swung at a fastball this year, there's less than a 8.5% chance that he'd foul it off or miss the pitch entirely, which means he's putting it into play on more than nine out of every ten swings. Over the last two years it had been three out of every four swings. When a guy as strong as A-Rod puts a fastball in play, good things happen.
The run value is off the charts so far. Alex has been worth 7.73 runs above-average per 100 fastballs seen this season, which is easily the best mark in baseball. Kemp is the only other guy over six-and-a-quarter. As Dave Pinto showed (via heat map!) at Baseball Analysts yesterday, all four of A-Rod's homers in 2011 have come on fastballs either up in the zone or inside. That is the exact opposite of what you'd expect out of a guy that's supposed to be on the decline.
With any luck, A-Rod's back/oblique is nothing major and won't keep him on the shelf any longer than it has already. The MRI came back clean, but I would not at all be surprised if he sat tonight and/or tomorrow night since the turf in Toronto can be unforgiving. Regardless of what happens against the Blue Jays, Alex has been the team's best player in the early going, playing at a 1.1 fWAR pace and bringing us back to the days when he was a perennial MVP threat. The success against fastballs has been a huge part of his rebound, though it all stems from health.
Big ups to Texas Leaguers for the fastball percentages used in the table.